A Medieval Pilgrimage Through Classic Tuscan Scenery
Follow in the steps of medieval pilgrims, visiting the various 12th century churches and abbeys that housed pilgrims along the way – known as Submansiones
Visit some of Tuscany's most picturesque and historic towns, including Buonconvento, Siena and San Gimignano
Travel through a landscape where time seems to have stood still, as you walk through the rolling hills of Tuscany, a landscape dotted with farmhouses, castles (Monteriggioni and Chiocciola castle among them), old churches and medieval walled, hilltop towns – places of extraordinary beauty
A region famous for its gastronomy, with a myriad of fine restaurants, as well as prestigious regional wines and the famous white truffle of San Miniato Alto
Why this walk?
The Via Francigena traces a course through the heart of Tuscany, linking the picturesque medieval towns of the region with some of the area's lesser known castles and ancient sanctuaries with the most quintessential Tuscan scenery. Here, your surrounding have changed little since the time of the ancient pilgrimages, where your journey mirrors exactly the road taken by travellers from every strata, be it labourer, knight or archbishop. The hiking experience on the Via Francigena is worth the trip alone as you follow the rolling hills of Tuscany through vineyards and orchards, with far-reaching, panoramic views over Italy's classical, rural heartland.
The Path
A route steeped in history on the most popular pilgrimage route to Rome, its origins stretching as far back as the 8th century. Unlike more common Roman roads across Europe, the Via Francigena connects important Abbeys, rather than cities. Waymarking on the route was originally confined to scholars and local enthusiasts, although in recent history, the route has attracted far greater funding as well as recognition in Europe for its cultural and historical significance, as well as its low environmental impact.Though the Via Francigena originated as a way of pilgrimage, it was also a convenient way through the formidable Alps and Apennines. This leg of the trip, through the heart of the Tuscan countryside, follows old mule tracks and rural paths through fields and tracks shaded by a border of pine and cypress.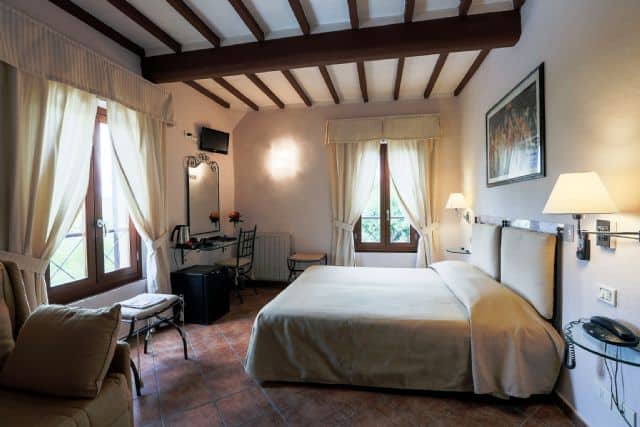 The Accommodation
Historic buildings with artistic interiors and terraces in larger towns, rustic farmhouses in smaller villages. We use 3* and 4* hotel and agriturismo, some with swimming pools and restaurants.The places you stay have been carefully renovated from their original structure, with neoclassical villas within towns and stone-walled country retreats with gardens in the more rural areas. All rooms have en-suite bathrooms, breakfast included, evening meals included on 2 nights.
Our Tuscan Via Francigena Itineraries
San Miniato Alto to Buonconvento
Distance: 78.6 miles (126km)
ITA-TVF1 ~ San Miniato Alto to Buonconvento ~ 8 / 7 classic
Prices
| | Two sharing pp | Solo walker | Single person (in a group) |
| --- | --- | --- | --- |
| 01/04/2024 - 23/04/2024 | £950 | £1,470 | £1,320 |
| 24/04/2024 - 26/05/2024 | £985 | £1,530 | £1,385 |
| 27/05/2024 - 12/06/2024 | £1,000 | £1,575 | £1,425 |
| 13/06/2024 - 30/06/2024 | £1,010 | £1,600 | £1,450 |
| 01/07/2024 - 12/07/2024 | £1,000 | £1,575 | £1,425 |
| 13/07/2024 - 25/07/2024 | £1,010 | £1,600 | £1,450 |
| 26/07/2024 - 22/08/2024 | £1,085 | £1,715 | £1,565 |
| 23/08/2024 - 19/09/2024 | £1,010 | £1,600 | £1,450 |
| 20/09/2024 - 03/10/2024 | £1,000 | £1,575 | £1,425 |
| 04/10/2024 - 31/10/2024 | £950 | £1,470 | £1,320 |
Extras
7 nights' accommodation on a bed and breakfast basis
2 dinners (Nights 2 & 8)
Luggage transfers
Personal transfers where indicated in the programme as a standard arrangement
Walk Pack, to include Destination Manual and Road Book (route notes) showing directions to your accommodation.
Access to a Travel APP
Local Map
Via Francigena Passport
Price Does Not Include ~
City taxes (per person) only payable direct to accommodations –The prices below indicate the total to pay per person, rather than per night. Please consider city tax can vary during the year and new taxes can be introduced (Gambassi Terme 1,50€, San Gimignano 2,50€, Colle Val d'Elsa 1€, Monteriggioni 2€, Siena 2,50€, Monteroni d'Arbia 1,50€, Buonconvento 1€)
Packed lunches (own arrangements)
Evening meals except where stated above. Available in local restaurant or in-house.
Travel to San Miniato Alto and from Buonconvento Train Station.
You choose which day you would like your holiday to start on. We will book your holiday in accordance with your requirements.
Our Tuscan Via Francigena holidays are available to walk April to October.
Visitors will get the most out of the Tuscan region visiting either side of summer. Spring and autumn offer a better climate for walking as well as a chance to experience the countryside coming into flower, or the harvest at the end of the summer. Although the area around Siena is not typically as crowded as the Chianti region, visitors will find a much quieter side of Tuscany outside of summer.
Nearest airports are:
Florence "A Vespucci"  (FLR)               http://www.aeroporto.firenze.it/en/
Pisa "Galileo Galilei"    (PSA)               http://www.pisa-airport.com/en/                                                                                       
From the airports, take a train to San Miniato-Fucecchio train station.
Train timetables - http://www.trenitalia.com/tcom-en
Form San Miniato rain station, take the local Bus Line 320 to reach San Miniato Alto. Check timetables on www.at-bus.it/it/orari (Servizi Extraurbani PI)
You are responsible for booking your air travel to airports and onward travel to your first accommodation and from your accommodation on departure.
Looking for different mileages or a different number of nights? Please contact us to discuss how our itineraries can be adjusted to meet your specific needs. Call one of our helpful team on
+44 (0)1291 689774
or
e-mail us here
.
Tuscan Via Francigena Client Reviews
4.4

/5 based on

2

reviews
This was was a perfect way to see the area - it was both relaxing and uplifting. The transfers were flawless. I would recommend Celtic Trails to a friend.
Tess Wicksteed
-
April 2023
We will wax lyrical about our experience with Celtic Trails. Everything worked out well.
Bernard and Alexandra
-
September 2022
Leave your own review of your

Tuscan Via Francigena Walking Holiday

with us - add review
.
Booking Request - Tuscan Via Francigena
What Happens Next?
We will check your details and come back to you within two working days with a personalised estimate based on your requirements. We will then formally request a deposit of £150 per person (£100 per person for a single centre break) and book all your arrangements - find out about our full booking process here.
Please note this does not constitute a booking confirmation, we kindly ask you to refrain from booking any travel until we have confirmed all your arrangements.
Still Have Questions?
If you are still unsure on any of your requirements, please do enquire with us first and one of our friendly team will be happy to help you with any queries you have.
Enquire About Tuscan Via Francigena
E-mail
Sample Accommodations
Please note: exact accommodation booked will depend on availability.