The Ridgeway path is Britain's oldest 'road' a route through the heart of England that has been in constant use for 5000 years. As you begin the walk, you cannot help but feel the spirit of many ancient walkers who have covered this trail thousands of years before you.
The Ridgeway walk follows the chalk hills between Avebury in Wiltshire and Tring in Buckinghamshire – part of a busy Neolithic 'highway' that stretched across the country from Dorset to Norfolk.
Walking the Ridgeway
The 87 mile (139 km) Ridgeway National Trail begins at Overton Hill, near Avebury, and heads east on a long and particularly beautiful stretch of downland path along the North Wessex Downs, with wide, exhilarating views over the rolling countryside of Wiltshire.
In the Dark Ages, The Ridgeway was the main route for the Saxons and Vikings during their advances into Wessex. Many observers have noted the proximity of the Ridgeway with the rash of crop circles that have emerged in the countryside alongside the route. Will you notice some?
Highlights of the Ridgeway walk include:
The broad Thames Valley landscape – a mixture of ancient woodlands and well-kept country villages
The chalky Chiltern Hills – a rollercoaster path of woodland and wide chalk downs
Ivinghoe Beacon – a prominent landmark standing 233m high in the Chiltern Hills
The world-famous Avebury Stone Circle – a designated World Heritage Site dating from 2800BC
Wayland's Smithy – a Neolithic tomb site with a fantastic legend attached to it
Silbury Hill –the largest man-made mound in Europe
Liddington Castle (Hillfort) – an Iron Age hill fort and the site where King Arthur defeated the Saxon army
Uffington White Horse – a huge 370ft long white horse dating from the Bronze Age
Various fascinating hill forts including Grim's Ditch, Barbury and Pulpit Hill
Walking Holidays with Celtic Trails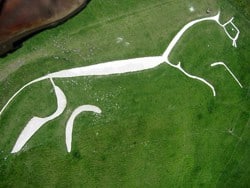 Our team would be delighted to talk to you about an itinerary for a walking holiday on The Ridgeway. Celtic Trails has 20 years' experience providing tailored, quality itineraries for walkers who appreciate personal service, organisation and comfort.
Call us today on 01291 689774 to start planning your adventure.