Across the Rooftops of the Brecon Beacons National Park
Discover the best of the National Park with a dedicated route
See evidence of prehistoric and Roman settlement in the region
Take in incredible views from some of the highest peaks in the south of Britain
Stumble upon natural lakes and waterfalls hidden in the hills and valleys
Return to a warm welcome after a hard days walk in the charming villages along the way
Castles, churches and priories are history made manifest on your walk
Find peace of mind in a landscape that has been kept wild, unmarked and open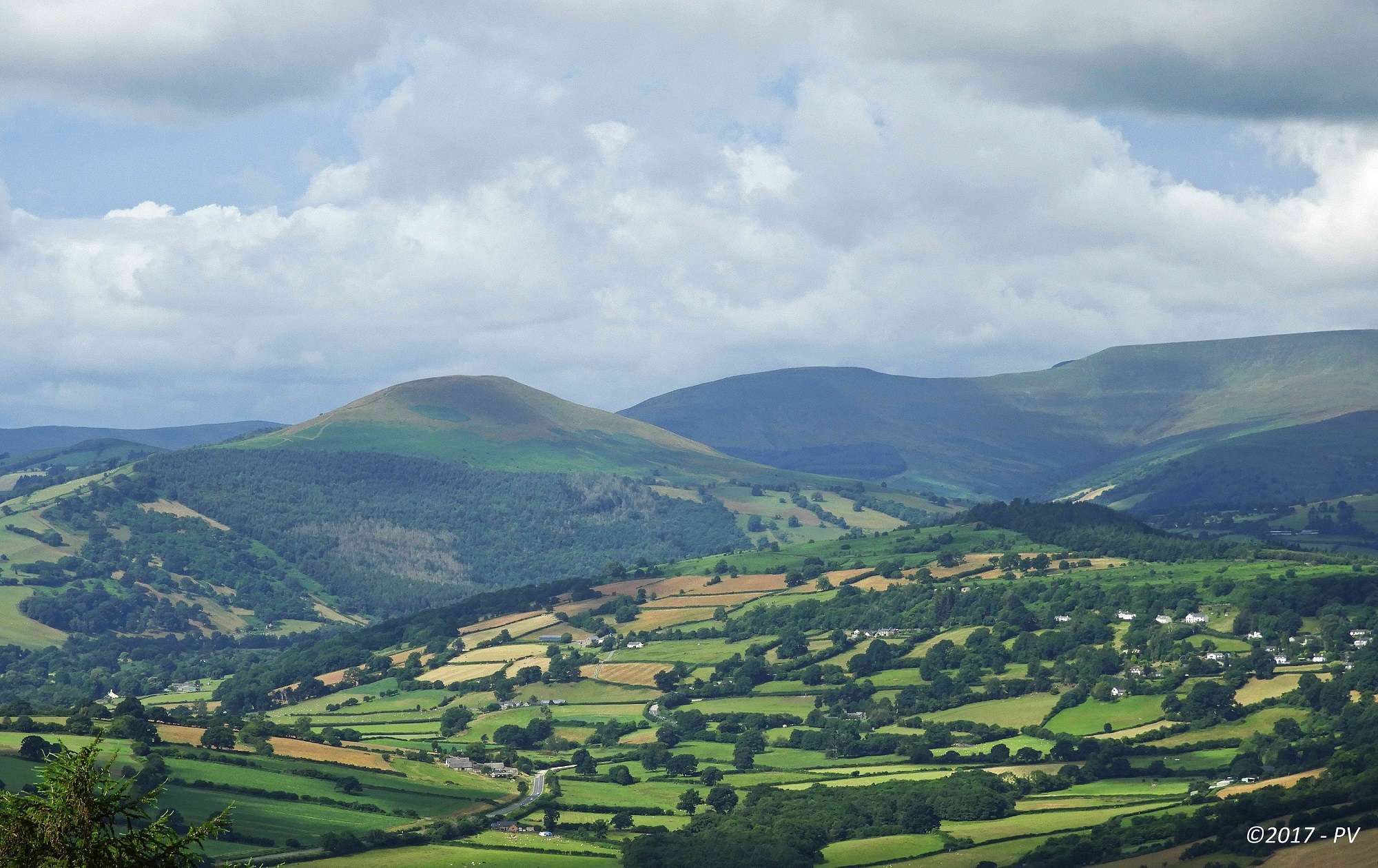 Walking the Beacons Way
The Beacons Way is 93 miles (149km) of mountain walking holiday through the beautiful Brecon Beacons National Park. Walking what is known as the 'high route' across South Wales, it is the ideal landscape for unspoilt beauty and refreshing solitude.
Beginning near Abergavenny, at Ysgyryd Fawr (also known as the Holy Mountain), the walk takes you in a snake-like fashion from the eastern edge of the Brecon Beacons National Park to the western boundary. The route was designed to pass through the most thrilling, hidden and wild areas of this beautiful park, highlighting its most beautiful landscapes. The walk ends in Llangadog, passing through Bethlehem on the final day  - where the little village post office does a roaring trade in Christmas cards during December.
Your walk takes you over the Black Mountains in the east, the Central Beacons including Pen-y-Fan (886 metres (2,907 ft) and the highest point in Southern Britain,), and the Black Mountain in the west. The Beacons Way route undulates through little towns and hamlets, where the weary traveller is always welcome to Welsh hospitality. You pass Celtic hill forts, medieval priories and castles, mountain lakes and reservoirs. At the end of the day, you may find a local pub serving a welcome pint of Welsh beer - a well-earned reward.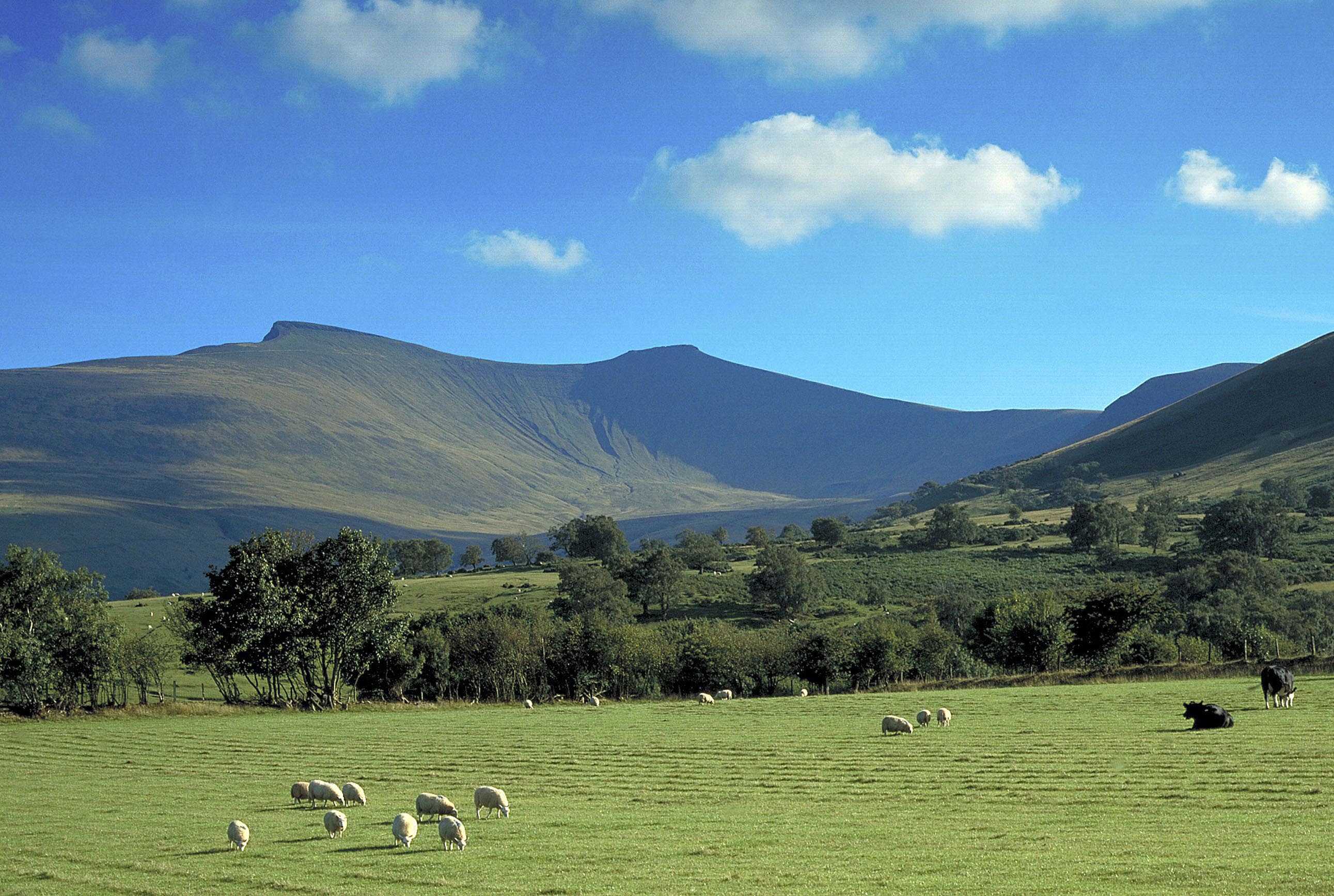 Planning Your Walking Holidays in Brecon
The Beacons Way is a trail best suited for experienced and fit walkers and good compass and map-reading skills are essential. This is particularly important as there can be sudden weather changes on high-level routes, and orientation can prove difficult as a result.
Our team would be delighted to talk to you about an itinerary for a walking holiday on the Beacons Way. Please call or email us for further details, using the contact information below.
Celtic Trails is the most experienced walking company in Wales. We are based on the edge of the National Park and our local knowledge is second to none.
Path Walkthrough
Beginning near the market town of Abergavenny, your route begins by ascending the summit of the Skirrid and meets part of the Offa's Dyke path at another climb to Hatterrall Hill before descending to Llanthony Priory. Leaving Llanthony, the day begins with a steep ascent along Cwm Bwchal, onto Bâl Bach and a slow descent through fields into Crickhowell. The next day, to Llangynidr will offer fine views of Llangorse Lake from Cefn Moel before ending near the Brecon & Monmouthshire Canal at Llangynidr.
The walk towards Storey Arms holds spectacular views along its most iconic landscape, but the climb from Blaen y glyn to Craig y Fan Ddu is particularly demanding. The route onwards toward Craig-y-nos meets open hills and moorland, before taking you to the highest point on the western side of the Brecon Beacons, Fan Brycheiniog, passing Llyn y Fan Fach and Llyn y Fan Fawr. Walking to spectacular Carreg Cennen Castle will require strong navigational skills as the route is indistinct, but in contrast, the last day down to Bethlehem and on to Llangadog is arguably the easiest to navigate.
Our Beacons Way Itineraries
Brecon – The Magic of the Mountains
Distance: 29.2 miles (46.5km)
BW-BRE1 ~ Brecon – The Magic of the Mountains ~ 3 / 2 classic
BW-BRE2 ~ Brecon – The Magic of the Mountains ~ 2 / 2 classic
Single centre breaks based in Brecon.
Good standard accommodation at a mixture of Guesthouses, Farmhouses, local Inns and B&B's with en-suite or private facilities wherever possible
Breakfast
Luggage transfers
Personal transfer between accommodation and path that form a part of our standard package
Route planning
Walk pack including Trail Guide and mapping, itinerary, accommodation directions and route notes, lunch and dinner information, restaurant recommendations and holiday planning details
You choose which day you would like your holiday to start on. We will book your holiday in accordance with your requirements.
Our Beacons Way holidays are available to walk March to October.
You choose which day you would like your holiday to start on.  We will book your holiday in accordance with your requirements.  But please note that it is difficult to book one night stays in Brecon for a Friday or Saturday (accommodation is booked in Brecon on the night of your walk to Storey Arms). We would recommend that you choose your holiday dates with this in mind, or consider a rest day in Brecon.
Weather conditions in mountainous areas can be changeable, packing a good mix of clothing is probably the best policy for dealing with changes in weather. There's a high chance of fog and what may feel like a gentle breeze on the day may be more difficult to contend with on the ascent.
By Rail: Railways stations are located in Abergavenny, Llangadog and Llandovery.  The train journey from Llangadog back to Abergavenny is 3 – 3.75 hours.
By Bus: Bus stations are located in Abergavenny, Brecon and Llandovery
Alternatively, a taxi from Llangadog returning to Abergavenny can be organised - prices available upon request.
If you wish to upgrade your overnight accommodation on occasion, we will be happy to arrange this wherever availability allows – prices to be advised. Looking for different mileages or a different number of nights? Please contact us to discuss how our itineraries can be adjusted to meet your specific needs. Call one of our helpful team on
+44 (0)1291 689774
or
e-mail us here
.
Beacons Way Client Reviews
4.6

/5 based on

7

reviews
We have used Celtic Trails several times and will continue to do so, as we can enjoy walking in the open air, knowing the organisation has been done for us. Spectacular scenery.
Anon
-
September 2021
Lots of attention to detail. Very helpful. Good accommodations. Beautiful walk and scenery. We really enjoyed it. The walk pack contains everything you need to know, so you don't have to think about anything, except the walking itself.
Petra & Frank
-
September 2019
I felt stronger after the trip.
Anon
-
June 2019
Walking experience: would have scored excellent but for the weather! Celtic Trails were attentive and efficient. We are regular trails walkers and Beacons Way was next on our list. We usually carry our own gear, but occasionally, as in this instance, accommodation adjacent to the route is scarce and taxi transfers needed, so easier to use your organisation. It was very nice not to have the extra weight on our backs! Beacons Way scenery is magnificent and though we had 2 very wet days, sunshine and views otherwise were great.
Jane
-
June 2019
The Beacons Way is a challenging but beautiful walk. The scenery is stunning, accommodation excellent and Celtic Trails organisation of the walk was flawless.
M. Nash
-
April 2019
"A really enjoyable trail, but I was blessed with a period of fantastic weather for walking! Keen to experience the Fforest Fawr area in more challenging conditions to test out my navigational skills! Thanks again Nathan for booking & organising!"
E. Davies
-
August 2016
"We think the standard of accommodation was definitely better than we have experienced with other trails. Contact with staff (Nathan) was excellent, probably the best we have had! Overall very pleased."
Acock
-
June 2016
Leave your own review of your

Beacons Way Walking Holiday

with us - add review
.
Booking Request - Beacons Way
What Happens Next?
We will check your details and come back to you within two working days with a personalised estimate based on your requirements. We will then formally request a deposit of £150 per person (£100 per person for a single centre break) and book all your arrangements - find out about our full booking process here.
Please note this does not constitute a booking confirmation, we kindly ask you to refrain from booking any travel until we have confirmed all your arrangements.
Still Have Questions?
If you are still unsure on any of your requirements, please do enquire with us first and one of our friendly team will be happy to help you with any queries you have.
Enquire About Beacons Way
E-mail
Sample Accommodations
Please note: exact accommodation booked will depend on availability.