Walking The Rob Roy Way
Follow the tracks of Rob Roy McGregor - one of Scotland's most notorious outlaws and folk heroes
Glens, mountains, burns, rivers and lochs make up the beautiful highland scenery
More secluded and quiet than other more well-known walks in Scotland
Visit historic villages in and around the Trossachs National Park, home to Deer, buzzards and other wildlife
Rob Roy and Jacobite related points of interest along route, including Loch Tay, the Macnab Burial Ground near Killin, Robert Burn's Seat at the Birks of Aberfeldy and Balquhidder Church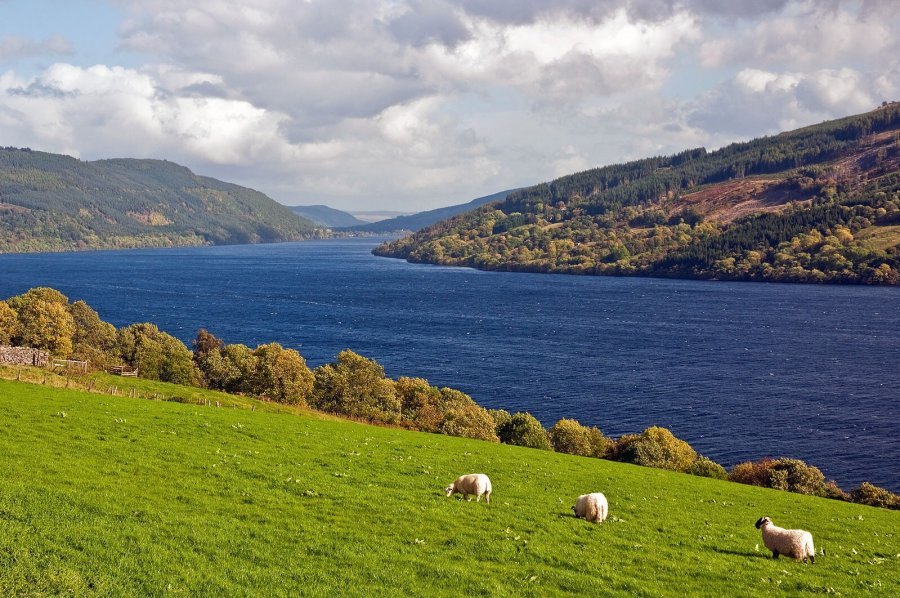 Woodland Paths and Cavernous Lochs on the Rob Roy Walk
The Rob Roy Way walk begins at Drymen, near the southern shores of Loch Lomond. The trail leads you through the heart of Rob Roy country - the beautiful Trossachs National Park and finishes in the Highlands of Perthshire at Pitlochry.
You walk woodland paths through the beautiful Loch Ard Forest, which pass the Lochs - Loch Venachar, Loch Lubnaig, Loch Earn and Loch Tay. You follow a favourite route of Queen Victoria to enjoy the views of the majestic slopes of Ben Lawers and Schiehallion, and descend past the breathtaking Falls of Moness to Aberfeldy, home of the 'Birks of Aberfeldy' immortalised by legendary Scottish poet Robert Burns.
Centuries of Scotland's turbulent history - the Jacobean rebellion, local clan feuds, the background of Rob Roy's stirring adventures - all add to the appeal of this delightful walk.
Your walk takes you to the charming town of Aberfoyle in the heart of the Trossachs, where Sir Walter Scott lived to research his novel 'Rob Roy', published in 1881. The area of Aberfoyle was home to Rob Roy and his wife for many years and you visit Balquidder church where he is buried. Nearby on Loch Ard is Rob Roys' Cave, from where he is devised many of his plots as an outlaw.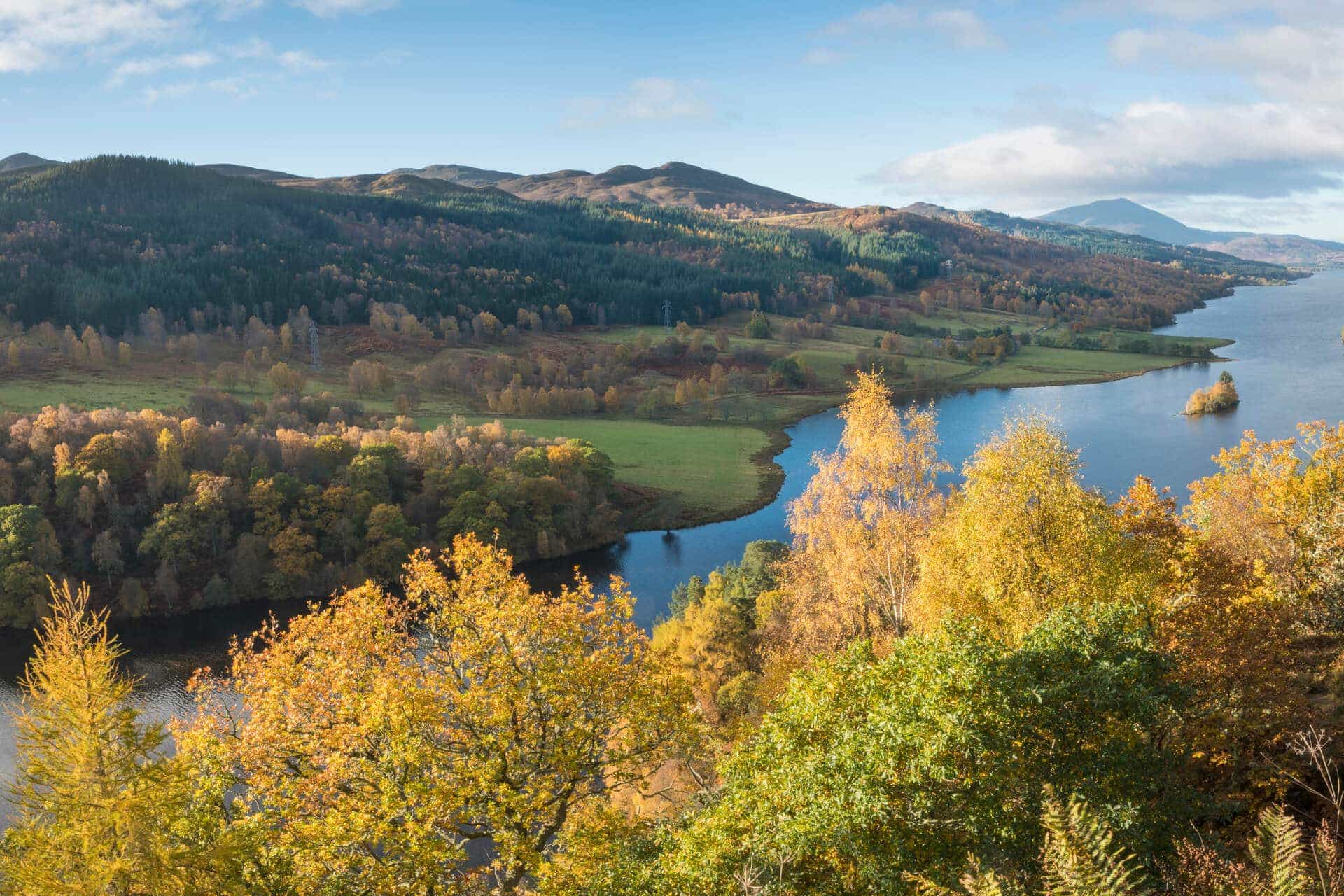 Hiking the Rob Roy Way
Sections of this walk take in open glen and high level moorland. Occasionally, mist and low cloud in these area can make visibility poor, and navigation difficult. However, the grand majority of the walk is in bright open air, with only a few parts under cover of forest canopy.
The Rob Roy Way is not an 'official' long distance path, it has come into being through the  best efforts of enthusiasts and landowners. This means that although the path itself is quite straightforward, it is not waymarked - so confidence in navigation is necessary.
The latter stages of the Rob Roy Way move downstream of the River Tay to Strathtay, from where St Columba and St Cuthbert led missions in 6C bringing christianity Scotland, past Clachan an Diridh ancient four poster stone circle, to the journey's end at the bustling Highland town of Pitlochry.
The Rob Roy Way is an easy grade walk passing through some of Scotland's most picturesque scenery. The route skirts around some of the highest and most difficult terrain and primarily follows glens, forest tracks, loch side trails with a few gentle slopes showcasing the more memorable views of the surrounding mountains.
The route followed will involve road walking between various stages. These are secluded roads, calm and scenic, and should not prove too taxing.
Path Walkthrough
The route follows tracks used by Rob Roy and his gang through park, moorland and glen – dropping Lochside and meeting historic towns and villages on the way to Pitlochry. Although the path is not as well waymarked as a National Trail, you should find the route relatively straightforward and not too taxing either, although there are ascents including forest tracks through Muir Park Reservoir and an easterly road heading high above Loch Tay.
Hill walking and an undulating route curve around Glen Ogle, but the grand majority of terrain on The Rob Roy Way is forest track, field and occasional disused railway line. Where forest tracks do pose a steep climb (such as toward the Menteith hills), you are rewarded with views over loch and idyllic southern Highland scenery. On your way you'll pass old Victorian viaducts, ruins of old churches scattered across the Highlands and waterfalls pass the community of Acharrn.
Our Rob Roy Way Itineraries
Drymen to Pitlochry
Distance: 79 miles (127km)
RRW1 ~ Drymen to Pitlochry ~ 8 / 7 classic
| Day | Location | Distance |
| --- | --- | --- |
| Day 1: | Arrive Drymen | |
| Day 2: | Drymen to Aberfoyle | 10 miles/16km |
| Day 3: | Aberfoyle to Callander | 10 miles/16km |
| Day 4: | Callander to Strathyre | 9 miles/14km |
| Day 5: | Strathyre to Killin | 12 miles/19km |
| Day 6: | Killin to Ardtalnaig | 12 miles/19km |
| Day 7: | Ardtalnaig to Aberfeldy | 15 miles/24km |
| Day 8: | Aberfeldy to Pitlochry | 11 miles/18km |
| Day 9: | Depart Pitlochry | |
RRW2 ~ Drymen to Pitlochry ~ 7 / 6 classic
| Day | Location | Distance |
| --- | --- | --- |
| Day 1: | Arrive Drymen | |
| Day 2: | Drymen to Aberfoyle | 10 miles/16km |
| Day 3: | Aberfoyle to Strathyre | 16 miles/25.5km |
| Day 4: | Strathyre to Killin | 12 miles/19km |
| Day 5: | Killin to Ardtalnaig | 12 miles/19km |
| Day 6: | Ardtalnaig to Aberfeldy | 15 miles/24km |
| Day 7: | Aberfeldy to Pitlochry | 11 miles/18km |
| Day 8: | Depart Pitlochry | |
Good standard accommodation at a mixture of Guesthouses, Farmhouses, local Inns and B&B's with en-suite or private facilities wherever possible
Breakfast
Luggage transfers
Personal transfer between accommodation and path that form a part of our standard package
Route planning
Walk pack including Trail Guide and mapping, itinerary, accommodation directions and route notes, lunch and dinner information, restaurant recommendations and holiday planning details
You choose which day you would like your holiday to start on. We will book your holiday in accordance with your requirements.
Our Rob Roy Way holidays are available to walk March to October.
We advise walking this route between spring and autumn.  The area experiences mild winters and cool summers, typical of the Highland region. We advise bringing suitable clothing for most eventualities, at the very least expect intermittent periods of drizzle along the way.
Bus - Drymen is 20 miles north of Glasgow city centre and can be reached by a frequent bus service (approximately 1 hour journey).
Aberfoyle is also accessible by bus but is served by a less frequent service.
Rail - There is a direct rail service to Pitlochry from Edinburgh (approximately 2 hours) and Glasgow (approximately 1 hour 45 minutes).
Looking for different mileages or a different number of nights? Please contact us to discuss how our itineraries can be adjusted to meet your specific needs. Call one of our helpful team on
+44 (0)1291 689774
or
e-mail us here
.
Rob Roy Way Client Reviews
4.8

/5 based on

6

reviews
Celtic Trails are a good company for long distance walks. It was good to be outdoors and do nothing except walking. Maybe the Isle of Wight next.
Anon
-
June 2022
We had an excellent experience with Celtic Trails. The Rob Roy Way was stunning and completing a long distance walk was the best way to experience the Scottish Highlands. Celtic Trails made the experience even more enjoyable and arranged some really gre
Georgina
-
May 2022
We keep coming back to you - verification enough that we would recommend you - this was our 8th walk with you. It was good to be out in a time of Covid. The Scottish hospitality was great
Rachael and Michael
-
September 2020
We have only ever walked with Celtic Trails and we would recommend them to a friend: knowledgeable; great information; respond quickly to questions. We most enjoyed: the scenery; people we met; food in restaurants etc.
D. Sturdy
-
June 2019
'We enjoyed the wonderful scenery, historical settings and sheep!'
Carol Prentice
-
June 2016
'Really enjoyed talking with people we met in the accommodation, restaurants, shops etc. Thank you for working with our time criteria as another company told us that they could not book those same dates'.
Jim & Joan
-
April 2014
Leave your own review of your

Rob Roy Way Walking Holiday

with us - add review
.
Booking Request - Rob Roy Way
What Happens Next?
We will check your details and come back to you within two working days with a personalised estimate based on your requirements. We will then formally request a deposit of £150 per person (£100 per person for a single centre break) and book all your arrangements - find out about our full booking process here.
Please note this does not constitute a booking confirmation, we kindly ask you to refrain from booking any travel until we have confirmed all your arrangements.
Still Have Questions?
If you are still unsure on any of your requirements, please do enquire with us first and one of our friendly team will be happy to help you with any queries you have.
Enquire About Rob Roy Way
E-mail
Sample Accommodations
Please note: exact accommodation booked will depend on availability.