Walking the UK's only coastal National Park. Designated one of the top ten coastal walks in the world.
The Pembrokeshire Coast Path is a walking holiday guaranteed to lift your spirits, fill your lungs with wonderful sea air and give you a tremendous sense of achievement.
Walking the Pembrokeshire Coast Path is as varied as it is uniquely beautiful. Nearly 200 miles long, enjoy exhilarating walking, through carpets of coastal wildflowers, on coastal cliff tops, go barefoot over secluded sandy beaches. Along stunning wild stretches of coast you see wildlife, seals, dolphins, seabirds you will never have seen before, and centuries of fascinating history accompany you along your walking holiday
Walking in Pembrokeshire is Remarkably Varied
The Pembrokeshire Coast is predominantly a coastline of lovely peninsulas, as infinitely long as it is changeable, with innumerable folds and inlets enticing you to magical hidden sandy bays and wild rocky coves, only seen on foot. You visit tiny hidden fishing harbours like Little Haven and Porthgain, explore colourful medieval harbour towns, Tenby, Fishguard and St David's, Britain's smallest 'city' with it's wonderful 12th century cathedral, the site 6th century monastery founded Wales's patron saint, and formidable Norman coastal castles at Manorbier and Pembroke.
20 years ago the Pembrokeshire Coast Path became Celtic Trails' first walking holiday. We have been providing high quality walking holidays on it ever since and with family born and raised there, our local knowledge is second to none.
For walkers who enjoy some solitude and want to exercise their senses and intellect as well as their muscles and lungs this is a walking holiday to include in their 'must do' trails.
Our Pembrokeshire Walking Itineraries
| | | | | | | | |
| --- | --- | --- | --- | --- | --- | --- | --- |
| Code | Duration | Length | Start | Finish | Season | Holiday Price | View |
| PCP1 | 13 days (14 nights) | 195 mi (311 km) | Amroth | St Dogmaels | Mar – Oct | £1,090 | View Itinerary |
| PCP2 | 11 days (12 nights) | 112 mi (178 km) | Sandy Haven | St Dogmaels | Mar – Oct | £985 | View Itinerary |
| PCP2a | 9 days (10 nights) | 112 mi (178 km) | Sandy Haven | St Dogmaels | Mar – Oct | £815 | View Itinerary |
| PCP3 | 5 days (6 nights) | 50 mi (80 km) | Sandy Haven | St Dogmaels | Mar – Oct | £505 | View Itinerary |
| PCP4 | 6 days (7 nights) | 61 mi (98 km) | St David's | St Dogmaels | Mar – Oct | £590 | View Itinerary |
| PCP4a | 5 days (7 nights) | 61 mi (98 km) | St David's | St Dogmaels | Mar – Oct | £505 | View Itinerary |
Walking Through History
Pembrokeshire is a coastline of Celtic saints and Norman conquerers ~
Norman coastal castles of Manorbier and Pembroke.
Henry Tudor escaped by sea from medieval walled town of Tenby, to return in 1485 to defeat Richard III and become first Welshman to mount the throne as Henry VII.
St David's, 6C birthplace of Wales's great patron saint in the 'age of saints'.
St Patrick left from near the cairn on sands of Whitesands Bay to bring Christianity to Ireland Druids dragged the huge bluestones of Stonehenge from the Preseli Hills nearSt David's
Walking through nature
In Spring the clifftops are covered with wildflowers, hyacinth, sea anemones, every colour meadow flowers. Summer brings carpets of gorse and heather as far as eye can see.
You'll see fulmars, cormorants and guillemots nesting on the highest cliffs and offshore on Skomer delightful colonies of puffins. More seals breed here than anywhere else in Wales from mid-summer and dolphins, porpoises and occasional basking shark can be spotted offshore or in the waters below the sea cliffs
Our Press Coverage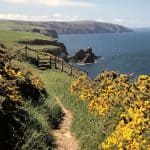 Our Pembrokeshire Coast Path holiday has been featured in the New York Times
"I chose Celtic Trails, they were extremely patient and helpful with my many inquiries ahead of time…."
Dominique Browning, Travel Section – NEW YORK TIME
Read more of our reviews here
Plan your Ideal Holiday with Our Help
Based in Wales, Celtic Trails have 20 years' experience providing tailored, walking holidays for clients who appreciate personal service, high-quality organisation, and comfort. For more information or advice on walking the Pembrokeshire Coast Path, please call our walk team today on 01291 689774 – they will be delighted to help you plan your ideal holiday.
Part of the Wales Coast Path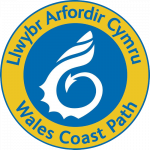 The Pembrokeshire Coast Path forms part of the vast 870 mile Wales Coast Path. If you wish you can further extend your walking holiday by continuing along the Ceredigion Coast path around the coast of Cardigan Bay.