Guernsey Walking Holidays
Starting and ending in St Peter Port – the capital of Guernsey – you'll have ample time to stroll around the beautiful harbour, explore winding cobbled streets, local shops and delve into the town's rich history
Guernsey is scattered with interesting towers, forts and concealed bunkers that hark back to the days of WW2
You'll visit the artistic site Renoir's Viewpoint where the French impressionist painter created magnificent paintings of the island's cliffs and bays. Renoir painted 15 canvasses of Guernsey's inspiring coast during his stay in 1883
Visit Victor Hugo's island home, the dramatic setting of the island providing inspiration for Les Misérables and Toilers of the Sea
There is also the option to visit the unique islands of Herm and Sark where road traffic consists of tractors, horses and bicycles, perfect for those who prefer a calmer pace of life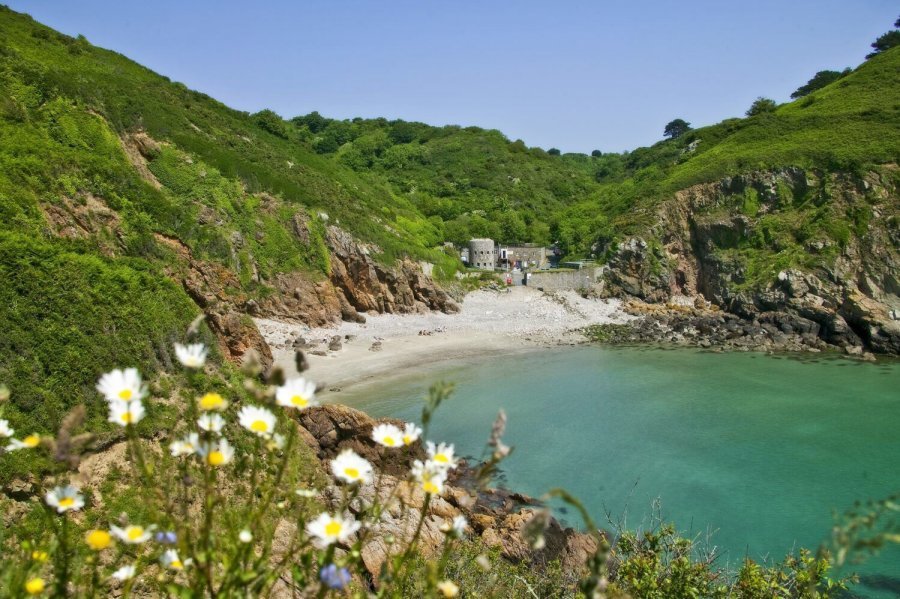 Bespoke Guernsey Walks with Celtic Trails
Renowned for its excellent walking routes, the island is filled with spectacular scenery and natural surprises await you at every turn. As you make your way across the islands coast, you'll find a scenery made up of sea-grass fringed sand dunes, brightly coloured fishing boats and peaceful coves between the inlets of the rocks.
Our walking holidays are rewarding experiences that offer explorers the opportunity to witness rare natural beauty while keeping fit. Celtic Trails walking holidays are tailor-made to suit the individual's needs. We cater for all ability levels and can organise everything from airport transfer to special dietary requirements.
Call us today on 01291 689774 to start planning your Guernsey walking holiday.
Path Walkthrough
Quiet country lanes and long stretches across cliffs and sand comprise this round island walk along the more subdued side of The Channel Islands. The route is primarily a coastal walk, however walkers can expect to cross paths with tranquil woodland and nature trails as they make their way towards the North of the island.
The North/West and the South/Eastern sides of the island have a different character, and you'll notice the change as the scenery starts to shift between the rugged cliffs of the south to the sandy bays of the west. The southern section route undulates more than the other sections of the island, and comparatively more coastal in nature. As you head North you'll find the going underfoot a lot more gentle, with nature reserves inland and flat country lanes.
Our Guernsey Itineraries
St Peter Port to St Peter Port
Distance: 39 miles (62.5km)
GUR1 ~ St Peter Port to St Peter Port ~ 5 / 4 classic
| Day | Location | Distance |
| --- | --- | --- |
| Day 1: | Arrival Guernsey | |
| Day 2: | St Peter Port to Petit Bot Bay | 8.5 miles/13.6km |
| Day 3: | Petit Bot Bay to Portelet Harbour | 8 miles/12.8km |
| Day 4: | Portelet Harbour to Cobo Bay | 8.5 miles/14.4km |
| Day 5: | Cobo Bay to St Peter Port | 12 miles/19.2km |
| Day 6: | Depart Guernsey | |
Prices
| | Two sharing pp | Solo walker | Single person (in a group) |
| --- | --- | --- | --- |
| 01/04/2022 - 28/04/2022 | £670 | £1,050 | £900 |
| 29/04/2022 - 26/05/2022 | £720 | £1,095 | £945 |
| 27/05/2022 - 24/09/2022 | £740 | £1,115 | £965 |
| 25/09/2022 - 31/10/2022 | £615 | £995 | £845 |
Extras
Minimum 3 star graded hotel accommodation at 2 or 3 different locations depending on your chosen itinerary
Breakfast
Luggage transfers
Personal transfer between accommodation and path that form a part of our standard package
Route planning
Walk Pack including OS map, itinerary, accommodation directions and holiday planning
You choose which day you would like your holiday to start on. We will book your holiday in accordance with your requirements.
Our Guernsey holidays are available to walk April to October.
The climate on Guernsey is characterised as one of the most temperate in the UK, with temperatures rarely dropping below freezing and a lack of cold snaps over winter.
Long spells of dry weather over the summer months give great, uncomplicated conditions for walking as far as late autumn in the UK.
If you're planning to make a short visit to Lihou island on the Portelet Harbour to Cobo Bay section of our itinerary, be sure check the causeway times here.
By Air: 
Aurigny Air Services, www.aurigny.com and Blue Islands www.blueislands.com fly to Guernsey from various airports around the UK. You can also fly from some European destinations.
There are regular buses from the airport to St Peter Port (20mins)
By Car:
We do not recommend that you take your car to Guernsey as using public transport is by far the best way to get around the island. Long term parking is expensive. There is limited un-secure on street parking in the outlying residential areas.
By Ferry:
To Guernsey 
Condor Ferries, www.condorferries.co.uk  regularly operate between Guernsey and Poole (3hrs) or Portsmouth (11.5hrs) and also sail from Jersey to St. Malo and Guernsey should you wish to spend a Rest Day/s visiting another location.
Arrival & Departure:
Transfers from and to The Airport and Ferry Terminal can be arranged – prices available upon request.
Looking for different mileages or a different number of nights? Please contact us to discuss how our itineraries can be adjusted to meet your specific needs. Call one of our helpful team on
+44 (0)1291 689774
or
e-mail us here
.
Guernsey Client Reviews
4.7

/5 based on

11

reviews
It's great that Celtic Trails do all the organising for you. We would recommend them.
Mike & Ann, Ipswitch
-
June 2022
Celtic Trails have an excellent, informative website. I had great contact with staff. They provided very helpful information and all went according to the itinerary. Hotel accommodation was excellent. A great itinerary and a fantastic coastal path. We
Dawn, Essex
-
May 2022
The first two days were excellent - great cliff walks. Celtic Trails were helpful and I'd recommend them.
Anon
-
September 2019
Celtic Trails put together a good package. We are an active couple and enjoyed the week.
Anon
-
July 2019
Guernsey is particularly beautiful, sunny and quiet. Always nice to spend entire days outdoors, looking and beautiful scenery,
Borden/Evans
-
July 2019
Guernsey was incredibly beautiful. Celtic Trails were very well organised, used great accommodations and provided clear instructions.
Murley
-
June 2019
I love walking holidays and would do it again; the south of this island, though difficult, was worth the walk. The north side was also gorgeous, but more gently. Going off the 'trail' and seeing the small communities was a nice distraction. Celtic Trails was very responsive to our needs and helpful for our extra tour of Sark.
A. Mauk
-
June 2019
Celtic Trails were excellent in comparison with other walking companies. The accommodation was all 5/5 and we loved the scenery.
V&J Mapp
-
September 2018
"We had an amazing time completing the Guernsey Coastal Path & feel very proud to have achieved it. Thank you very much for making it a great experience."
Forward
-
August 2017
'The walk was very scenic, beautiful flowers, but also varied with rugged coastlines & beaches. We like the challenge and the countryside is full of surprises and you can view nature in detail – it is relaxing and quite meditative. We both thoroughly enjoyed the new Guernsey Trek this year and we would thoroughly recommend it. We would suggest that future visitors take the extra time after the trek to visit the isles of Herm and Sark as all the islands are different and it was nice to be able to relax for a further 3 days exploring these beautiful islands. We look forward to another trek with you.'
Mr & Mrs J.W Bennet
-
June 2016
'We enjoyed the coast, wild flowers & Guernsey - everyone was friendly & informative'.
Crossley
-
May 2016
Leave your own review of your

Guernsey Walking Holiday

with us - add review
.
Booking Request - Guernsey
What Happens Next?
We will check your details and come back to you within two working days with a personalised estimate based on your requirements. We will then formally request a deposit of £150 per person (£100 per person for a single centre break) and book all your arrangements - find out about our full booking process here.
Please note this does not constitute a booking confirmation, we kindly ask you to refrain from booking any travel until we have confirmed all your arrangements.
Still Have Questions?
If you are still unsure on any of your requirements, please do enquire with us first and one of our friendly team will be happy to help you with any queries you have.
Enquire About Guernsey
E-mail
Sample Accommodations
Please note: exact accommodation booked will depend on availability.