Picturesque riverside walking in the spectacular Welsh Borders
Follow the The Wye Tour – the birthplace of British tourism and the term 'picturesque'
Gaze out over spectacular viewpoints
Cross paths with picturesque towns and villages
Discover the romantic ruins of Tintern Abbey
Scenic walking in a protected AONB landscape providing a fantastic blend of woodland, riverside and hill walking
2020 celebrates the 250th anniversary of Gilpin's 1770 tour
Expert knowledge from our team based in the Wye Valley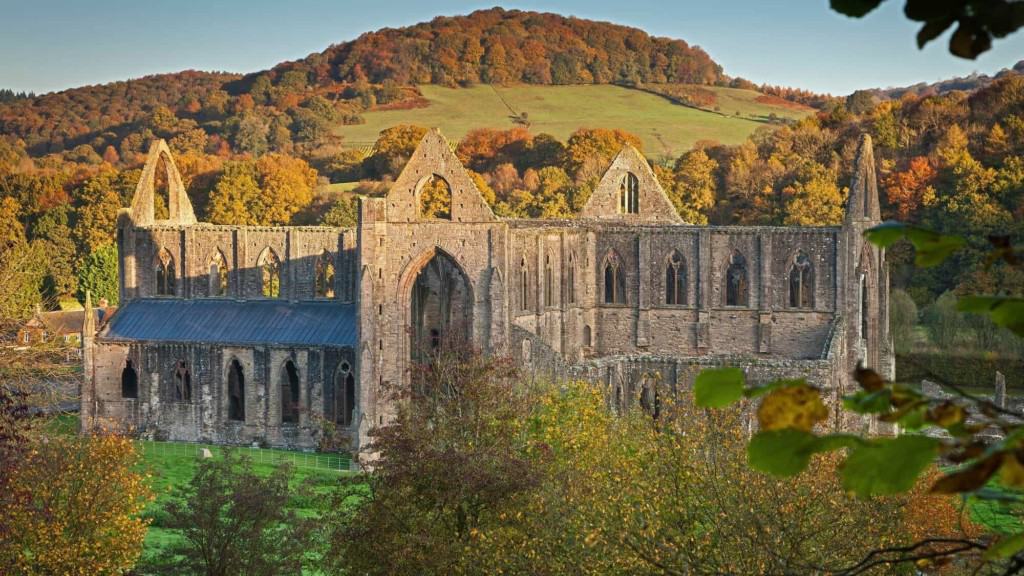 Why this Walk?
In 1770 Rev. William Gilpin took a boat trip down the River Wye, sketchbook in hand, and eagerly pursued the British equivalent of the European Grand Tour.  A pioneer of the 'Picturesque' and the way we explore and appreciate landscape in Britain, his book 'Observations on the River Wye' was arguably the first tour guide to be published in Britain and became an essential item for Victorian travellers, poets and artists visiting the area; his guide recommended that tourists should "examine the face of a country by the rules of picturesque beauty".
The 'Wye Tour' is acknowledged as the Birthplace of British Tourism; in 1745, a Rector by the name Dr. John Egerton began entertaining guests with trips down the Wye in a specially made boat. Inspired by the publications of Gilpin's guidebook, by the late 18th century there were at least 8 boats taking visitors along the tour.
Find out more about Gilpin's Wye Tour here and the 2020 Anniversary here.
Walking the Wye Tour provides a fantastic blend of hills, rivers, charming borders villages and the scenic route that connects them as you follow the course of the Wye downstream. The Wye Valley is designated a 'Site of Scientific Interest and Special Area of Conservation', highlighting what an inspiring place it is to visit and explore.
The AONB have created a great visitor guide which can be found here.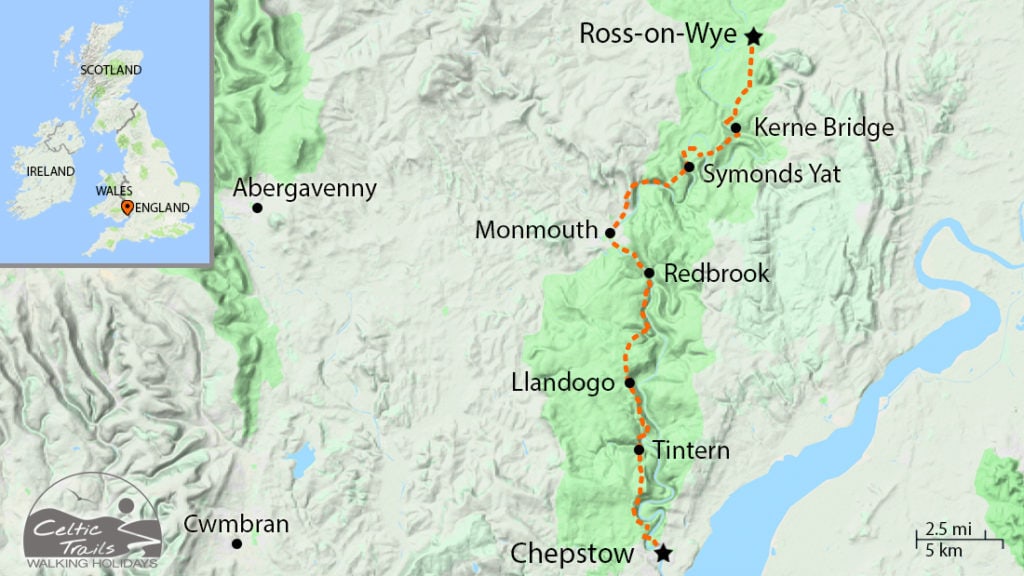 The Path
From Ross-on-Wye, your route leads you out of the town and southwards, up and over hills and fields and then alongside the river past Lydbrook and across Kerne Bridge to Welsh Bicknor. From here, the trail steers a close course to the river as you pass Symond's Yat (once an Iron Age hillfort) and then back through hills, fields and woodland on your way past the town of Monmouth. From here, the route cleaves its way through the river valley on a route past Redbrook, Whitebrook and Llandogo which features some of the more stunning viewpoints found in this part of the world. Tintern Abbey is an impressive fixture of the landscape on your way into Tintern Village, where the route climbs back up through woods and into the Chepstow town.  Tintern Abbey was undoubtedly the most eagerly awaited view on the Wye Tour: "A more pleasing retreat could not easily be found", wrote Gilpin in 1770.
The Accommodation
Our accommodation is hand-picked on the basis of feedback we receive from our walkers, and as such is often rotated based on this factor, as well as seasonal availability. Accommodation in the Wye Valley is typically very traditional in the way it presents itself, with most of the B&Bs, hotels and pubs we book in the area being converted from old rural buildings, all characterised by a consistently high standard of quality and service. Walkers can expect accommodation within close proximity of the river Wye, with breakfast included and a warm welcome waiting on arrival. Being based in the local area, we work closely with our accommodation providers along the route to ensure that our walkers can expect a tranquil and relaxing experience to follow a day spent out exploring the Wye Valley.
Our Landscape Appreciation on Gilpin's Wye Tour Itineraries
Ross on Wye to Chepstow
Distance: 34.5 miles (55.5km)
WVW-GIL1 ~ Ross on Wye to Chepstow ~ 4 / 3 classic
WVW-GIL2 ~ Ross on Wye to Chepstow ~ 6 / 5 classic
Good standard accommodation at a mixture of Guesthouses, Farmhouses, local Inns and B&B's with en-suite or private facilities wherever possible
Breakfast
Luggage transfers
Personal transfer between accommodation and path that form a part of our standard package
Route planning
Walk pack including Trail Guide and mapping, itinerary, accommodation directions and route notes, lunch and dinner information, restaurant recommendations and holiday planning details
You choose which day you would like your holiday to start on. We will book your holiday in accordance with your requirements.
Our Landscape Appreciation on Gilpin's Wye Tour holidays are available to walk March to October.
Looking for different mileages or a different number of nights? Please contact us to discuss how our itineraries can be adjusted to meet your specific needs. Call one of our helpful team on
+44 (0)1291 689774
or
e-mail us here
.
Landscape Appreciation on Gilpin's Wye Tour Client Reviews
4.7

/5 based on

3

reviews
An excellent experience with Celtic Trails - all staff always helpful both before and during the holiday. Would recommend.
Penny
-
May 2022
Beautiful scenery. Lots of big hills.
Kay
-
May 2022
Celtic Trails were very helpful. We would recommend them.
Gerard Berkers
-
April 2022
Leave your own review of your

Landscape Appreciation on Gilpin's Wye Tour Walking Holiday

with us - add review
.
Booking Request - Landscape Appreciation on Gilpin's Wye Tour
What Happens Next?
We will check your details and come back to you within two working days with a personalised estimate based on your requirements. We will then formally request a deposit of £150 per person (£100 per person for a single centre break) and book all your arrangements - find out about our full booking process here.
Please note this does not constitute a booking confirmation, we kindly ask you to refrain from booking any travel until we have confirmed all your arrangements.
Still Have Questions?
If you are still unsure on any of your requirements, please do enquire with us first and one of our friendly team will be happy to help you with any queries you have.
Enquire About Landscape Appreciation on Gilpin's Wye Tour
E-mail
Sample Accommodations
Please note: exact accommodation booked will depend on availability.