Walking the Shropshire Hills
Spectacular views over the countryside from The Caer Caradoc, Long Mynd and Stiperstones
Experience the charm of Church Stretton
Cross paths with vestiges of the old lead mining industry in the areas hills
Hills are decorated with nature trails and Iron Age hill forts
Visit the charming rural towns and villages of Church Stretton and Bishop's Castle
England's Quietest County
With the Long Mynd ridge to the west and the Stretton Hills and Caer Caradoc to the east, Church Stretton's picturesque setting in a narrow valley in the South Shropshire hills earned it the name of "Little Switzerland" and it is a designated 'Area of Outstanding Natural Beauty'.
Just stand on any of the hilltops that surround Church Stretton and admire the view – the rocky Stiperstones, the plateau of the Long Mynd, the craggy volcanic Stretton Hills and Wrekin and the long wooded scarp of Wenlock Edge - much-loved by AE Houseman- all have their own distinctive beauty.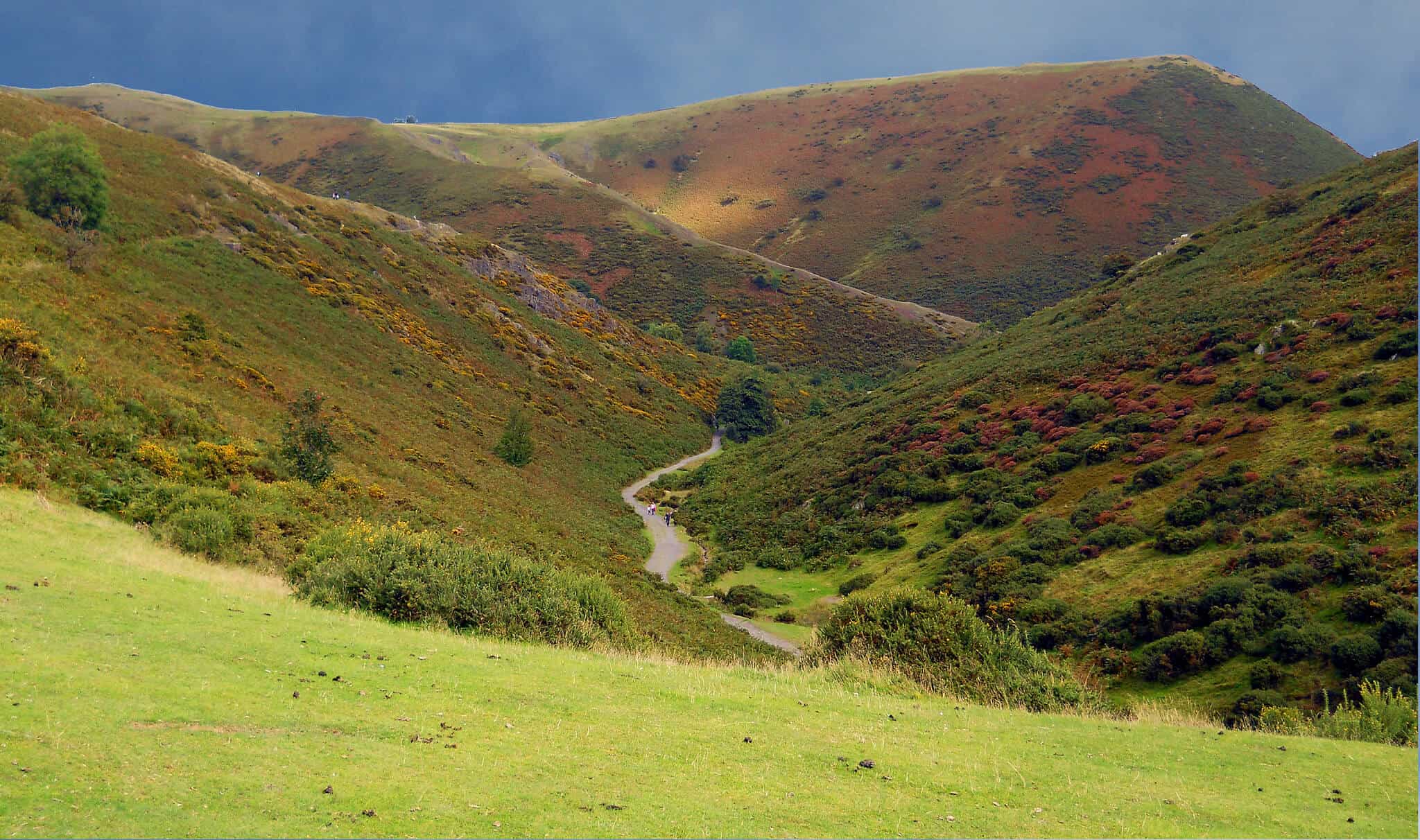 Hiking in Shropshire
Over 4,500 acres of heath and moorland on the Long Mynd are in the protection of the National Trust in England's least populated county. The hilltops are home to wild ponies, upland birds such as curlew, red grouse and merlin, and you will never be far away from a buzzard circling overhead. Keep your eyes peeled for Red Kite sightings as well.
Back in town visit the thriving antiques' centre. Browse a wide variety of independent shops or stalls at the twice-weekly market. It has a long history as a country market town, being granted a market charter by King John in 1214 and markets have been held here ever since. You'll also find yourself in good company with the country pubs serving great food and ale in the surrounding hills.
Path Walkthrough
Up to the top of the Long Mynd there are a series of interlinking hill tracks, footpaths, bridleways and paved roads. From the crest of the hill you'll have fantastic views over the surrounding forests and fields, with a more rocky trail underfoot as you make your way down via the Stiperstones. The hills cover a relatively small area, with a variety of dedicated viewing platforms and vistas - such as the 'Devil's Chair' at Stiperstones.
This is a walk that gives a real sense of travelling 'off the beaten track' as you follow the route through England's most unpopulated county. However, the hill tracks and rights of way are maintained by the local council, and navigation shouldn't prove too tricky, indeed, a lot of the rights of way in current usage were created by miners from the areas now defunct lead mining industry.
Our Shropshire Hills Itineraries
Church Stretton to Church Stretton
Distance: 21 miles (33.5km)
SHR-CSB1 ~ Church Stretton to Church Stretton ~ 3 / 2 classic
SHR-CSB2 ~ Church Stretton to Church Stretton ~ 2 / 2 classic
Church Stretton to Bishop's Castle
Distance: 33 miles (53km)
SHR-CSB3 ~ Church Stretton to Bishop's Castle ~ 4 / 3 classic
SHR-CSB4 ~ Church Stretton to Bishop's Castle ~ 3 / 3 classic
4* Bed & Breakfast
Walk Pack, including maps and guide book with route descriptions
Transportation to and from the Path when required as described in your Walk Pack
Lunch refreshments may be bought from one of the bakeries or delicious delis in town.  Dinner is not included and may be taken in one of various pubs or restaurants in Church Stretton.
You choose which day you would like your holiday to start on. We will book your holiday in accordance with your requirements.
Our Shropshire Hills holidays are available to walk March to October.
The area experiences some of the milder weather the UK has to offer, with its relatively low levels of rainfall being due to its position in the shadow of the Cambrian Mountains.
Bear in mind that temperatures in the hills tend to be noticeably colder and windier than lower levels, so pack suitable clothing for the ascent.
Travelling by train 
There are direct rail services to Church Stretton from London leaving Euston via Crewe (www.nationalrail.co.uk).
The duration of the journeys varies from 2 hrs – 3 hours.
Travelling by car 
Church Stretton is easily found neatly located close to the A49
Arrangements may be made for 'off road' parking.
Looking for different mileages or a different number of nights? Please contact us to discuss how our itineraries can be adjusted to meet your specific needs. Call one of our helpful team on
+44 (0)1291 689774
or
e-mail us here
.
Shropshire Hills Client Reviews
4.6

/5 based on

5

reviews
Celtic Trails are very well organised, very kind / helping - being on my own here, I felt embedded and safe. Also with the postponing (Covid). Many thanks. I really wanted to be alone in these sometimes even desolate landscapes. I was very pleased that
Gerda O., Belgium
-
July 2022
Nathan is always responsive and we thank Celtic Trails for holding our deposit for us to use for this trip. I feel refreshed and energised and am sleeping better after this trip.
Anon
-
June 2022
Celtic Trails are well organised and offer slightly different walks to the other groups we saw. We enjoyed the variety of walks with friends - ideal length for us. Accommodation 5/5
Sue (Hampshire)
-
May 2021
We have used CT on many occasions and hope to continue doing do. Our next holiday is already booked. This holiday was particularly welcome in these Covid-19 times. Special mention for our accommodation - five stars! Houseman's Restaurant was outstanding too!
Anon
-
October 2020
Accommodation was very good.
Anon
-
October 2020
Leave your own review of your

Shropshire Hills Walking Holiday

with us - add review
.
Booking Request - Shropshire Hills
What Happens Next?
We will check your details and come back to you within two working days with a personalised estimate based on your requirements. We will then formally request a deposit of £150 per person (£100 per person for a single centre break) and book all your arrangements - find out about our full booking process here.
Please note this does not constitute a booking confirmation, we kindly ask you to refrain from booking any travel until we have confirmed all your arrangements.
Still Have Questions?
If you are still unsure on any of your requirements, please do enquire with us first and one of our friendly team will be happy to help you with any queries you have.
Enquire About Shropshire Hills
E-mail
Sample Accommodations
Please note: exact accommodation booked will depend on availability.