Relaxed Walking Holiday through England in Miniature
Fine weather conditions for walking all year round
Extensive views over the coast from the chalk cliffs at Culver Down
Visit the grand former residence of Queen Victoria - Osborne House
Relax in the cosy country pubs and seaside towns dotted along the route
Picturesque gardens and wooded tracks bring variety to this coastal walk
The island holds designated nature reserves for its population of rare and endangered wildlife
See history brought to life at the well-preserved Carisbrooke Castle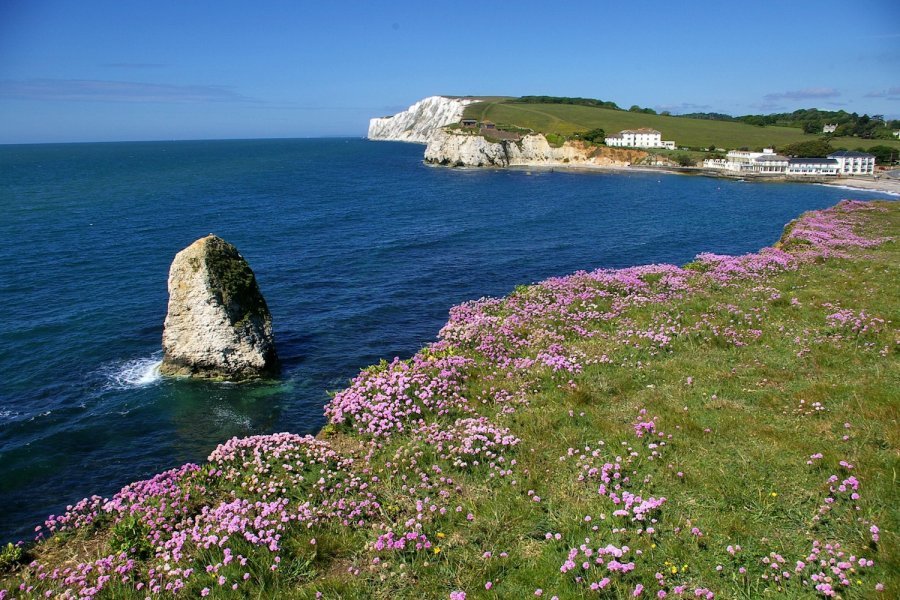 Walking Isle of Wight Coastal Path
Your walking holiday takes in the Tennyson Heritage Coast from St Lawrence to Freshwater, along the island's southern coastline. Admire the coloured sandstone cliffs at Alum Bay, explore the famous Needles and see the towering chalk cliffs at Freshwater Bay.
On your walking holiday you experience the invigorating air, quality of light and enchanting scenery of an island that has drawn in artists and poets, writers and scientists alike. Stretches of designated "Heritage Coast" cover nearly half the island's 60-mile (97 km) coastline – a designation only applied to coastlines whose fine qualities preserve the natural wildlife.
Sections of the walk will appeal to birdwatchers, with a combination of marshland, mud-flats and sands attracting a wide variety of birds.Yarmouth Castle, Osbourne House (Queen Victoria's country retreat), Tennyson's monument, castles, abbeys, churches, yellow sandy beaches, and even wine-tasting are all to be enjoyed on this fascinating walk.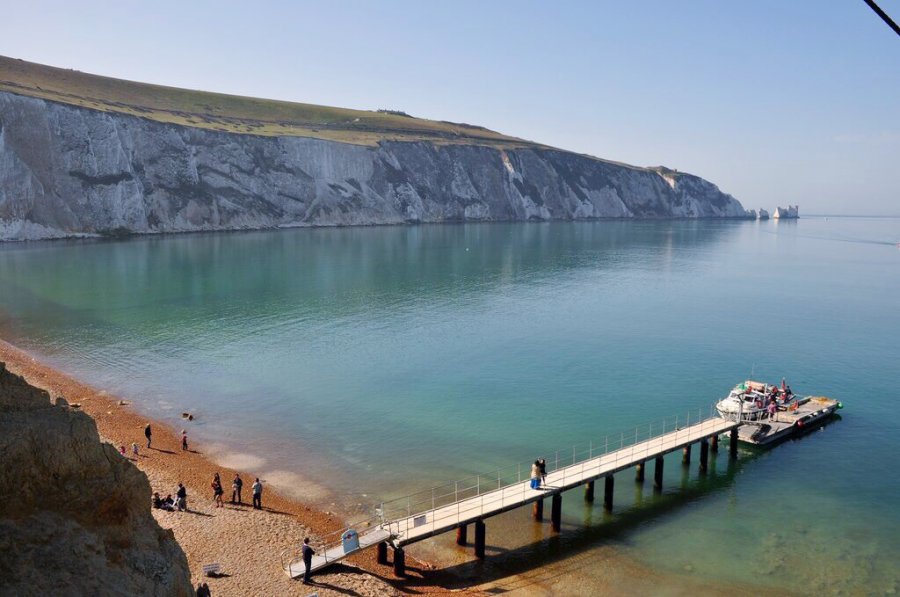 Walking the Isle of Wight is generally easygoing, with mainly mild ascents - some are steeper. The Northern sections of the path tend to stray from the coast more than the others, but this is fairly infrequent as the rest of the path is predominantly coastal.
Our team would be delighted to talk to you about an itinerary for a walking holiday on the Isle of Wight.
Celtic Trails has 20 years' experience providing tailored, quality itineraries for walkers who appreciate good service, comfort and organisation.
Path Walkthrough
The first two days of walking from Ryde to Cowes to Yarmouth, are considerably more inland than coastal. However, the easy-going walks along cliffs and gardens are pleasant walks in themselves, and the exception - in comparison with the other sections. The route to Brighstone leads you though more secluded rural areas, and is one of the more challenging of the sections as the route descends and climbs back up to a balcony path with views over the Back of the Wight.
Leaving Brighstone, the path skirts cliff edges before descending to the sands and Victorian promenade of Sandown and Shanklin. The walk is mainly flat and not too taxing, apart from several steep short and steep ascents such as 'Devils Chimney' - just outside of Ventnor. The final section to Ryde is almost entirely coastal and shouldn't present any difficulty as you enter Ryde through Priory Wood.
Our Isle of Wight Coastal Path Itineraries
Ryde to Ryde
Distance: 67 miles (107.5km)
IOW1 ~ Ryde to Ryde ~ 8 / 7 classic
| Day | Location | Distance |
| --- | --- | --- |
| Day 1: | Arrive Ryde | |
| Day 2: | Ryde to Cowes | 8 miles/13km |
| Day 3: | Cowes to Shalfleet | 9 miles/14.4km |
| Day 4: | Shalfleet to Totland | 11 miles/17.6km |
| Day 5: | Totland to Brighstone | 10 miles/16km |
| Day 6: | Brighstone to Ventnor | 11.5 miles/18.4km |
| Day 7: | Ventnor to Sandown | 5.5 miles/8.8km |
| Day 8: | Sandown to Ryde | 12 miles/19.2km |
| Day 9: | Depart Ryde after breakfast. | |
IOW2 ~ Ryde to Ryde ~ 7 / 6 classic
| Day | Location | Distance |
| --- | --- | --- |
| Day 1: | Arrive Ryde | |
| Day 2: | Ryde to Cowes | 8 mls (12.9 km) |
| Day 3: | Cowes to Yarmouth | 16 mls (25.7 km) |
| Day 4: | Yarmouth to Freshwater | 9 mls (14.5 km) |
| Day 5: | Freshwater to Chale | 12 mls (19.3 km) |
| Day 6: | Chale to Sandown | 12 mls (19.3 km) |
| Day 7: | Sandown to Ryde | 12 mls (19.3 km) |
| Day 8: | Depart Ryde | |
IOW3 ~ Ryde to Ryde ~ 6 / 5 classic
| Day | Location | Distance |
| --- | --- | --- |
| Day 1: | Arrive Ryde | |
| Day 2: | Ryde to Cowes | 8 mls (12.9 km) |
| Day 3: | Cowes to Yarmouth | 16 mls (25.7 km) |
| Day 4: | Yarmouth to Brighstone | 14 mls (22.5 km) |
| Day 5: | Brighstone to Shanklin | 15.5 mls (24.9 km) |
| Day 6: | Shankin to Ryde | 13.5 mls (21.7 km) |
| Day 7: | Depart Ryde | |
Please note that it may be necessary to stay at some locations for 2 nights. This is due to accommodations only accepting 2 night bookings at busy times. In such cases, transfers between the path and your accommodation will be included in your holiday cost.
Good standard accommodation at a mixture of Guesthouses, Farmhouses, local Inns and B&B's with en-suite or private facilities wherever possible
Breakfast
Luggage transfers
Personal transfer between accommodation and path that form a part of our standard package
Route planning
Walk pack including Trail Guide and mapping, itinerary, accommodation directions and route notes, lunch and dinner information, restaurant recommendations and holiday planning details
You choose which day you would like your holiday to start on. We will book your holiday in accordance with your requirements.
Our Isle of Wight Coastal Path holidays are available to walk March to October.
The Isle of Wight claims to enjoy the best weather the UK has to offer, so it stands to reason that summer would be an ideal time to travel. However, high summer tends to bring busy crowds to some of the coastal resorts dotted on your path. Walking necessitates a break from the more built up areas, but if you were looking for a more peaceful experience you may want to consider autumn/early summer.
Before booking, please also bear in mind that the famous Isle of Wight festival is on roughly every second week of June on the island - this may effect our ability to secure accommodation for that weekend.
By Rail: There is a railway station located in Portsmouth.  From Portsmouth take the Wightlink Fastcat catamaran to Ryde (18 minutes crossing time) www.wightlink.co.uk
By Car there are a choice of three crossings to the island:
The Wightlink ferry from Lymington to Yarmouth (crossing time 30 minutes)
The Wightlink ferry from Portsmouth to Fishbourne (crossing time 35 minutes)
The Red Funnel ferry from Southampton to Cowes (crossing time 55 minutes)
If you wish to upgrade your overnight accommodation on occasion, we will be happy to arrange this wherever availability allows – prices to be advised. Looking for different mileages or a different number of nights? Please contact us to discuss how our itineraries can be adjusted to meet your specific needs. Call one of our helpful team on
+44 (0)1291 689774
or
e-mail us here
.
Isle of Wight Coastal Path Client Reviews
4.9

/5 based on

12

reviews
Generally high quality accommodation and materials. This holiday had a positive impact on my well-being.
Anon
-
September 2020
I would describe Celtic Trails as first class - everything worked perfect from accommodation, luggage transfers and taxis.
Alan, Marlborough
-
September 2020
Gorgeous scenery, friendly villages, helpful hosts, yummy food and beverages - we are relaxed and inspired to return to daily life. We love to travel in this manner - fewer distractions, invigorating walking - almost always our accommodation exceeded our expectations. This is our fourth trip with Celtic Trails - we've done South West Coast Path, Thames Path, John Muir Way and now the Isle of Wight Coast Path.
L & A Tiner
-
October 2019
Well organised and reliable - thanks again for another great holiday.
Anon.
-
October 2019
Well organised.
Anon.
-
June 2019
We would describe our experience with Celtic Trail as unique. They greatly exceeded our expectations; great itinerary, multiple facets to enjoy and experience (beauty of nature, history, people we met). Celtic Trails managed the entire process professionally and flawlessly. In terms of the Isle of Wight - this was a good, moderate walk for someone who is in reasonably good shape, enjoys the outdoors, but has never done a walking holiday. We decided to do this because a friend had done the same walk last spring and was very encouraging to us.
J&F Hardiman
-
May 2019
The route was well signposted and in good condition. Celtic Trails compares very well with other walking companies and I would book with them again. All accommodations were excellent, in all areas.
E. Kendrick
-
September 2018
Excellent service and an enjoyable walking experience. I would use Celtic Trails again. What I most enjoyed about this walk, was walking through historic towns and villages and the lovely countryside.
C.G.
-
August 2018
Celtic Trails compares favourably with other walking holiday companies. Their service was prompt and reliable. The accommodations they booked were 5/5, without exception. This walk involved spectacular and varied scenery.
Berkelman & Stevens
-
May 2018
We very much enjoyed our Isle of Wight walk. Signage was sometimes poor, but that's not your fault. Overall, we had a great time. THANKS!
J.V.
-
May 2018
"Glorious weather and a warm welcome in the B&B's!"
Cromers
-
June 2016
"My wife and I thoroughly enjoyed our holiday and not a little of this was due to the good accommodation provided. Thank you."
R Hunt
-
October 2015
Leave your own review of your

Isle of Wight Coastal Path Walking Holiday

with us - add review
.
Booking Request - Isle of Wight Coastal Path
What Happens Next?
We will check your details and come back to you within two working days with a personalised estimate based on your requirements. We will then formally request a deposit of £150 per person (£100 per person for a single centre break) and book all your arrangements - find out about our full booking process here.
Please note this does not constitute a booking confirmation, we kindly ask you to refrain from booking any travel until we have confirmed all your arrangements.
Still Have Questions?
If you are still unsure on any of your requirements, please do enquire with us first and one of our friendly team will be happy to help you with any queries you have.
Enquire About Isle of Wight Coastal Path
E-mail
Sample Accommodations
Please note: exact accommodation booked will depend on availability.