Walking Around the Secluded Isle of Arran Coastline
Brodick Castle, Britains only island country park
Take a sample at some of the islands famous whisky distilleries, Lochranza being the most famous
The island are shores are packed with wildlife, including seals, otter and deer
Take a trip out to The Holy Isle - a Tibetan Buddhist retreat
Lochranza Castle
Discover the bronze age remnants of Machrie Moor Stone Circles
Option of scaling Goat Fell, the highest point on the isle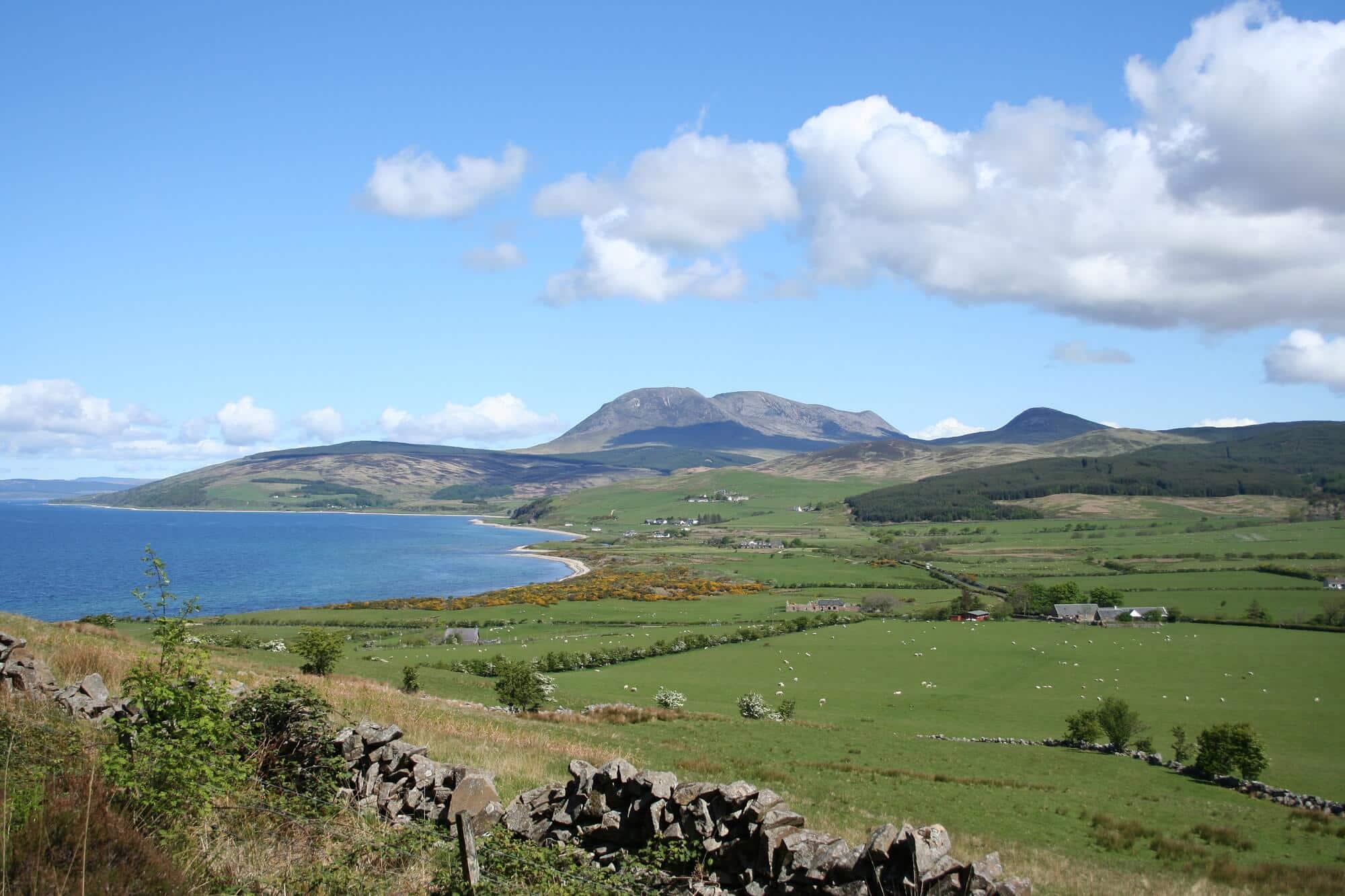 Hiking Around the Coast of Arran
The Isle of Arran is sheltered on the western side by the Mull of Kintyre across Kilbrannan Sound and the long Ayrshire coast stretching south across the Firth of Clyde on its eastern shores. The warming effects of the Gulf Stream secures an above average mainland temperatures - palm trees, Mediterranean plants are a common fixture of the island.
Walking the Arran Coastal Way is often likened to walking around a miniature model of Scotland, although this description neglects the islands strong character. Approximately 20 miles long by 10 miles across, Arran has unique contrasting landscapes in its compact area. Our route follows the rugged mountains and green hills in the north (reminiscent of Higland Glens), to the farmlands and wild forests, streams and waterfalls of the gentle Borders in the south, encircled by rugged shorelines cliffs and beaches.
Taking the ferry across from the mainland to Arran's capital, Brodick, this is truly one of the more remote and peaceful of the coastal walking holidays in UK territory. There is the opportunity to walk inland to ascend Arran's highest point, Goatfell – in fine weather this challenging but enjoyable walk to the summit rewards you with stunning views of Ayrshire, the Mull of Kintyre and Ireland.
History and Wildlife on the Isle of Arran Coastal Way
Our walks on Arran incorporate visits to the islands charming coastal villages with their white stone cottages and ancient Celtic and Norse names; Lagg, Sannox, Kildonan and Corrie. Explore the ruins of Kildonan and Lochranza Castles; venture to the King's Cave, where according to legend, Robert the Bruce regained his resolve following defeat by the English by watching a spider battle the elements. Look for Pictish carvings on the cave walls.
There have been settlements on Arran since 4,000 BC and the countryside is filled with prehistoric burial mounds, circles, ring forts and one of Scotland's best examples of Bronze Age standing stones at scenic Machrie Moor.
Arran's natural island protection makes it's wildlife a special delight of the walking holiday. The northern mountains are natural home of the red deer. Raise your eyes from your path and you may rewarded with a majestic golden eagle, gliding hen-harrier, or amongst the heather bring up a fluttering grouse or curlew. Seals can be seen basking off shore, and the coastal inlets and cliffs are home to a vast array of sea birds.
At the end of your walk visit Brodick Castle, stroll around its magnificent gardens, or return to Lochranza to sample the delights of the Isle of Arran distillery.
Path Walkthrough
The shallow coastal outline of the island has created ideal conditions for a round island coastal walk. The geology of the isle has often attracted climbers to the North side of the islands more dramatic steep ridges, our walk skirts around the edges - notwithstanding some more challenging sections, particularly the route from Lagg to Whiting Bay.
Recent drives to renovate and maintain the path have created easier ways to navigate what is quintessential rugged coastal walking, i.e the An Scriodan boulder field now has a stepped path - so it is now passable in all tides and weather. It is generally the case that where the more untamed sections of the path are lost to the tide, there will be an inland route to compensate.
Our Isle of Arran Coastal Way Itineraries
Brodick to Brodick
Distance: 64.5 miles (103.5km)
ARR1 ~ Brodick to Brodick ~ 7 / 6 classic
| Day | Location | Distance |
| --- | --- | --- |
| Day 1: | Arrive Brodick | |
| Day 2: | Brodick to Sannox | 8 miles/13km |
| Day 3: | Sannox to Lochranza | 9 miles/14.5km |
| Day 4: | Lochranza to Machrie | 14 miles/22.5km |
| Day 5: | Machrie to Lagg | 11.5 miles/18.5km |
| Day 6: | Lagg to Whiting Bay | 8.5 miles/13.5km |
| Day 7: | Whiting Bay to Brodick | 12 miles/19km |
| Day 8: | Depart Brodick | |
Good standard accommodation at a mixture of Guesthouses, Farmhouses, local Inns and B&B's with en-suite or private facilities wherever possible
Breakfast
Luggage transfers
Personal transfer between accommodation and path that form a part of our standard package
Route planning
Walk pack including Trail Guide and mapping, itinerary, accommodation directions and route notes, lunch and dinner information, restaurant recommendations and holiday planning details
You choose which day you would like your holiday to start on. We will book your holiday in accordance with your requirements.
Our Isle of Arran Coastal Way holidays are available to walk March to October.
As a general rule we would advise against walking in Scotland through November to February, these are typically the months with harsh weather and scant daylight hours.
The Isle of Arran benefits from some of the less extreme instances of bad weather Scotland can throw at you. However, rain is always a possibility if not a likelihood while walking the island and it is always worth making suitable precautions for your trip.
Looking for different mileages or a different number of nights? Please contact us to discuss how our itineraries can be adjusted to meet your specific needs. Call one of our helpful team on
+44 (0)1291 689774
or
e-mail us here
.
Isle of Arran Coastal Way Client Reviews
4.9

/5 based on

10

reviews
Celtic Trails are all good.
Kirstyn, E. Yorks
-
June 2023
Celtic Trails were well organised and professional. Arran was an amazing walk. Such varied scenery and so many historic sites to see.
David Michaud
-
September 2022
Celtic Trails were excellent from start to finish.
Alan & Judith, Marlborough
-
July 2021
Celtic Trails is a very professional company that provided us with excellent information. We referred to the details in our packet throughout our holiday. The clean Scottish air, beautiful land and seascapes, comfortable accommodations and friendly people gave us a heightened sense of well-being. The Arran Coastal Way was a very challenging walk for us; we followed the path for the first three days, after that we shortened our daily walks to about 4-5 miles, then took a bus to the next village accommodation.
Gregory & Mears
-
November 2019
We had a brilliant time with marvellous views, beautiful plants and flowers and fascinating birds and animals. Arran is a truly wonderful place. It was perfect for celebrating our Golden Wedding. Celtic Trails' information and materials are clearly presented. Our requirements were attended to an any questions arising were answered promptly.
Anon.
-
July 2019
We most enjoyed walking along the coast and through rural landscapes. Celtic Trails were supportive, responded quickly to questions and all went smoothly.
D. Sturdy
-
May 2019
The best thing about this walk, as well as the scenery and the company, was knowing Celtic Trails were behind us. We are now considering the Llyn Coastal Path.
T
-
June 2018
The Isle of Arran was really special - fine walking (including some challenging walking). The accommodation was very comfortable. What made if for me, though, was the friendliness of everyone I met.
R. Martin
-
May 2018
The best thing about this walk was the scenery, good weather, hospitable hosts, good food and whisky!
D. Smith
-
May 2018
Thanks for all your help. We had a great trip!
Van Horn
-
July 2015
Leave your own review of your

Isle of Arran Coastal Way Walking Holiday

with us - add review
.
Booking Request - Isle of Arran Coastal Way
What Happens Next?
We will check your details and come back to you within two working days with a personalised estimate based on your requirements. We will then formally request a deposit of £150 per person (£100 per person for a single centre break) and book all your arrangements - find out about our full booking process here.
Please note this does not constitute a booking confirmation, we kindly ask you to refrain from booking any travel until we have confirmed all your arrangements.
Still Have Questions?
If you are still unsure on any of your requirements, please do enquire with us first and one of our friendly team will be happy to help you with any queries you have.
Enquire About Isle of Arran Coastal Way
E-mail
Sample Accommodations
Please note: exact accommodation booked will depend on availability.