Walking around the unspoilt edge of Wales
The Llŷn Coastal Path (or Lleyn Coastal Path), is a fascinating walking holiday around the edge of Wales' lovely Llŷn Peninsula, an  'Area of Outstanding Natural Beauty'.
Your walking holiday has the precedent of being an ancient pilgrim route tracing the spiritual journey taken in early centuries by pilgrims from Bangor, along the coast of the Llŷn Peninsula to Aberdaron where they waited to make a treacherous crossing to Bardsey Island, 'The Isle of 20,000 saints'.
The 110 mile (180km) Llŷn Peninsula coastal path can be walked in a week without too much exertion and provides a great deal of variety in a compact route; seashore to (small) mountain tops; sand dunes to cliffs; unspoiled Welsh-speaking villages and popular seaside towns.
Walking The Llŷn Peninsula
Your walking holiday begins at Bangor or Caernarfon on the Menai Straits and heads out about as far west as you can get on the Welsh mainland. At Aberdaron it returns along the southern coastline of sandy Cardigan Bay to Porthmadog. The Llŷn Coastal Path is not entirely a coastal walk, inland sorties ascend hills with stunning views in all directions – west to the Irish coast, east to Snowdonia, north to Anglesey and south to Ynys Enlli. and a magical view of the holy island of Bardsey.
The walk features a fascinating amount of history found together in few other places in Britain: 12C coastal castles of Edward I at Caernarfon and Criccieth; Britain's largest Iron age hill forts; many unusual 6C Celtic churches along the trail.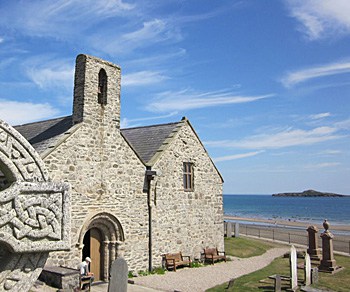 The 6th century hermit church of Hywyn at Aberdaron – it was here that pilgrims waited and prepared themselves for the short, but highly dangerous crossing to Ynys Enlli, the holy island of Bardsey.
At Llanystumdwy you can visit the birthplace of Lloyd George, Prime Minister of Britain during WW1 and at nearby Tremadoc the birthplace of TE Lawrence, Lawrence of Arabia.
For more information or advice on walking the Llŷn Coastal Coast Path, please call our walk team who will be delighted to help you with your holiday.
Celtic Trails is Wales' most experienced walking holiday company with 20 years service providing bespoke walking holidays for clients who appreciate high standards of organisation and value.
Part of the Wales Coast Path
The Llŷn Coast Path forms part of the vast 870 mile Wales Coast Path along with the following walks –