Walking the Jurassic Coast
The distinctive horseshoe shape of Lulworth Cove, and its beautiful stretch of beach
Visit the most southerly point of Dorset at Portland Island, known for its dazzlingly, bright limestone rock
The world famous fossil hunting spots of Charmouth and Lyme Regis
Cross one of Britain's most important wilderness areas at Undercliffs National Nature Reserve
The views from Gold Cap, the highest cliff on the south coast of England
Chesil Beach,  an 18 mile pebble beach separated from the mainline by Fleet Lagoon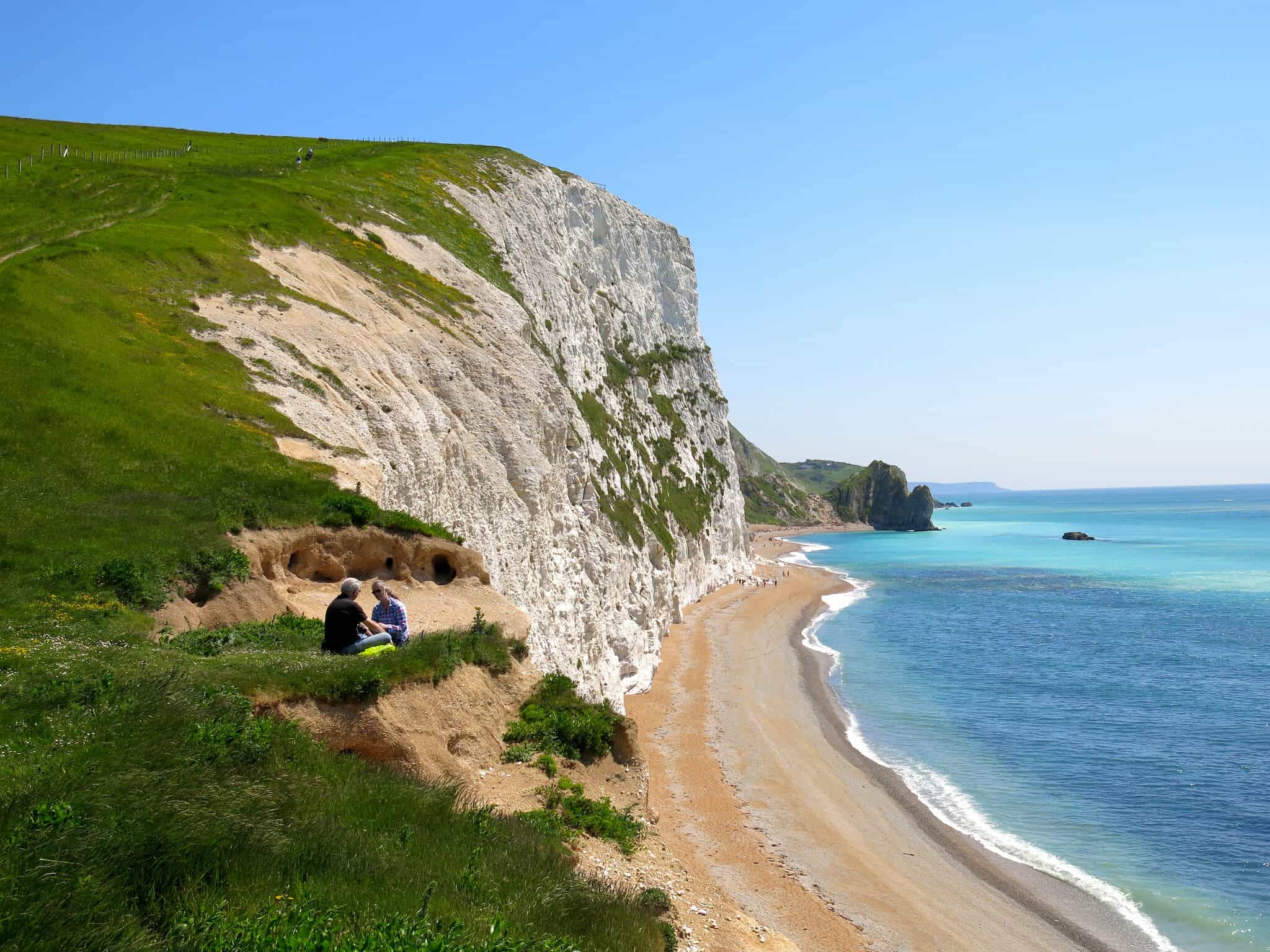 Walking the Jurassic Coast
The coast itself covers 95 miles/152 km from East Devon to Dorset, its structure charting 185 million years of history on Earth. We begin the trail at Lyme Regis, a welcome home to such authors as Jane Austen and Thomas Hardy, as well as John Fowles, whose novel "The French Lieutenant's Woman" is set in Lyme Regis.
We reach the cliffs at Charmouth, famous for their abundant fossil deposits. The first complete Plesiosaur was famously discovered here by Mary Anning in the early 19th century and you might well find your own 100 million year old fossil if you look carefully.  (If unsuccessful visit Charmouth's Old Forge fossil shop, surprised perhaps that Bill Gates buys his fossils here).
From the headland, you are rewarded by the spectacular orange sandstone cliffs of Golden Cap – the highest point on the south coast with a panorama of far reaching views in all directions.
Descend to West Bay and walk straight into Broadchurch. Here is the striking location of the television drama, attracting a record 9 million (armchair) viewers to the wonderful backdrop and enchanting little harbour town, Bridport.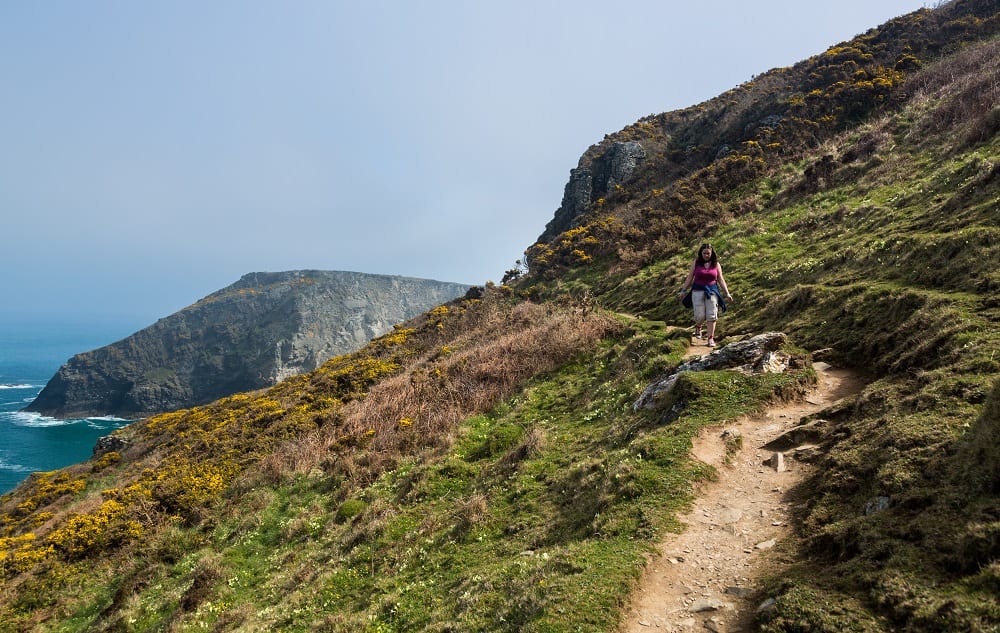 Hiking Long Stretches of Pristine Coastline
Chesil Beach extends 17 miles along the coast and is one of the finest barrier beaches in Europe, protecting an important nature reserve. Across the banks, colourful pebbles fluctuate in size - from gravel to golf balls. Experienced night fishermen can tell where they are on the beach, just by the size of the stones beneath their feet!
You stay in the beautifully preserved village of Abbotsbury, which has no street lighting and a medieval tithe barn still in use as a storehouse.
Abbotsbury has the oldest managed swan population in the world. For over 600 years a colony of mute swans has been living at Abbotsbury Swannery, founded by medieval monks as a food source.
The final part of the walk rises and dips along the cliffs above the natural arch of Durdle Door, and down to Lulworth Cove – a perfect horseshoe bay ringed with magnificent cliffs. Our trip concludes along the chalk clifftops to famous Old Harry Rocks, standing like guardians of this unique stretch of beautiful coastline on our Jurassic Coast Walk.
Got a taste for hiking Cornwall? The Jurassic Coast is another captivating section of The South West Coast Path - a walking route that clings to the entire coast of Cornwall. From St. Ives, Lands End to the Lizard Peninsula, we have itineraries that take in the most memorable of Cornwall's walking routes and coastal scenery.
To see the full range of itineraries on this path, view our South West Coast Path Walking Holidays here.
Path Walkthrough
The Geoneedle at Orcombe signals the start of the Jurassic Coast World Heritage site, on a walk through open field, woodland and pristine coastline. On a predominantly coastal route, there are some inland sections, particularly through Undercliffs National Nature Reserve, where the path can become quite uneven underfoot.
From the cliffs you have an uninterrupted view over the horizon towards the English channel, and there are some fantastic vantage points from the cliffs along this route, but steep descents and ascents can prove strenuous in places. We suggest you underestimate your walking ability rather than overestimate, to allow for variable weather conditions and the undulating nature of the coast path.
Our Jurassic Coast Itineraries
Lyme Regis to Langton Matravers
Distance: 74 miles (119km)
SWCPJ1 ~ Lyme Regis to Langton Matravers ~ 8 / 7 classic
| Day | Walk | Distance | |
| --- | --- | --- | --- |
| Day 1 | Arrive Lyme Regis | | 2n |
| Day 2 | (t) Seaton to Lyme Regis | 7 mls | |
| Day 3 | Lyme Regis to Eype | 9.5 mls | 1n |
| Day 4 | Eype to Abbotsbury | 10.2 mls | 1n |
| Day 5 | Abbotsbury to Weymouth | 14.5 mls | 1n |
| Day 6 | Weymouth to Lulworth | 11.5 mls | 1n |
| Day 7 | Lulworth to Kimmeridge (t) | 7.5 mls | 2n |
| Day 8 | (t) Kimmeridge to Swanage | 13.5 mls | |
| Day 9 | Depart Swanage | | |
(t) = transfer required to / from the path as standard.
(n) = no. of night's stay as standard.
Transfers and stays may change based on availability during busy periods.
Good standard accommodation at a mixture of guesthouses, farmhouses, local Inns and B&Bs with en-suite or private facilities wherever possible
Breakfast
Luggage transfers
Personal transfer between accommodation and path that form a part of our standard package
Route planning
Walk pack including Trail Guide and mapping, itinerary, accommodation directions and route notes, lunch and dinner information, restaurant recommendations and holiday planning details
You choose which day you would like your holiday to start on. We will book your holiday in accordance with your requirements.
Our Jurassic Coast holidays are available to walk March to October.
The Jurassic Coast Path can be walked during most seasons due to its location on the southern coast of the UK. However, if you want to get the most out of this walk, we would recommend travelling between Mar - Oct.
There are train stations located in Axminster and Swanage - www.nationalrail.co.uk
There is a bus service from Axminster to Lyme Regis or we can arrange a taxi collection - prices available upon request.
Looking for different mileages or a different number of nights? Please contact us to discuss how our itineraries can be adjusted to meet your specific needs. Call one of our helpful team on
+44 (0)1291 689774
or
e-mail us here
.
Jurassic Coast Client Reviews
4.9

/5 based on

3

reviews
Celtic Trails were great, well organised. It was great to get away after Covid. Valiant walking, amazing scenery and views. Penny and Kate, our grateful thanks for a wonderful walk
John, London
-
June 2022
It was certainly the most demanding, physically, of the 5 Celtic Trails walks I have completed - even allowing for the years of ageing in-between! Celtic Trails provide well-researched routes and provide excellent responses to questions. We were blessed with excellent weather for the spectacular scenery.
J. Marcham
-
May 2019
My brother recommended you to me and you didn't disappoint. Many greetings and a big thank you, especially to Penny.
S. Trondle
-
August 2018
Leave your own review of your

Jurassic Coast Walking Holiday

with us - add review
.
Booking Request - Jurassic Coast
What Happens Next?
We will check your details and come back to you within two working days with a personalised estimate based on your requirements. We will then formally request a deposit of £150 per person (£100 per person for a single centre break) and book all your arrangements - find out about our full booking process here.
Please note this does not constitute a booking confirmation, we kindly ask you to refrain from booking any travel until we have confirmed all your arrangements.
Still Have Questions?
If you are still unsure on any of your requirements, please do enquire with us first and one of our friendly team will be happy to help you with any queries you have.
Enquire About Jurassic Coast
E-mail
Sample Accommodations
Please note: exact accommodation booked will depend on availability.