Walking the Wonderful Thames
Immerse yourself in the royal history of the castles and palaces along the Thames
Visit Runnymede, the historic location of the signing of the Magna Carta
Traditional riverside towns and villages, with boats and barges passing downstream
Explore the extensive grounds and world-renowned hedge mazes at Hampton Court
Stay at the beautiful and historic university town of Oxford
Windsor Castle, Europe's oldest royal residence
Follow the Thames as it widens from stream to river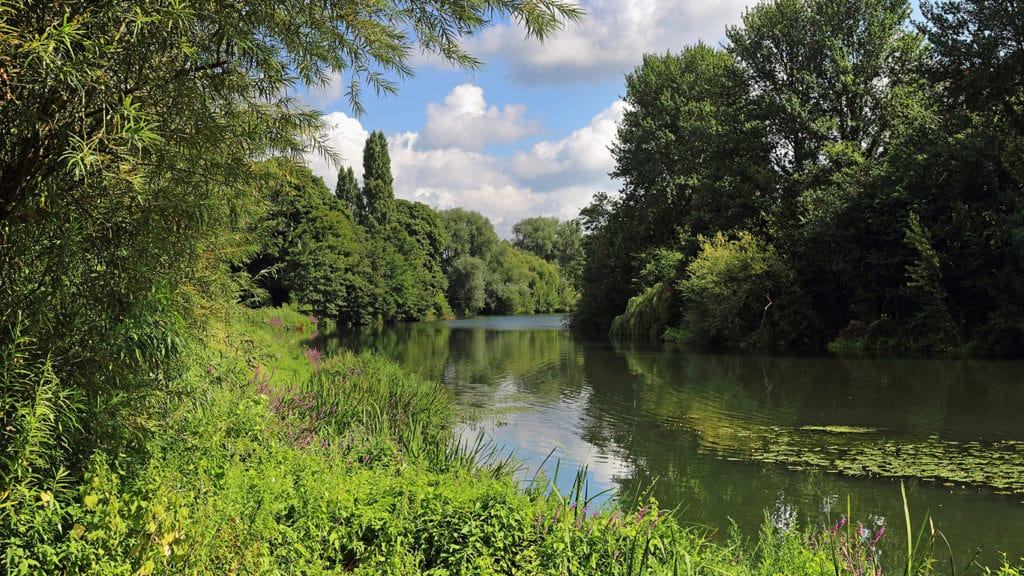 A Riverside Journey Through England
The river begins its journey as a trickling spring in a peaceful Cotswold meadow in Gloucestershire and through riverside meadows and ancient woodlands it begins to take form, leading us through charming towns such as Henley, Wallingford and Marlow.
Walking the path each day you pass ancient bridges, locks, riverside pubs, oarsmen pulling upstream, 'Royal' swans, solitary herons, kingfishers, wild flowers, water creatures and bucolic Wind-in-the Willows scenery. Ever widening, the now 'Mighty Thames' eventually flows majestically through the heart of one of the world's greatest cities.
Its journey to the sea passes an endless variety of sites and locations of fascinating historical interest; Oxford, Royal Windsor, Runnymede, Hampton Court, Kew Gardens where it takes you past the Tower of London onto the Houses of Parliament and Tower Bridge.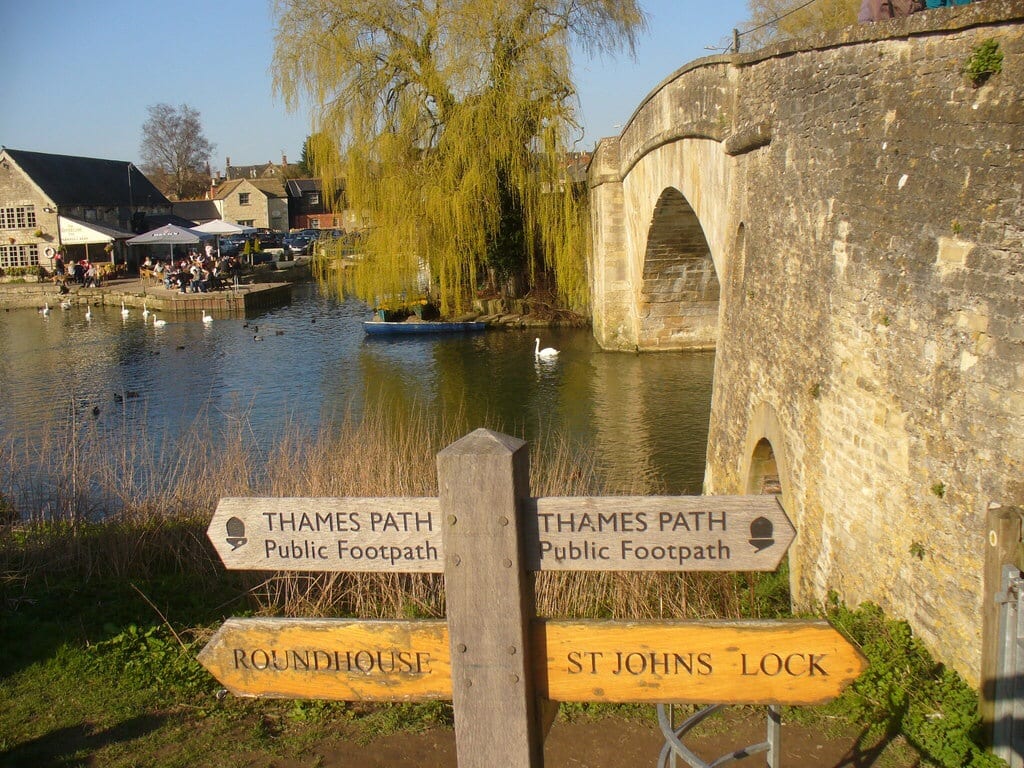 Walking Holidays on the Thames Path
The Thames Path is easy walking holiday suitable for all abilities. Our itineraries follow the Thames' peaceful progress through countryside as far as Hampton Court.
The final section is a 37 mile itinerary tailored to individual requirements, following the Thames' journey through Britain's capital, the docklands and the Thames Barrier out to sea. The terrain along the Thames Path isn't uniform, but the majority of it is flat and even - so the journey should be suitable for most capabilities.
Path Walkthrough
From the source of the river in Kemble to Cricklade, Lechlade and Newbridge into Oxford - it's a peaceful, rural walk with barely any ascents or descents across farmland, riverside and meadow. It starts to feel busier entering and leaving Oxford, becoming quieter on your route out to Abingdon.
The scenery of The Thames Path begins to feel markedly different as you approach Dorchester, with more picturesque towns and the river gradually filling with barges, boats and other leisure craft. There is one steep climb on approaching Wallingford (which is optional), where you have a fantastic vantage point out over the area.
The path into Reading is quieter than expected as the route keeps to the North (the least urbanised) section of the town, whereupon the river meets Henley. Your journey crosses the wooded slopes of The Thames Valley as you pass into Windsor, with grand estates dotted along the riverside.
As you near London the path becomes busier, however, there is still a lot of green space on the final section as you take an old towpath, past an old racecourse into Hampton Court.
Our Thames Path Itineraries
Kemble to Hampton Court
Distance: 147.5 miles (237km)
TP1 ~ Kemble to Hampton Court ~ 13 / 12 classic
| Day | Walk | Distance | |
| --- | --- | --- | --- |
| Day 1 | Arrive Kemble | | 1n |
| Day 2 | Kemble to Cricklade | 12.4 mls | 1n |
| Day 3 | Cricklade to Lechlade | 11 mls | 1n |
| Day 4 | Lechlade to Newbridge | 16.5 mls | 1n |
| Day 5 | Newbridge to Oxford | 14 mls | 1n |
| Day 6 | Oxford to Abingdon | 11 mls | 1n |
| Day 7 | Abingdon to Benson | 11.5 mls | 1n |
| Day 8 | Benson to Pangbourne | 12.5 mls | 1n |
| Day 9 | Pangbourne to Shiplake | 13.5 mls | 1n |
| Day 10 | Shiplake to Marlow | 11 mls | 1n |
| Day 11 | Marlow to Windsor | 14.5 mls | 1n |
| Day 12 | Windsor to Shepperton (t) | 13.5 mls | 2n |
| Day 13 | (t) Shepperton to Hampton Court | 6.5 mls | |
| Day 14 | Depart Hampton Court | | |
(t) = transfer required to / from the path as standard.
(n) = no. of night's stay as standard.
Transfers and stays may change based on availability during busy periods.
Kemble to Oxford
Distance: 54 miles (86.5km)
TP2 ~ Kemble to Oxford ~ 5 / 4 classic
| Day | Walk | Distance | |
| --- | --- | --- | --- |
| Day 1 | Arrive Kemble | | 1n |
| Day 2 | Kemble to Cricklade | 12.4 mls | 1n |
| Day 3 | Cricklade to Lechlade | 11 mls | 1n |
| Day 4 | Lechlade to Newbridge | 16.5 mls | 1n |
| Day 5 | Newbridge to Oxford | 14 mls | 1n |
| Day 6 | Depart Oxford | | |
(t) = transfer required to / from the path as standard.
(n) = no. of night's stay as standard.
Transfers and stays may change based on availability during busy periods.
Good standard accommodation at a mixture of guesthouses, farmhouses, local inns and B&Bs with en-suite or private facilities wherever possible
Breakfast
Luggage transfers
Personal transfer between accommodation and path that form a part of our standard package
Route planning
Walk pack including Trail Guide and mapping, itinerary, accommodation directions and route notes, lunch and dinner information, restaurant recommendations and holiday planning details
You choose which day you would like your holiday to start on. We will book your holiday in accordance with your requirements.
Our Thames Path holidays are available to walk March to October.
Mild weather in this region means that the path can be explored at almost any point in the calendar. Some areas can be prone to flooding after excessive rain; we can advise alternatives in such situations. However, we would suggest that the journey is best taken from May - October.
Walkers interested in birdlife, flora and nature should visit at the tail-end of Spring to catch wildlife along the river at its most active.
Rail
Railway stations are located in Kemble, Oxford, Windsor and Hampton Court.
Approximate length of train journeys:
London Paddington to Kemble               ~ 1.5 hours
London Paddington to Oxford                ~ 1 hour
London Paddington to Windsor              ~ 30 minutes
London Waterloo to Hampton Court      ~ 35 minutes
Looking for different mileages or a different number of nights? Please contact us to discuss how our itineraries can be adjusted to meet your specific needs. Call one of our helpful team on
+44 (0)1291 689774
or
e-mail us here
.
Thames Path Client Reviews
4.9

/5 based on

15

reviews
Celtic Trails were easy to use, excellent accommodation, good value, accommodation owners very positive about Celtic. I've done this path before, but thought it would be good to do with Celtic, and it was. All accommodation was of, or above, our expectations
D G Evans, Stockport
-
July 2022
Celtic Trails offer an efficient service - have only ever walked with them. Cotswold Way next year. Distance walking is a good challenge for me and enhances my mood.
Anon
-
September 2021
Celtic Trails were better than other companies we've used - more personal touch; more flexible to our needs
Steve Kaye
-
September 2021
Celtic Trails are the only organisation you need to know when arranging a long distance walk - everything organised efficiently, which eliminates any hassle and gives peace of mind.
Malcom & Andrew, Leeds
-
July 2021
A challenge, but worthwhile and great experience. It's a complete change from being in an office all da, so a good way to unwind.
A Mann
-
September 2020
We have walked with Celtic Trails yearly since 2011 and always find the company most reliable. We most enjoyed the wonderful landscapes, small villages and the kind people we met.
Borchsenius
-
September 2019
Friendly service, easy to understand itinerary, excellent accommodation. Thames Path is an enjoyable walk as you see the river develop from a muddy stream into a might river. So peaceful in some areas, yet busy and vibrant in others.
Mapp
-
September 2019
Walking with Celtic Trails makes the walk much easier
Warren
-
September 2019
All the awkward bits, such as accommodation and baggage movements were taken care of, so we only needed to enjoy the walk. The Thames path is an easy level walk, with plenty of places to stop en-route for a drink. 6 hours walking daily provided lots of time to chat and catch up with friends.
M/ Hedley
-
July 2019
Excellent arrangements for accommodation and luggage transfer, with outstanding information and high quality, convenience accommodation. A great break in the fresh air and varied weather - good to cope with fair and wet conditions. A great three days, ending in Oxford, which was lovely to return to.
Anon
-
July 2019
This was our first self-guided tour so I wanted a fairy easy trip in an English speaking country. We have, up 'til now, gone with groups and I was a little nervous of going on our own, but it was such an easy to follow path! We had a great time and I got my confidence up to do more self-guided trips.
I. Speranza
-
May 2019
Well taken care of; no hiccups; everything went very smoothly; accommodations well selected.
La Count
-
April 2019
The only issue with this walk, was us not reading the signs.
P
-
April 2018
"I really enjoyed the variety of scenery and sense of history along the way."
Horsfield
-
October 2015
"A fantastic holiday!"
Welch
-
July 2015
Leave your own review of your

Thames Path Walking Holiday

with us - add review
.
Booking Request - Thames Path
What Happens Next?
We will check your details and come back to you within two working days with a personalised estimate based on your requirements. We will then formally request a deposit of £150 per person (£100 per person for a single centre break) and book all your arrangements - find out about our full booking process here.
Please note this does not constitute a booking confirmation, we kindly ask you to refrain from booking any travel until we have confirmed all your arrangements.
Still Have Questions?
If you are still unsure on any of your requirements, please do enquire with us first and one of our friendly team will be happy to help you with any queries you have.
Enquire About Thames Path
E-mail
Sample Accommodations
Please note: exact accommodation booked will depend on availability.