Walking on sunshine in Tenerife
Take in the magnificence of Spain's highest mountain El Teide, as well as its neighbouring peak, Guajara
Spend a few days staying right at the base of El Teide next to the famous Cañadas del Teide crater.
See fascinating and unusual basalt rock formations
Explore Tenerife's history whilst wandering through the old towns of Garachico and San Cristobal de la Laguna (a UNESCO World Heritage site)
Hike through tropical forests and enjoy its unique flora and fauna
Relax and unwind in front of spectacular sunsets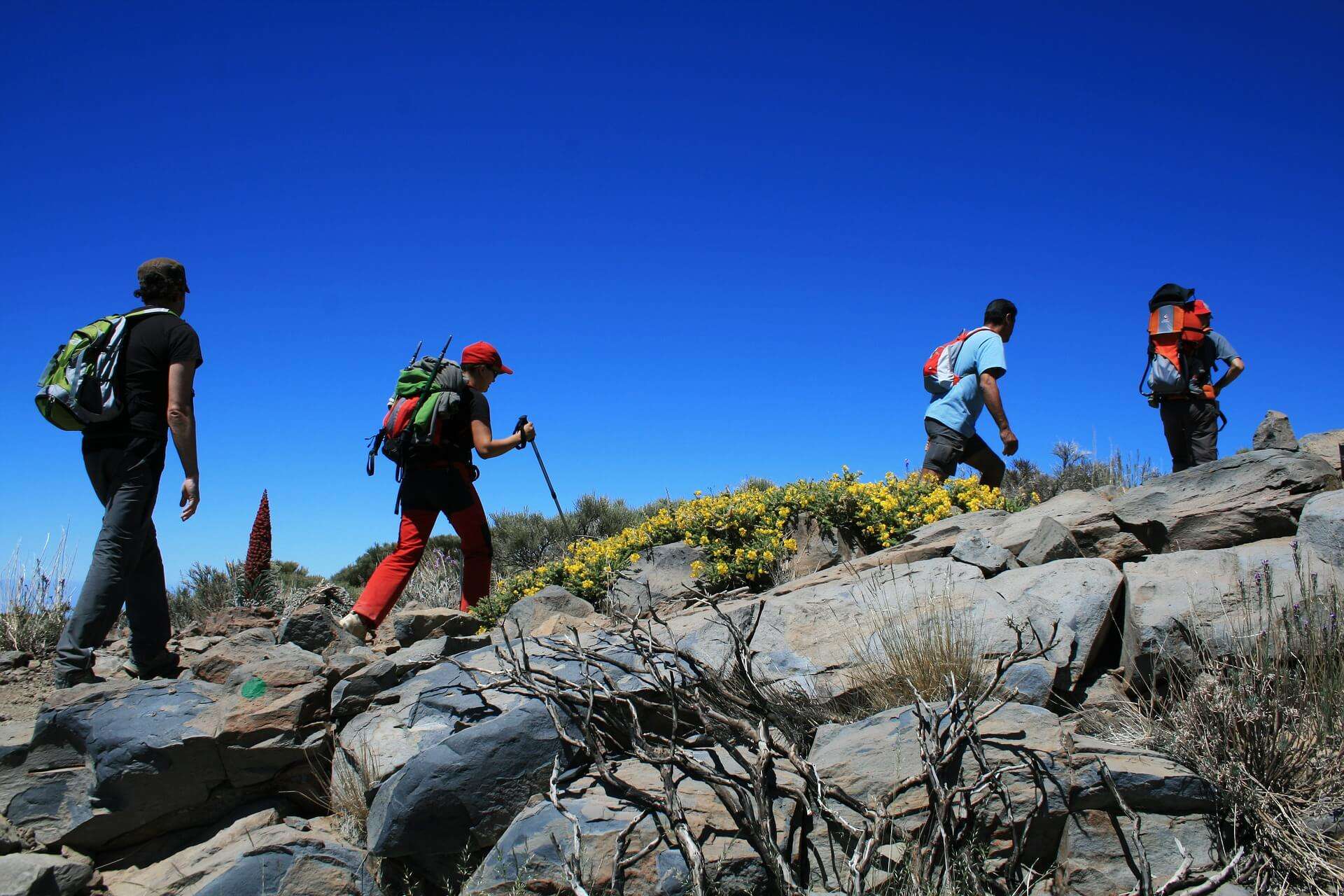 Why Walk in Tenerife?
Tenerife may be best known for it's pristine beaches and perfectly blue seas, but with its varied landscape, it also has a great deal to offer walkers. Within a just a few hours, walkers can be exploring sub-tropical forest, hiking up volcanoes or scrambling along the fascinating rock formations – meaning that those looking for a variety of terrains really are spoilt for choice. At the end of each day, the mild weather provides the perfect conditions for indulging in a bit of relaxation with a cold drink and those spectacular sea views.
The Path
This holiday has been designed to take in the very best of Tenerife through a number of circular walks covering a wide variety of different landscape. The first few days are spent exploring the volcanic landscape around the famous Teide National Park. Your walks in this area will include the opportunity to explore the top of Spain's highest mountain Mount Teide, a challenging hike up the neighbouring peak of Guajara and a walk around the crater at the foot of Teide, Cañadas del Teide. For the second half of your week you will explore a range of different terrains across the length of the island, including the pine woods around Aguamansa, the remote and hilly western cape of Punto de Teno, and the breath-takingly beautiful Anaga Park on the north-east of the island. All offer spectacular and diverse views of the island and its surroundings. On each day you will walk between 4-7 hours, which includes some relatively steep hiking with an ascent/descent of 650m. The walks on this holiday are considered moderate to challenging, although there are also a number of easier days.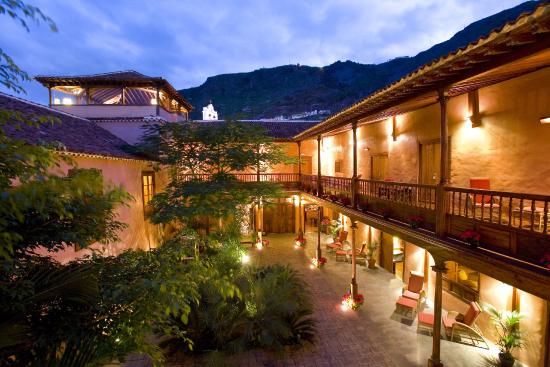 The Accommodation
All of our accommodation has been hand-picked to provide en-suite rooms in unique and characterful hotels away from from the bustle of the more popular touristy spots. You will be staying in four different hotels across this 8 day holiday, allowing you the time to properly explore each area. The accommodation includes two beautiful old manor houses, finished off to a very high standard and located in charming, historic towns offering plenty of opportunity to enjoy the local lifestyle. Two hotels also boast excellent spa facilities providing the perfect balance between comfort and culture. Additional treatments whilst staying at these hotels can also be booked in advance. Whilst in Teide National Park, the accommodation is slightly simpler but located right in the heart of the park with unrivalled views of Mount Teide from your bedroom window.
Our Tenerife: Volcanic Beauty Itineraries
Vilaflor to San Cristobal de La Laguna
Distance: 51.9 miles (83.5km)
CAN-TEN1 ~ Vilaflor to San Cristobal de La Laguna ~ 7 / 6 classic
Prices
| | Two sharing pp | Single person (in a group) |
| --- | --- | --- |
| 01/10/2023 - 08/01/2024 | £1,315 | £1,890 |
| 09/01/2024 - 31/03/2024 | £1,290 | £1,700 |
| 01/04/2024 - 31/08/2024 | £1,215 | £1,605 |
| 01/09/2024 - 12/12/2024 | £1,290 | £1,700 |
| 13/12/2024 - 31/12/2024 | £1,375 | £2,015 |
Extras
*Please note that this holiday is available through the year but please note restrictions as highlighted below:
Day 3: Ascent to El Teide summit : Those who plan to walk to the top of El Teide must request a permit WELL in advance (before departure for Spain. There are only a certain number of people permitted to walk to the summit each day. There is an on-line booking service on the National Park website where you can reserve your permit (free). Therefore please note that if you are booking at short notice there may no longer be any permits available. https://www.reservasparquesnacionales.es/
Day 3 & 4 : Access to the area around El Teide is restricted on Wednesdays and Fridays (except bank holidays) from early May to mid-June and early or mid-October to mid- or late November, during the hunting season. Details are available at http://www.mapama.gob.es/
Day 4: Pico Guajara : In spring and autumn, access to the Montaña Guajara route is restricted on hunting days (Wednesday and Friday) so you may wish to plan your holiday dates to avoid these days and this issue.
What's included?
7 nights accommodation in an en-suite room on a bed and breakfast basis
Transfer between walks and all luggage transfer
Transfer to and from the airport
Cable car ticket up Mount Teide
24-hour telephone assistance
Detailed maps and route descriptions in English
Optional Extras
Extra nights or Rest Days ~ Please enquire for extra night prices at each location
Spa treatments at either your first or last hotel (Days 1, 2 and 7)
Not Included
Flights
Transfer from Tenerife North Airport to Vilaflor - can be arranged at an extra cost of £80
National park permit to access the peak of mount Teide
Packed lunches are not included. We have left this open in order to allow you the opportunity to make the most of the local cuisine. There are excellent shops and cafes along your routes or alternatively packed lunches can be ordered from most hotels.
Evening meals whether taken in a local restaurant or in-house at your accommodation should always be paid for direct.
You choose which day you would like your holiday to start on. We will book your holiday in accordance with your requirements.
Our Tenerife: Volcanic Beauty holidays are available to walk January to December.
Tenerife can be enjoyed year round, with mild temperatures throughout the year. There is higher rainfall between November and March, which can result in snow at higher elevations around Mount Teide peak.
In spring and autumn, access to the Montaña Guajara route is restricted on hunting days (Wednesday and Friday) so you may wish to plan your holiday dates to avoid these days and this issue.
Tenerife has two airports (Tenerife Norte and Tenerife Sur), both of which are suitable for this holiday and in easy distance of the start and end accommodation.
You will be met at the airport by taxi and taken to your first accommodation in Vilaflor and return at the end of your holiday from San Cristobal de La Laguna is by taxi transfer and this is included in your holiday price.
Tenerife Sur (South) (TFS) is the larger of the two island airports but a transfer can be arranged from Tenerife Norte (North) (TFN) instead if requested.
You are responsible for booking your air travel to airports in Tenerife.
We can organise additional nights/rest days, as well as transport options. Please contact us to discuss how we can help you with your specific requirements. Call one of our helpful team on
+44 (0)1291 689774
or
e-mail us here
.
Tenerife: Volcanic Beauty Client Reviews
5

/5 based on

3

reviews
One reason we chose this particular walk was that it was not point to point, but rather multiple options each day and staying in each hotel two-nights. This was a perfect trip from our perspective. A beautiful setting. All the hotels were very good.
Ronald Myers
-
February 2023
I would describe Celtic Trails as fabulous - varied walks, excellent organisation. This walk improved my fitness and was very relaxing.
Anon
-
March 2020
Overall, a very good holiday - hotels excellent, logistics all worked well. Top choice of walks and hotels, with good logistics.
K & M Cornelius
-
November 2019
Leave your own review of your

Tenerife: Volcanic Beauty Walking Holiday

with us - add review
.
Booking Request - Tenerife: Volcanic Beauty
What Happens Next?
We will check your details and come back to you within two working days with a personalised estimate based on your requirements. We will then formally request a deposit of £150 per person (£100 per person for a single centre break) and book all your arrangements - find out about our full booking process here.
Please note this does not constitute a booking confirmation, we kindly ask you to refrain from booking any travel until we have confirmed all your arrangements.
Still Have Questions?
If you are still unsure on any of your requirements, please do enquire with us first and one of our friendly team will be happy to help you with any queries you have.
Enquire About Tenerife: Volcanic Beauty
E-mail
Sample Accommodations
Please note: exact accommodation booked will depend on availability.