Rugged Mountains and Dramatic Sea-views in the Heart of the Mediterranean
Ascend the peaks of Mallorca's largest and most impressive mountain range, the Serra de Tramuntana (now a World Heritage Site)
Picture-perfect seascapes featuring pure sapphire seas, rugged cliffs, quiet coves and beaches
Overnight stays in the historic towns of Valldemossa and Pollença and the coastal town of Port de Sóller allowing you to enjoy these truly beautiful towns at your own pace
Traditional Mediterranean architecture including the beautiful Lluc monastery
Opportunities to spot rare birds including Montagu's Harrier, Hobby and Honey Buzzards, Black and Griffon Vultures, Peregrine Falcons and Booted Eagles during migration season
Enjoy delicious Mediterranean cuisine including plenty of fresh seafood on this island which now boasts 7 Michelin starred restaurants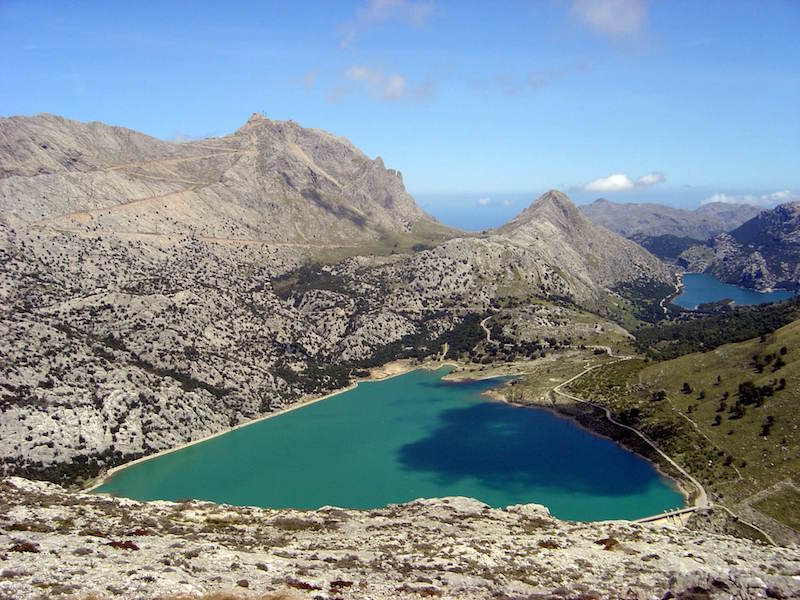 Why Walk in Mallorca?
Blending Mallorca's infamous sapphire seas and white sandy beaches with the impressive peaks of the Serra de Tramuntana mountain range – coastal walking doesn't get much better than this. This six-day hike will take you up into the mountains to enjoy dramatic seascapes, down onto the perfect beaches for a welcoming sea-dip and through valleys full of orange groves and olive trees. Along the way, you will also pass through and stay in some of Mallorca's most beautiful towns and villages, providing the perfect opportunity to absorb the island's culture and enjoy its delicious fresh seafood. For those looking for a more gentle escape, this walking holiday also includes the option of shorter daily walks with smaller ascents. Additionally, we are also very happy to offer the option of a night in Palma de Mallorca, where you can you explore the old town and its magnificent Cathedral.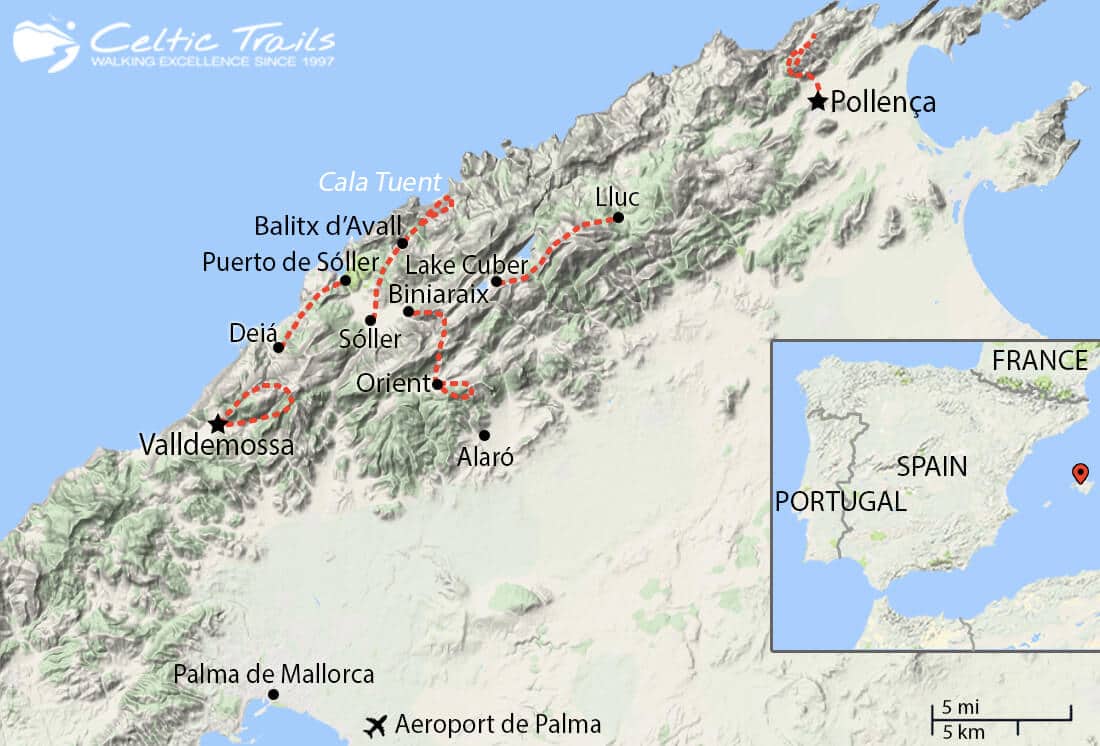 The Path
Starting in the town of Valldemossa on the mid-west coast, the path combines coastal-walking, valley-walking and mountain-walking as you gradually make your way north to Port de Sóller and from there onto the town of Pollença. Whilst the route does take you inland on some days, the mountainous landscape ensures that you will enjoy a never-ending supply of breathtaking and varied sea views. Your week will also include a few circular walks, providing the opportunity to further explore the Tramuntana mountains as well as the landscape around Valldemossa, Sóller and Pollença. Each day you will walk between 4 and 6 hours which will include some steep ascents and descents, but also gentle coastal paths.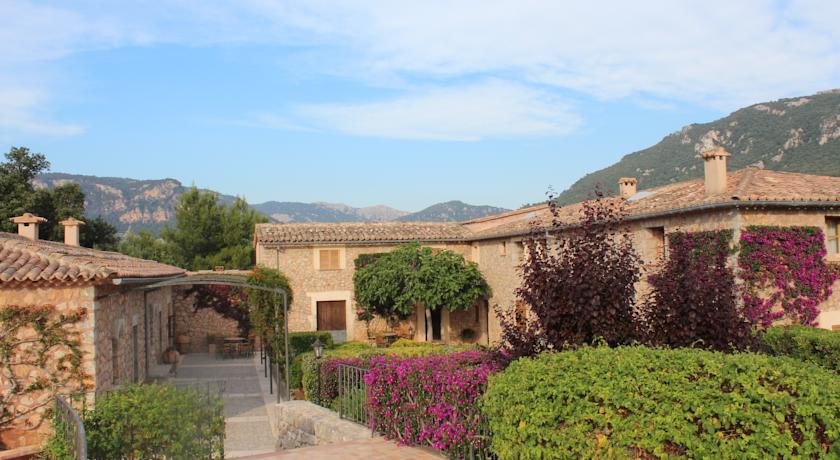 The Accommodation
One of the great highlights of this walk are the towns that you will be staying in. You will spend 2-3 nights each in the towns of Valldemossa, Port de Sóller, Pollença, all of which are not only beautiful but fantastic places to explore, with far fewer tourists than the southern towns. Your accommodation has been hand-picked to include relaxing, high-quality hotels with plenty of character and where you can be a guaranteed a warm welcome. This includes two beautiful historic buildings, converted into relaxing and quiet hotels as well as a bayside hotel with your own balcony and sea views. All rooms are en-suite and include access to a swimming pool and large outdoor terraces.
Our Mallorca Itineraries
Valldemossa to Pollença
Distance: 45.7 miles (73.5km)
BAL-MAL1 ~ Valldemossa to Pollença ~ 7 / 6 classic
Prices
| | Two sharing pp | Solo walker | Single person (in a group) |
| --- | --- | --- | --- |
| 01/11/2023 - 23/11/2023 | £925 | £1,555 | £1,360 |
| 15/02/2024 - 15/03/2024 | £975 | £1,645 | £1,440 |
| 16/03/2024 - 31/05/2024 | £1,065 | £1,745 | £1,540 |
| 01/06/2024 - 30/06/2024 | £1,125 | £1,860 | £1,655 |
| 01/07/2024 - 30/09/2024 | £1,170 | £1,995 | £1,785 |
| 01/10/2024 - 31/10/2024 | £1,125 | £1,860 | £1,655 |
| 01/11/2024 - 23/11/2024 | £975 | £1,645 | £1,440 |
Extras
Each day of walking will last between 4 and 6 hours with an average ascent and descent of 500m (if you choose the easy walks) or 560m (if you opt for the more difficult options).
Please be aware that the day spent in Ternelles is subject to availability as it is a private estate with daily passes limited to 20 people per day. We are confident that most walkers will be able to visit the estate, however an alternative walk will be offered if spaces are not available.
7 nights accommodation on a bed & breakfast basis
Luggage transfer
Transfers to and from the path where necessary
Detailed maps and route descriptions in English
24-hour telephone assistance
Optional Extras
Extra night or rest days at any of the locations ~ Please enquire for extra night prices at each location
Airport transfer on arrival or departure day
Extra nights in any of the hotels
Airport Transfers

Airport to accommodation (Valldemossa) - £67
Accommodation (Pollença) to Airport - £80
Not Included
Evening meals ~ we have not included evening meals to allow to you experience your own choice of local cuisine
Packed lunches are not included but can be ordered either from your accommodations or locally and paid for direct each day.
Flights
Airport Transfers to and from your accommodation
You choose which day you would like your holiday to start on. We will book your holiday in accordance with your requirements.
Our Mallorca holidays are available to walk February to November.
Nearest airport is Palma de Mallorca (PMI)
Arrival by public transport to Valldemossa: If you are arriving at Palma de Mallorca airport there is a shuttle bus which runs from the airport to the bus/train station in La Palma every 15 minutes (journey approx. 20 minutes).
From Palma city centre there is a regular bus (LINE 20) to Valldemossa (journey 30 minutes), the last bus leaves at 19:00 (18:30 on Sundays). Check timetables at https://www.tib.org/portal/en/web/ctm/autobus/linia/210
You will then need to get a taxi to the hotel (approximately 2.5 km).
Departure by public transport from Pollença: At the end of your walk there are regular daily buses from Pollença to Palma city centre, which take approximately 1 hour.
From here regular shuttle buses run to the airport.
Private transfers: Alternatively a Taxi transfers can be arranged from/return the airport if required
Palma de Mallorca – Airport - £30
You are responsible for booking your air travel to Palma de Mallorca airport
An upgraded accommodation option is available for this walk.  Please enquire for details if this is of further interest.
Booking Request - Mallorca
What Happens Next?
We will check your details and come back to you within two working days with a personalised estimate based on your requirements. We will then formally request a deposit of £150 per person (£100 per person for a single centre break) and book all your arrangements - find out about our full booking process here.
Please note this does not constitute a booking confirmation, we kindly ask you to refrain from booking any travel until we have confirmed all your arrangements.
Still Have Questions?
If you are still unsure on any of your requirements, please do enquire with us first and one of our friendly team will be happy to help you with any queries you have.
Enquire About Mallorca
E-mail
Sample Accommodations
Please note: exact accommodation booked will depend on availability.