Discover Dubrovnik and the natural beauty of South Dalmatia Countryside and Islands
Explore the Mljet National Park
Island-hopping between various idyllic walking routes
Walks along the beautiful beaches of the Adriatic
Expert led tour of Dubrovnik Old Town
Walking routes on the picturesque island of Lopud
The Church and Benedictine Monastery on Sv. Marija island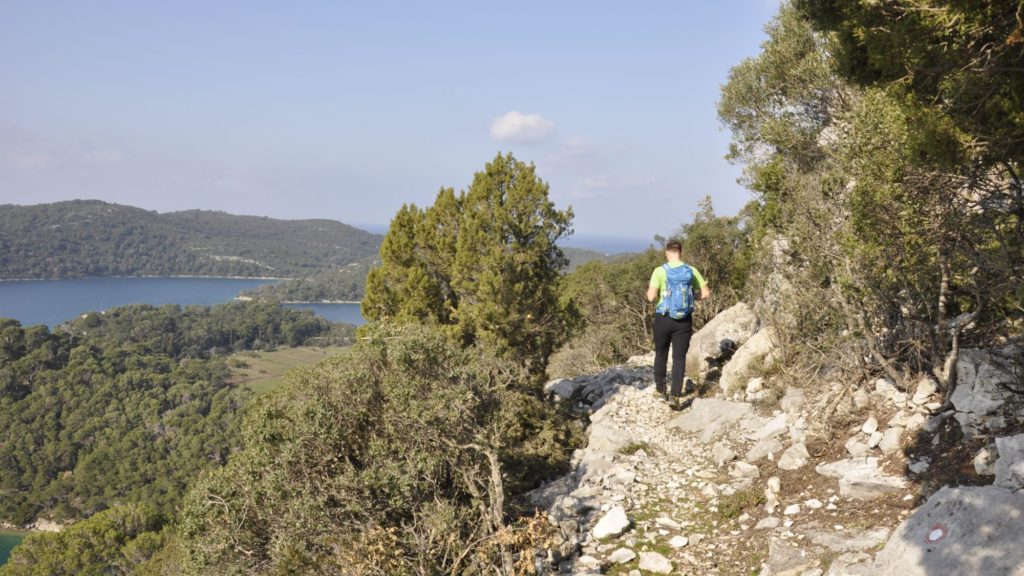 Why this walk?
This holiday blends unique cultural experiences with scenic walking trails among some of the most pristine stretches of coastline found in the Mediterranean. This walking holiday encompasses a range of walking routes on the outlying islands, as well as the famous walled city of Dubrovnik. As such, most walking days on this route begin and end with a boat transfer. Walking is the perfect way of really getting under the skin of the rich history and awe-inspiring landscape of Dubrovnik and the islands, where you can experience the beauty of the Adriatic coast at close quarters. Island life is much slower around here, and you'll find a delightfully laidback and tranquil environment for walking in Mljet National Park and the island of Lopud, which is completely traffic-free.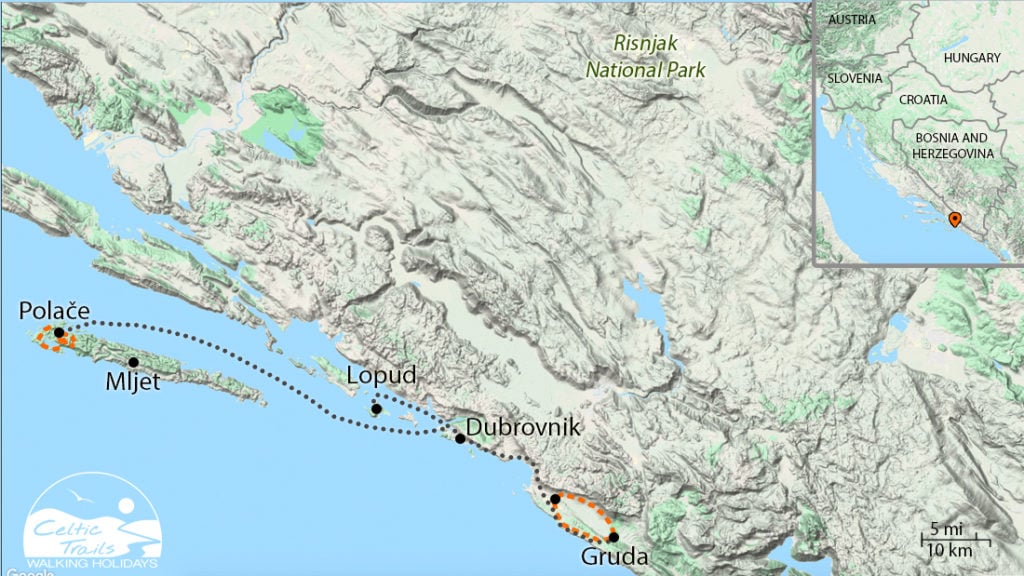 The Path
Your route begins in mainland Croatia, in the Konavle Countryside.  From the village of Radovčići, a footpath takes you along a rural trail before joining the coast at Pasjača beach and turning off back towards the countryside towards the villages of Čilipi and Komaji, before returning to Radovčići.
This holiday has been designed to allow you plenty of time to discover and explore the medieval city of Dubrovnik, known as the 'Pearl of the Adriatic' and includes a guided tour from a local expert.
Short boat transfers allow you to experience island walking routes, where the natural landscape of the islands has been beautifully conserved and your route is quiet and rural in character, occasionally punctuated by some of the islands small traditional villages.
The final day allows you further time to explore the maze of picturesque winding streets and charming harbours etc.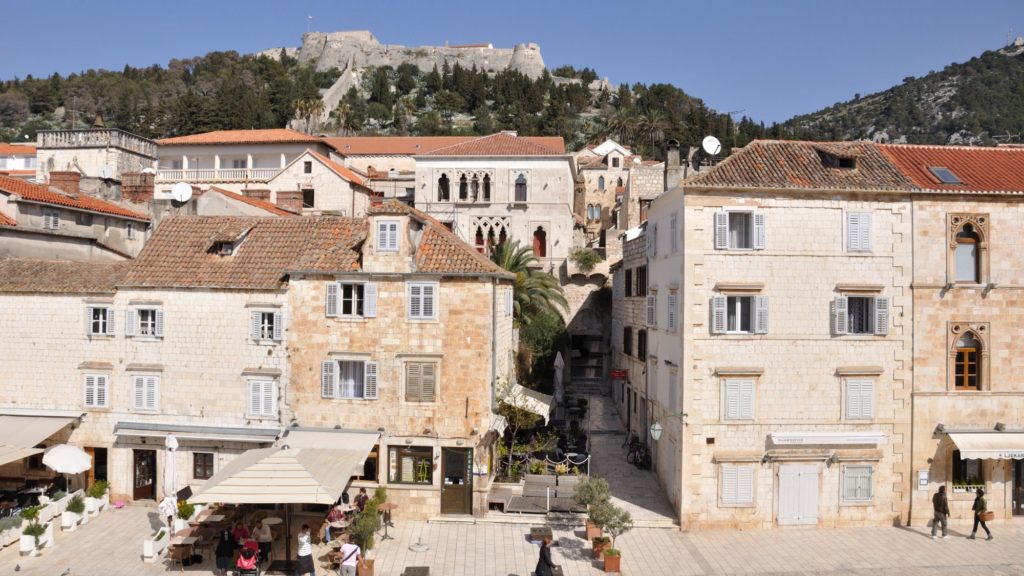 The Accommodation
Hotels in the old town incorporate the attractive, historic features of the old Venetian architecture native to Dubrovnik old town. Outside of Dubrovnik, the places to stay are more in-keeping with the peaceful, relaxed nature of the surroundings, with beaches and great opportunities to sample the local cuisine never too far from your doorstep - perfect places to return after a day spent exploring the islands and Mljet National Park. Small villas typically make up most of the accommodation found in the countryside and islands, whilst in Dubrovnik, old Venetian tenements with original historic details and features are much more commonplace. This part of the world is famous for its hospitality, and you be assured of a warm welcome, a hearty breakfast and impeccable service whilst exploring the area.
Our Natural Beauty of South Dalmatia Itineraries
Radovcici to Dubrovnik
Distance: 40 miles (64km)
CRO-ODI1 ~ Radovcici to Dubrovnik ~ 7 / 6 classic
Prices
| | Two sharing pp | Solo walker | Single person (in a group) |
| --- | --- | --- | --- |
| 01/04/2024 - 19/06/2024 | £1,280 | £2,000 | £1,730 |
| 20/06/2024 - 19/09/2024 | £1,380 | £2,165 | £1,895 |
| 20/09/2024 - 31/10/2024 | £1,310 | £2,050 | £1,780 |
Extras
7 nights' accommodation on a bed and breakfast basis (3* hotel/guesthouse)
1 dinner
Personal/luggage transfers where indicated in the programme as a standard arrangement
Personal transfer (one journey) from Dubrovnik Airport to your first accommodation in Konavle
Personal transfer (one journey) from Dubrovnik accommodation to Dubrovnik Airport
Public passenger ferry tickets where ferry travel indicated in the itinerary
Local guide for 2 hour walking tour of Dubrovnik
Entrance ticket to Mljet National Park
Walk Pack, to include Road Book (route notes and maps)
Access to a Travel APP with full holiday details/offline navigation
Price Does Not Include ~
Transfers not mentioned in the standard itinerary
Packed lunches (own arrangements)
Evening meals for 6 nights (own arrangements). Available in local restaurant or in-house.
Travel to/from Dubrovnik Airport
NB Day 5
- In April, May and October the ferry sails in the afternoon and therefore there will be insufficient time for today's walk. This walk can be combined with Day 6's walk.
NB Days 3,4 and 7 
Transfers are not provided in the afternoons to return to your hotel in Dubrovnik, return is your own arrangement where you may walk or take a taxi.
You choose which day you would like your holiday to start on. We will book your holiday in accordance with your requirements.
Our Natural Beauty of South Dalmatia holidays are available to walk April to October.
Nearest airport is at Dubrovnik - www.airport-dubrovnik.hr
You are responsible for booking your air travel to and from Dubrovnik Airport
We will arrange transfers from the airport to Konavle accommodation on arrival and return to the airport from Dubrovnik accommodation on departure (one transfer per booking).
We can organise additional nights/rest days, as well as transport options. Please contact us to discuss how we can help you with your specific requirements. Call one of our helpful team on
+44 (0)1291 689774
or
e-mail us here
.
Booking Request - Natural Beauty of South Dalmatia
What Happens Next?
We will check your details and come back to you within two working days with a personalised estimate based on your requirements. We will then formally request a deposit of £150 per person (£100 per person for a single centre break) and book all your arrangements - find out about our full booking process here.
Please note this does not constitute a booking confirmation, we kindly ask you to refrain from booking any travel until we have confirmed all your arrangements.
Still Have Questions?
If you are still unsure on any of your requirements, please do enquire with us first and one of our friendly team will be happy to help you with any queries you have.
Enquire About Natural Beauty of South Dalmatia
E-mail
Sample Accommodations
Please note: exact accommodation booked will depend on availability.