Island hopping adventure discovering Croatian culture and natural beauty in South Dalmatia
Rural island walks through a picturesque Croatian landscape
Boat journeys to walking routes on idyllic Dalmatian Islands
Discover the UNESCO protected Dubrovnik Old Town
Step back in time on the historic island of Korčula, home of Marco Polo
Experience walks through the amazing Mljet National Park
Hvar, Croatia's sunniest island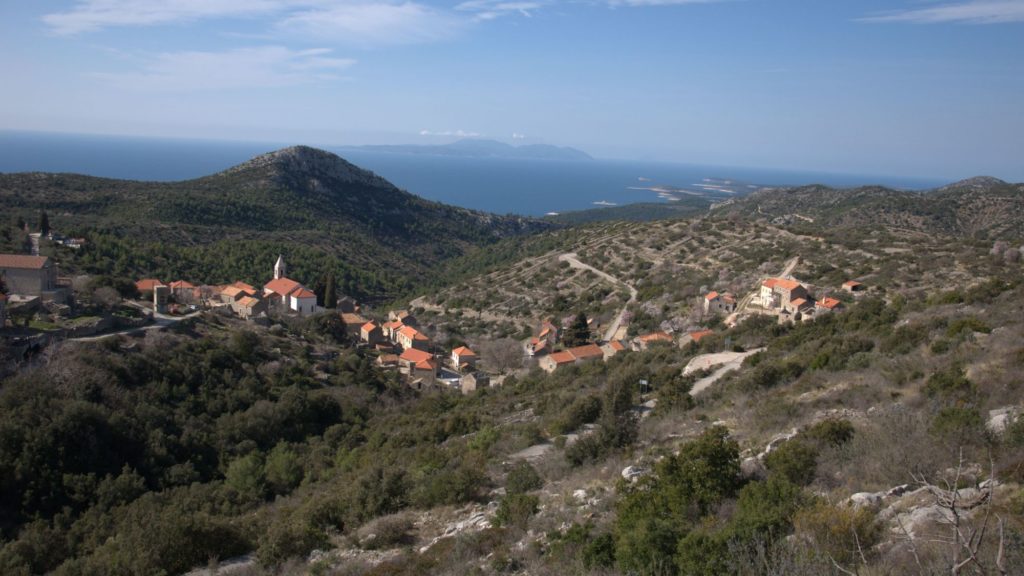 Why this walk?
The landscape of Split, Dubrovnik and the Islands of South Dalmatia is the subject of myth and legend - it was where the Mljet National Park is today that the siren Calypso is fabled to have kept the Greek hero Odysseus captive for seven years. Today, the mark of centuries of civilisations can still be felt in the beautifully preserved villages and towns of the Adriatic, where this route brings you closer to the history, nature and culture of this truly stunning region. Ancient Roman remains rub shoulders with scenic nature trails, and historic towns, such as the cobbled streets of Korčula, taper off into verdant countryside trails. From visiting Diocletian's Palace in the city of Split to strolling through the serene settings of Mljet National Park, this walking holiday offers a perfect blend of culture, history and breath-takingly beautiful nature walks.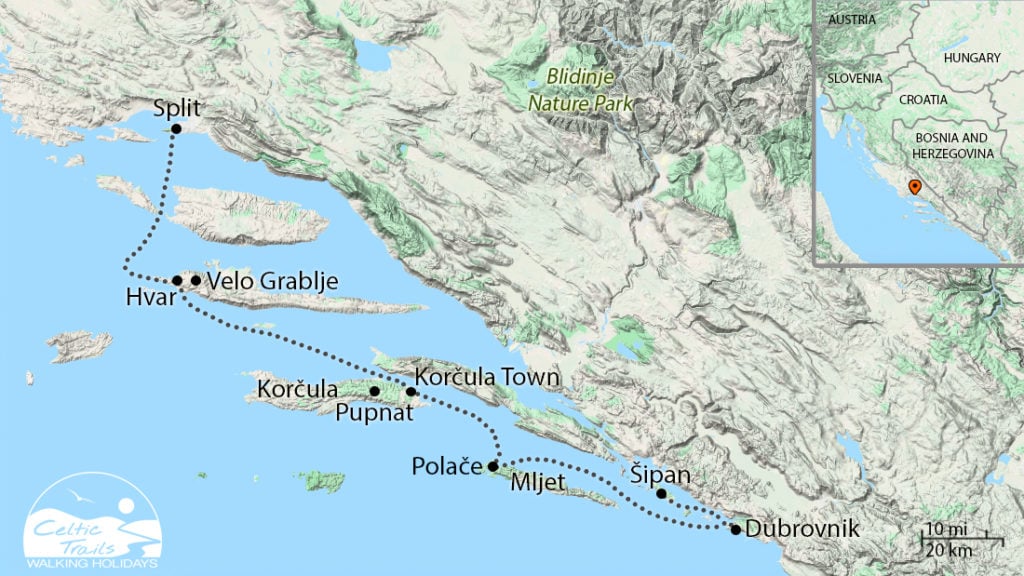 The Path
Your journey includes walks on the islands of the Adriatic as well as a tour of the old town of Dubrovnik, led by an expert local guide. Here, a short boat transfer will take you to the start of your walk from the harbour where you'll find a wild, yet beautifully preserved environment for walking as you follow a route that links relics of antiquity with charming, traditional villages and stunning natural scenery. This holiday features a walk through the Mljet National Park, the landscape of which is criss-crossed with walking trails, where your route takes you around some of the island's saltwater lakes. Your route also includes rural walks on Šipan, the largest of the Elafiti Islands. There's also a day spent exploring the island of Korčula, where you walk from the village of Pupnat, through the countryside to the medieval streets of Korčula town.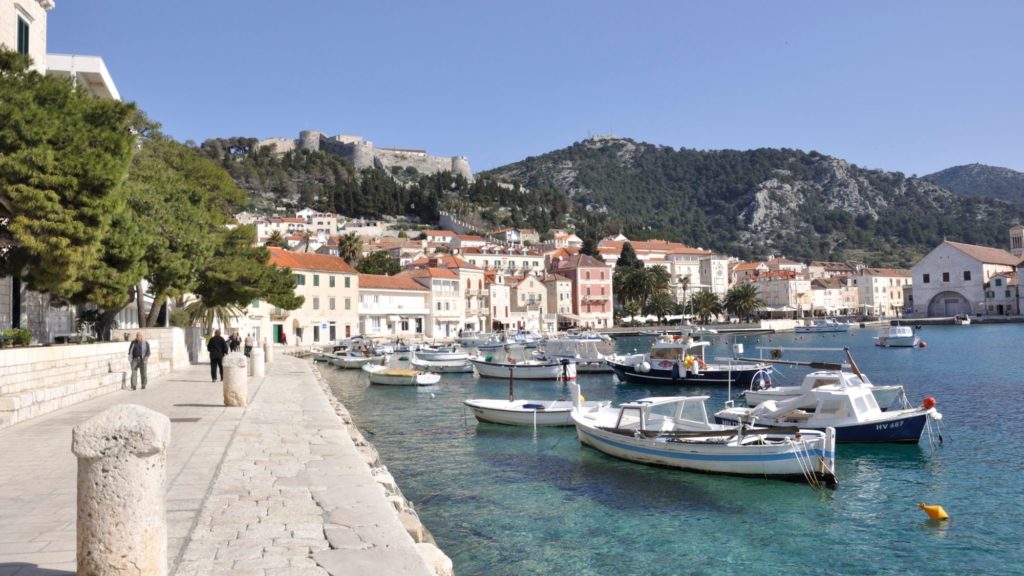 The Accommodation
Walkers can expect characterful properties, often owned and run by locals, featuring typical cuisine and produce of the area. Even in the smaller towns and cities of Croatia, hotels and B&Bs provide a good standard of modern facilities as well as a warm welcome and friendly service – good hospitality is very much part of the local culture. Island stays are typically more low-key and quieter than the towns and cities, but with the additional benefit of easy access to some of the region's most spectacular beaches. The sea is never too far out of reach on foot, and a few hours spent unwinding beside the pristine waters of the Adriatic is a great way to top-off a day spent exploring the area.
Our Island Hopping Adventure: Split To Dubrovnik Itineraries
Split to Dubrovnik
Distance: 33 miles (53km)
CRO-SID1 ~ Split to Dubrovnik ~ 6 / 5 classic
Prices
| | Two sharing pp | Solo walker | Single person (in a group) |
| --- | --- | --- | --- |
| 13/05/2022 - 19/06/2022 | £1,170 | £1,790 | £1,565 |
| 20/06/2022 - 19/09/2022 | £1,230 | £1,960 | £1,690 |
| 20/09/2022 - 20/10/2022 | £1,170 | £1,790 | £1,565 |
Extras
7 nights' accommodation on a bed and breakfast basis
Airport transfer (1 per booking) from Split Airport to Split accommodation
Airport transfer (1 per booking) from Dubrovnik accommodation to Dubrovnik Airport
All personal transfers where indicated in the itinerary
Ferry tickets for boat travel indicated in the itinerary
Guided walking tour of Dubrovnik
Destination Manual and Road Book (route notes) showing directions to your accommodation.
Price Does Not Include
Packed lunches– packed lunch provisions are available locally
Evening meals
Entrance to Mljet National Park – 12€ per person to be paid locally
Arrival and departure from Croatia
You choose which day you would like your holiday to start on. We will book your holiday in accordance with your requirements.
Our Island Hopping Adventure: Split To Dubrovnik holidays are available to walk May to October.
Please note that there is a music festival in Split on July 10th to 12th inclusive, 2020. We regret that we are unable to arrange a holiday to start on these dates due to a lack of rooms being available in Split at this popular time.
Nearest airport is at
Split (arrival) -  www.split-airport.hr
Dubrovnik (departure) - www.airport-dubrovnik.hr
You are responsible for booking your air travel to Split/Dubrovnik Airports
As part of your holiday arrangements, one transfer per booking from Split airport to Split accommodation and from Dubrovnik accommodation to Dubrovnik airport on departure is included.
You are responsible for any alternative arrival plans or alternative onward travel plans.
We can organise additional nights/rest days, as well as transport options. Please contact us to discuss how we can help you with your specific requirements. Call one of our helpful team on
+44 (0)1291 689774
or
e-mail us here
.
Booking Request - Island Hopping Adventure: Split To Dubrovnik
What Happens Next?
We will check your details and come back to you within two working days with a personalised estimate based on your requirements. We will then formally request a deposit of £150 per person (£100 per person for a single centre break) and book all your arrangements - find out about our full booking process here.
Please note this does not constitute a booking confirmation, we kindly ask you to refrain from booking any travel until we have confirmed all your arrangements.
Still Have Questions?
If you are still unsure on any of your requirements, please do enquire with us first and one of our friendly team will be happy to help you with any queries you have.
Enquire About Island Hopping Adventure: Split To Dubrovnik
E-mail
Sample Accommodations
Please note: exact accommodation booked will depend on availability.