Enchanting walking trails in the natural beauty of the Istrian countryside.
Experience stunning panoramic views from the summit of Mt. Učka
Sample the local flavour with small wine and truffle producers
Discover the beautiful, traditional villages of Istria
Explore the magnificent walled town of Motovun
Scenic walking in the Mirna River Valley
Hum, the smallest town in the world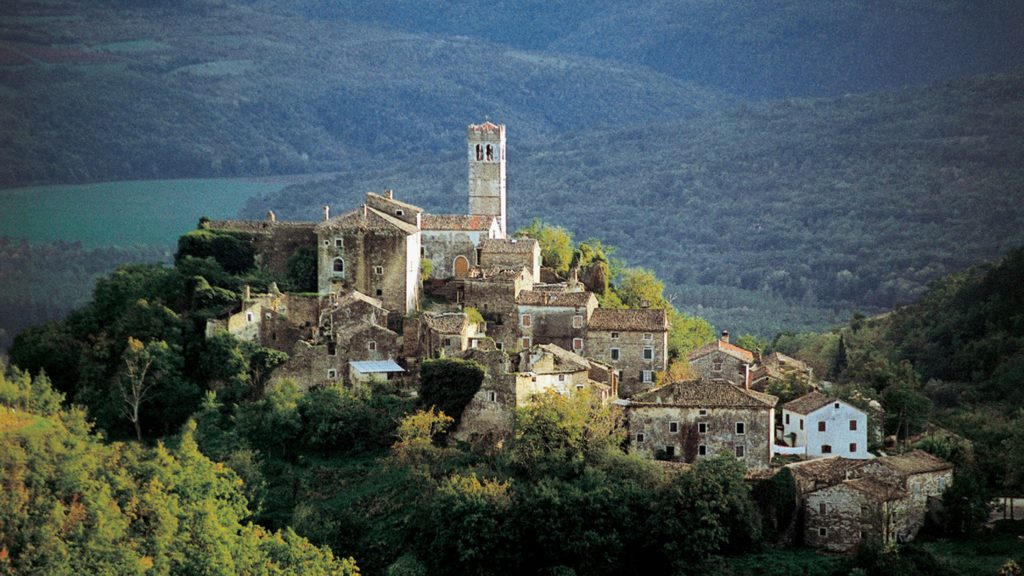 Why this walk?
While the west coast of Istria is steadily growing in popularity, the authentic culture and natural beauty of Istria's countryside is still relatively underexplored, and with a strong network of walking trails this route is ideal for getting off the beaten track and discovering somewhere new on foot. Istria has more than a passing resemblance to its neighbour Italy across the Adriatic, and this is felt in the characteristic Mediterranean scenery, climate and cuisine as well as the fact that almost half of the population of some towns identify as ethnically Italian. The route ahead links a series of quaint Istrian towns and villages, along meadows and forest paths, mountain passes, valleys, rivers, vineyard terraces and even an old railway line that has now been converted into a dedicated walking and cycling trail.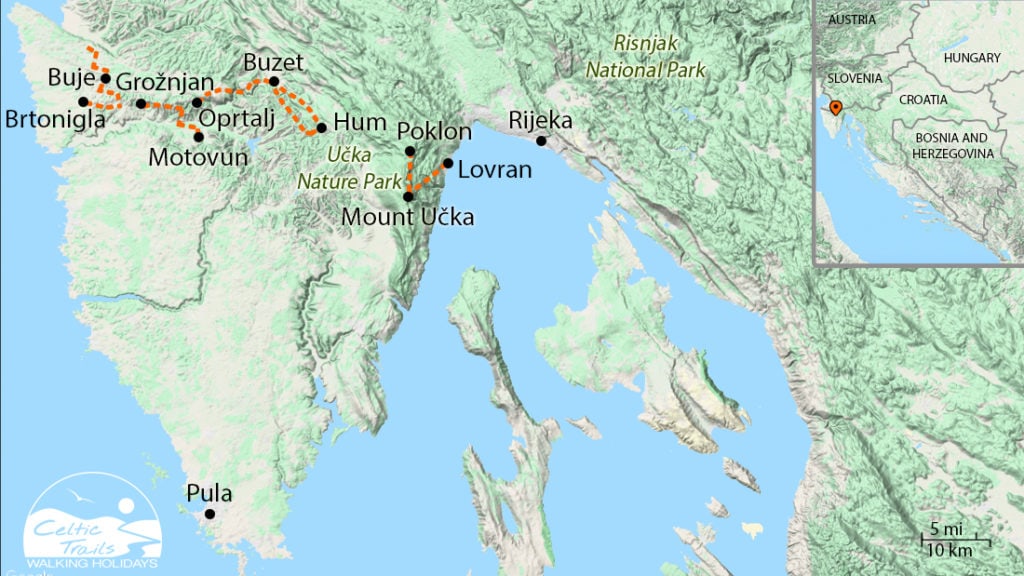 The Path
From the hilltop town of Brtonigla, your route wends its way from the north-west of Istria east across the country to the coast at Lovran. Your journey takes you through a succession of picturesque hilltop towns and traditional Istrian villages, including Hum, a town that dates back to the middle ages and is recognised as the smallest of its kind in the world. The landscape is wild and rural, with farms and vineyards generally being the most built-up aspects of your route. You can expect a walk that takes you through forests, woodland, meadows and along riverbanks, as well as routes that cross paths with some stunning waterfalls. The end of the route joins a section leading up to the highest point of Istria at Mt Učka before the route descends to meet the Adriatic at Lovran.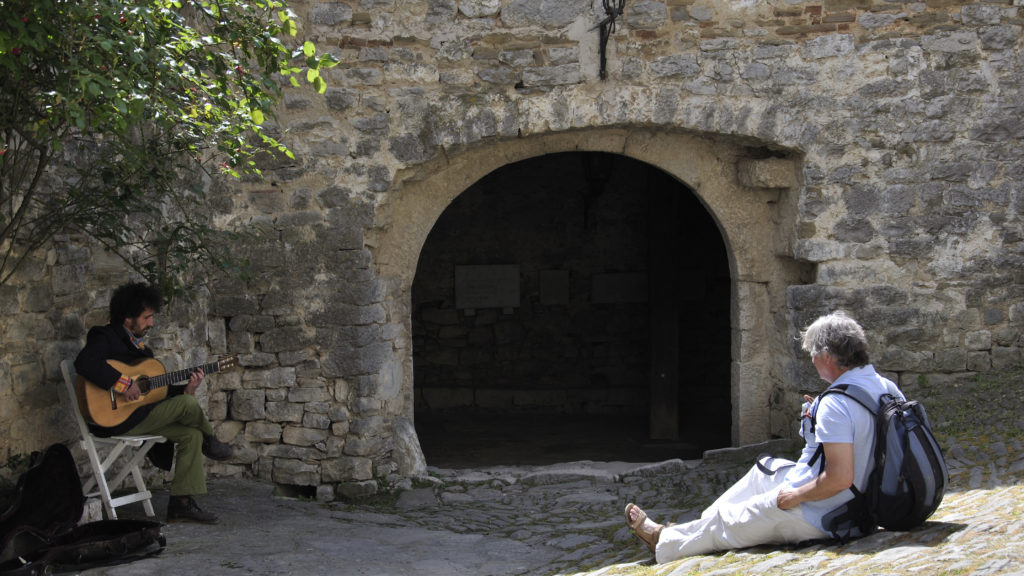 The Accommodation
Waiting for you at the end of a day's walk are the traditional country houses and small, personable hotels that make up the choice of places to stay in the Istrian countryside, an area well-known for its warm hospitality. In a region celebrated for the fine quality of its local produce, it should come as no surprise to find typical Istrian specialities to top off a day spent exploring the surrounding countryside. We handpick a variety of hotels and guesthouses dependent on: the area, availability, season and the feedback we receive from our walkers. Our rural accommodations are typically more akin to a traditional B&B experience, whereas you may find that the hotels we handpick in larger towns have amenities such as swimming pools, spas and saunas.
Our Landscapes & Flavours of Green Istria Itineraries
Buje to Lovran
Distance: 71 miles (114km)
CRO-IST1 ~ Buje to Lovran ~ 7 / 6 classic
Prices
| | Two sharing pp | Solo walker | Single person (in a group) |
| --- | --- | --- | --- |
| 15/03/2024 - 19/04/2024 | £910 | £1,450 | £1,295 |
| 20/04/2024 - 19/06/2024 | £990 | £1,565 | £1,405 |
| 20/06/2024 - 19/09/2024 | £1,060 | £1,655 | £1,500 |
| 20/09/2024 - 15/11/2024 | £990 | £1,565 | £1,405 |
Extras
7 nights' accommodation on a bed and breakfast basis
Luggage transfers
Personal transfers where indicated in the programme as a standard arrangement
Holiday briefing meeting with local representative on arrival evening
Walk Pack, to include Road Book (route notes and maps)
Access to a Travel APP with full holiday details/offline navigation
Price Does Not Include ~
Transfers not mentioned in the standard itinerary
Packed lunches (own arrangements)
Evening meals (own arrangements). Available in local restaurant or in-house.
Travel to Buje area/from Lovran (airport transfers can be arranged if requested)
You choose which day you would like your holiday to start on. We will book your holiday in accordance with your requirements.
Our Landscapes & Flavours of Green Istria holidays are available to walk March to November.
Buje: The nearest airports to fly into for the Istria walk are Pula Airport (80km) and Trieste Airport (90km).
Please note that your accommodation for the first 2 nights will be in the Buje area (Volpija village – 4km or Kaldanjia 5km) and not in the centre of Buje itself. If you are arriving by public transport to Buje a local taxi will be arranged for the last part of your journey to take you to your accommodation.
As transport links to the villages are extremely limited we suggest that you pre-book a private transfer directly from the airport to your first accommodation.
Airport transfers can be arranged on request from Pula and Trieste Airports as well as Ljubljana Airport (150km), Venice Airport (200km) and Zagreb Airport (300km)
Lovran: The nearest airports are Pula Airport (100km) and Trieste Airport (115km).
Airport transfers can be arranged on request to Pula and Trieste Airports as well as Ljubljana Airport (140km), Venice Airport (225km) and Zagreb Airport (190km)
The nearest train station to Lovran is in Matulji, Opatija-Matulji station (12km) which has direct train services to Ljubljana and to Rijeka (further changes for Zagreb). It is possible to take a train to Trieste Airport with changes at Pivka (Slovenia) and Trieste Centrale if it suits your flight schedule.
Croatia's national rail network is run by Hrvatske željeznice (HZ). To look up train times, you can use the Interrail timetable. Some Croatian cities (like Zadar) aren't mentioned in the Interrail timetable. Use the HZ timetable instead.
You can travel by bus directly from Lovran. For routes/information you may check https://getbybus.com/en/country/croatia . Rijeka is approximately 30 minutes away (direct journey), Pula bus terminal is approximately 1 hour 45 minutes (direct journey), Zagreb bus terminal is 3 hours 30 minutes (direct journey). Trieste and Ljubljana can be reached via Rijeka.
We can organise additional nights/rest days, as well as transport options. Please contact us to discuss how we can help you with your specific requirements. Call one of our helpful team on
+44 (0)1291 689774
or
e-mail us here
.
Booking Request - Landscapes & Flavours of Green Istria
What Happens Next?
We will check your details and come back to you within two working days with a personalised estimate based on your requirements. We will then formally request a deposit of £150 per person (£100 per person for a single centre break) and book all your arrangements - find out about our full booking process here.
Please note this does not constitute a booking confirmation, we kindly ask you to refrain from booking any travel until we have confirmed all your arrangements.
Still Have Questions?
If you are still unsure on any of your requirements, please do enquire with us first and one of our friendly team will be happy to help you with any queries you have.
Enquire About Landscapes & Flavours of Green Istria
E-mail
Sample Accommodations
Please note: exact accommodation booked will depend on availability.