Puglia Walking Holidays in Authentic Italy
Hike the 'Sentiero delle Cipolliane Grotte', a picturesque walking route named after the famous caves found along the coastline
Stumble upon relics from all ages on your route, testament to a history of competing cultures and ideas
A myriad of fantastic swimming spots in the seaside coves and fresh water springs found along your route
Follow traditional traturri routes (formerly used only by shepherds and locals) to some of the region's most pristine, naturally beautiful areas
Extend your walking holiday with one night in the Trulli region, staying in the whitewashed stone town of Alberobello – a UNESCO world heritage site
Observe baroque architecture and history in the city of Lecce, with the Piazza del Dumo, Basilica di Santa Croce and sunken Roman amphitheater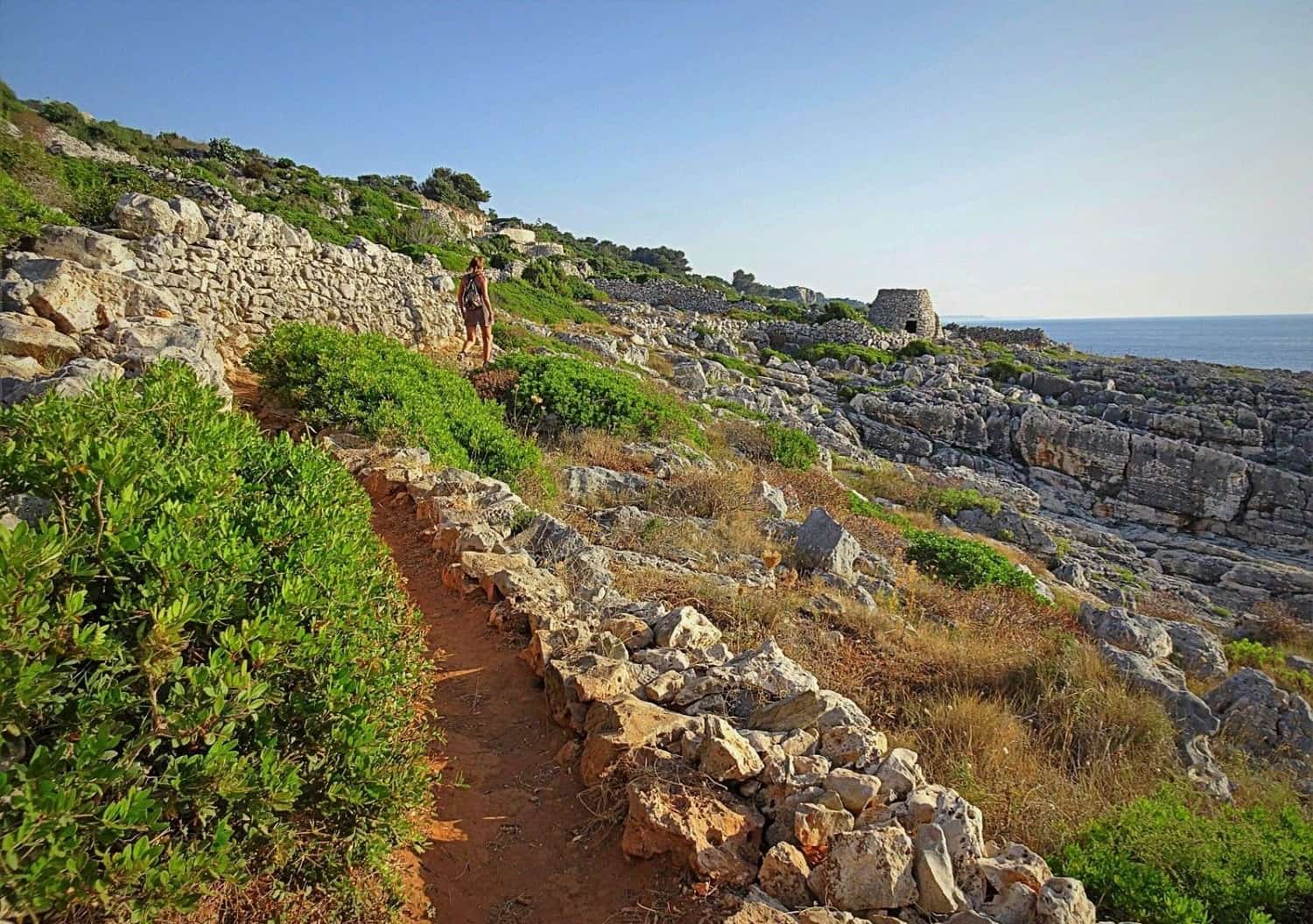 Why this Walk?
Hiking Puglia offers the opportunity to discover this unspoilt Italian region on foot, as well as a chance to find yourself in an ideal place to simply watch the world go by. Puglia's ascendancy from Italy's best kept-secret to a hotspot for Italophiles is a very recent development, but less obvious is the region's wealth of national parks, nature reserves and miles of awe-inspiring rugged coastline. A walking holiday is the perfect way to see a side of Puglia often overlooked, following trails that originated as shepherd paths and trading links between villages. It's a pursuit very much in keeping with the ideals and aims of slow travel, as you have time to fully appreciate where you are in the moment, at a pace best suited for taking in the wild and beautiful landscape of Puglia.
The Path
Follow the traditional routes used by the locals, known as "traturri". These are a time-honoured system of ancient roads that linked villages and orchards to the neighbouring Adriatic. As you follow inland paths through olive groves to the old shepherd paths along the coast, the combination of the bleached limestone cliffs on one side and the vivid blues of the sea on the other create a truly striking effect.Following these paths, you'll find a landscape largely unaffected by large-scale development, where artefacts from the Paleolithic, ancient Greek and Roman and second world war sit alongside each other as you follow the route that link spa town and fishing village along the coast.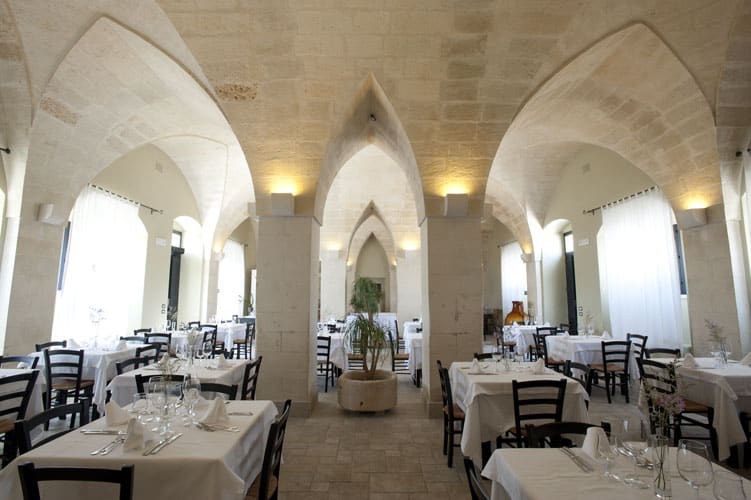 The Accommodation
We have selected 3* and 4* accommodation in larger towns, Agriturismo farmhouses for more rural areas, as well as older country estates, rustic and stately - known as 'Masseria'. All rooms have private bathrooms, breakfast included.Throughout the trip there will be many opportunities to dine out or taste some of the region's prestigious regional wines. We have included evening meals in Porto Badisco and Marina Serra as there are no alternative options in the immediate surroundings.
Our Puglia Itineraries
Otranto to Gagliano del Capo
Distance: 44.7 miles (71.5km)
ITA-PUG1 ~ Otranto to Gagliano del Capo ~ 7 / 6 classic
What's Included:
7 breakfasts,
2 evening meals
Prices
| | Two sharing pp | Solo walker | Single person (in a group) |
| --- | --- | --- | --- |
| 01/10/2023 - 31/10/2023 | £840 | £1,345 | £1,110 |
| 20/03/2024 - 20/04/2024 | £895 | £1,450 | £1,200 |
| 21/04/2024 - 22/05/2024 | £915 | £1,470 | £1,220 |
| 23/05/2024 - 14/06/2024 | £935 | £1,500 | £1,255 |
| 15/06/2024 - 24/06/2024 | £960 | £1,540 | £1,290 |
| 25/06/2024 - 12/07/2024 | £985 | £1,600 | £1,350 |
| 13/07/2024 - 26/07/2024 | £1,025 | £1,650 | £1,405 |
| 01/09/2024 - 06/09/2024 | £985 | £1,600 | £1,350 |
| 07/09/2024 - 20/09/2024 | £945 | £1,520 | £1,270 |
| 21/09/2024 - 31/10/2024 | £915 | £1,470 | £1,220 |
Extras
Throughout the trip there will be many opportunities to dine out or taste some of the region's prestigious regional wines. We have included dinner in Porto Badisco and Marina Serra as there are no alternative options in the immediate surroundings.
7 nights' accommodation on a bed and breakfast basis
2 dinners (Nights 3 & 6)
Luggage transfers
Personal transfers from Lecce to Otranto and from Gagliano del Capo to Lecce
Walk Pack, to include Destination Manual and Road Book (route notes) showing directions to your accommodation.
Access to a Travel APP
WHAT'S NOT INCLUDED
City taxes (per person) only payable direct to accommodations –The prices below indicate the total to pay per person, rather than per night. Please consider city tax can vary during the year and new taxes can be introduced (Lecce 4€, Otranto 3€, Porto Badisco 2.50€, Santa Cesarea Terme 1.50€)
Packed lunches (own arrangements)
Evening meals except where stated above. Available in local restaurant or in-house.
Travel to/from Lecce. Optional Airport Transfers (available upon request at time of booking)
You choose which day you would like your holiday to start on. We will book your holiday in accordance with your requirements.
Our Puglia holidays are available to walk March to July, September to October.
Due to its location at the 'heel' of Italy, Puglia is a viable destination for any season. However, for walking, you may want to consider avoiding high summer as you may find the hot weather (though not a humid heat) to be an obstacle while hiking. It's also possible to visit in Winter, although a dip in the sea is not quite as an attractive prospect as it is in Spring or even Autumn.
Puglia's two major airports, Bari (BRI) and Brindisi (BDS), are served by both major and economy airlines. From there, walkers can take a train or taxi to the respective towns, with an adjoining train to Lecce.
You are responsible for booking your air travel to airports and onward travel to your first accommodation and from your accommodation on departure.
Train timetables - http://www.trenitalia.com/tcom-en
Optional transfers can be booked from airports to Lecce and return
Please advise at time of booking
Brindisi Airport to Lecce - prices available upon request.
Bari Airport to Lecce - prices available upon request.
We can organise additional nights/rest days, as well as transport options. Please contact us to discuss how we can help you with your specific requirements. Call one of our helpful team on
+44 (0)1291 689774
or
e-mail us here
.
Puglia Client Reviews
4.6

/5 based on

8

reviews
This was our 4th Celtic Trails trip. We have been well satisfied with all of them. We had a day of illness and the agent was very responsive in arranging a taxi for us to get to that next point.
Al Fisk
-
May 2023
We have done a lot of long distance walking earlier, but have arranged everything ourselves. We wanted to walk on the heel of Italy and we found the Celtic Trail arrangement interresting and they did live up to our expectations. We loved this walk along the Adriatic sea with perfect timing for spring flowers blossoming and in sunny weather.
Bjorn, Tromso, Norway
-
April 2023
An enjoyable challenge. Most accommodation was a high standard. Definitely need to download apps.
I. Edgar, Coventry
-
May 2022
Walk info and travel arrangements were excellent.
Anon
-
April 2022
Celtic Trail were prompt and efficient. Excellent organisation of arrangements in Italy. This holiday had a positive impact on our health and well-being - we have returned to Australia refreshed, with the batteries recharged.
D. Cave
-
November 2019
Very good.
Strube
-
October 2019
After three summers of hiking in cooler climates, the team decided to try Italy. The Puglia region was fascinating and relatively undiscovered. The scenery and water were wonderful. People were very friendly and helpful, with a language barrier. Celtic Trails are better than other companies we've used - they provide a complete hike trip. The hikes are very well planned, material arrives in a timely manner; accommodations are well situated for the hike. The hikes are well orchestrated , leaving little to chance.
D. O'Donnell
-
July 2019
Celtic Trails provided excellent logistics. We returned feeling refreshed, with a desire to do another walking tour. The scenery was spectacular and varied; some paths followed the coastline and sometimes they went inland. There were paths through olive groves and fields of wildflowers.
Wilsm & Harmon
-
May 2019
Leave your own review of your

Puglia Walking Holiday

with us - add review
.
Booking Request - Puglia
What Happens Next?
We will check your details and come back to you within two working days with a personalised estimate based on your requirements. We will then formally request a deposit of £150 per person (£100 per person for a single centre break) and book all your arrangements - find out about our full booking process here.
Please note this does not constitute a booking confirmation, we kindly ask you to refrain from booking any travel until we have confirmed all your arrangements.
Still Have Questions?
If you are still unsure on any of your requirements, please do enquire with us first and one of our friendly team will be happy to help you with any queries you have.
Enquire About Puglia
E-mail
Sample Accommodations
Please note: exact accommodation booked will depend on availability.