Hiking Italy's Romantic Neopolitan Coast
See another side of Italy's famed Neopolitan coast
Hike the famous 'Sentiero degli Dei' (Path of the Gods) to the famous village of Positano, nestled in between the surrounding cliffs
Walk clifftop paths along the island of Capri, with spectacular views over the Gulf of Naples, Mt Vesuvius and the surrounding Mediterranean
The birthplace of some of Italy's most famous cuisine, including Pizza and Limoncello
Cross paths with some of the most famous colourful villages of Amalfi, as well as lesser-known towns and villages, away from the tourist trail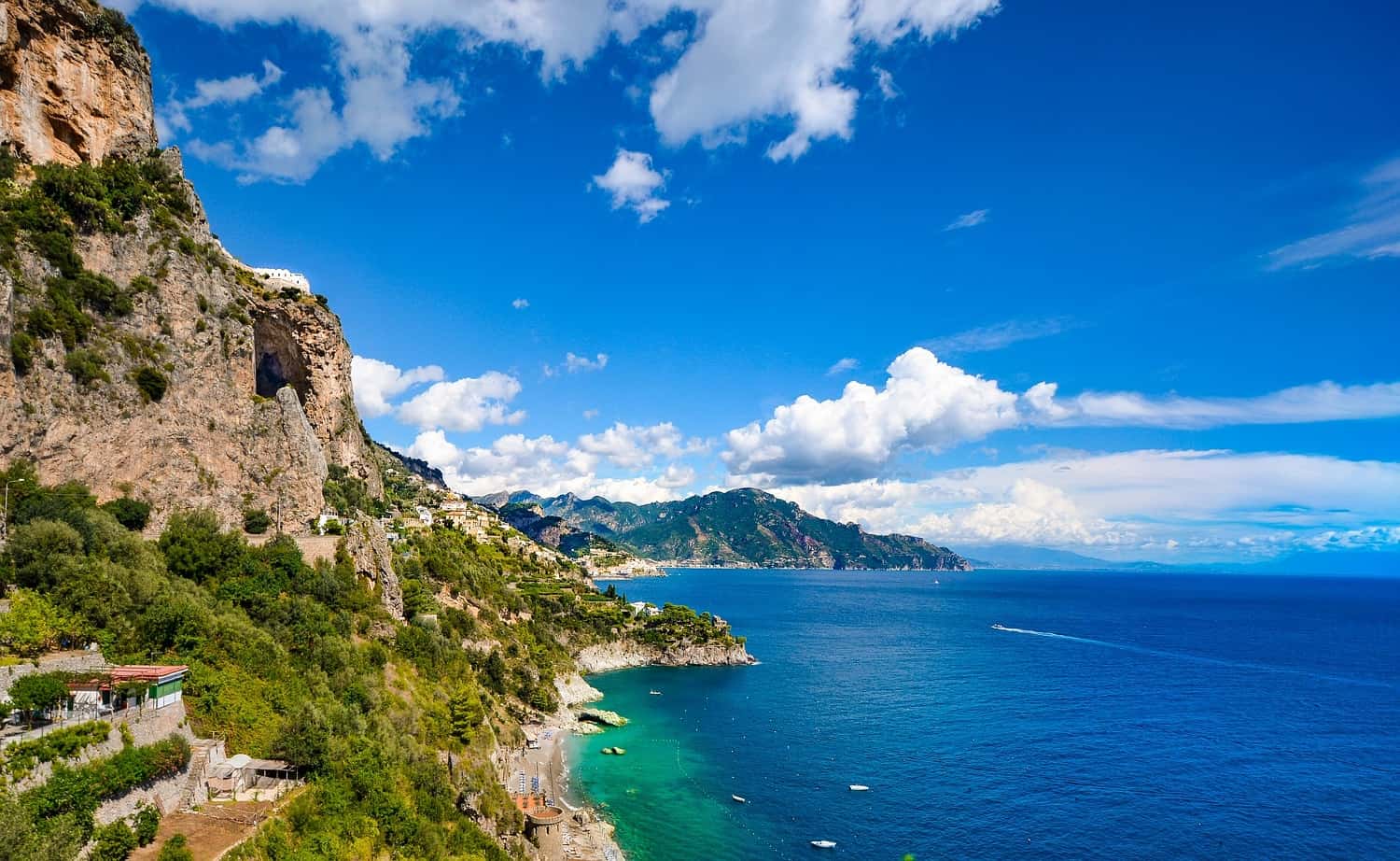 Why this Walk?
Take footpaths that snake up through the mountains and lemon groves of Amalfi, a network of ancient pathways that lead through the clifftops to cobble-street towns and smaller villages nestled into the valleys and forested peaks. The 'Sentiero degli Dei' (Path of the Gods) is a common highlight of this route, a clifftop path with awe-inspiring views over the island of Capri and the Mediterranean, leading to the colourful village of Positano. Photogenic clifftop villages like Positano are one of many compelling draws for visitors to Amalfi. You'll also get the opportunity to see another side of the beautiful island of Capri, roaming the winding hillsides to historic landmarks like the ancient villa of the Emporer Tiberius. By experiencing the Amalfi Coast on foot, you're enjoying the best of the popular towns and sights of the area as well as visiting places steeped in tradition and local culture.
The Path
The route is well-waymarked, particularly the distinctive red and white signposts that lead walkers over the famous 'Sentiero degli Dei'. The former is a memorable section of this walk, but also an exemplary case of the clifftop routes that feature around the coast of Amalfi, from which you have some of the most enviable vantage points for Capri, the Gulf of Naples and colourful hillside towns – such as Positano.Junctions of old mule tracks, terraced vineyards and lemon groves snake around the hillsides of Amalfi, with a few crossings over road as you follow the old routes that served as the means of trade and distribution between farms, villages and towns.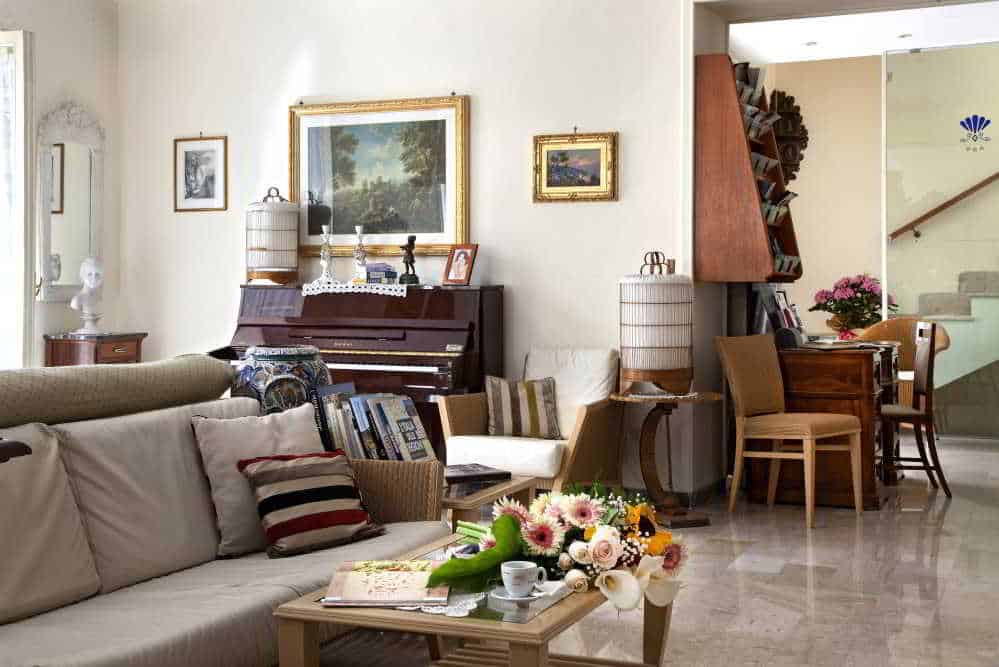 The Accommodation
Staying in historic towns, you can expect the places you stay to have a refined, stately character, where you're sure of a warm welcome from the many family-run hotels in this region after long days out walking along the coast.Accommodation is on a bed and breakfast basis, with all rooms having private bathrooms. On each night's stay there will be many opportunities to visit local restaurants or taste a selection of wine from the region. Depending on the time of year you visit, routes may be slightly altered to fit alternative accommodation where our usual options are booked up (mainly the high summer season). In choosing alternative accommodation, we strive to maintain similar standards and quality.
Our Amalfi Coast Itineraries
Sorrento to Amalfi
Distance: 45.7 miles (73.5km)
ITA-AMF1 ~ Sorrento to Amalfi ~ 7 / 6 classic
Prices
| | Two sharing pp | Solo walker | Single person (in a group) |
| --- | --- | --- | --- |
| 01/03/2022 - 26/03/2022 | £745 | £1,435 | £1,245 |
| 27/03/2022 - 07/04/2022 | £785 | £1,495 | £1,310 |
| 08/04/2022 - 17/04/2022 | £1,045 | £2,030 | £1,845 |
| 18/04/2022 - 25/05/2022 | £855 | £1,635 | £1,445 |
| 26/05/2022 - 25/07/2022 | £935 | £1,810 | £1,620 |
| 26/07/2022 - 07/08/2022 | £995 | £1,930 | £1,740 |
| 08/08/2022 - 21/08/2022 | £1,045 | £2,030 | £1,845 |
| 22/08/2022 - 31/08/2022 | £1,025 | £2,000 | £1,810 |
| 01/09/2022 - 02/10/2022 | £965 | £1,880 | £1,690 |
| 03/10/2022 - 31/10/2022 | £810 | £1,580 | £1,395 |
| 01/11/2022 - 30/11/2022 | £745 | £1,435 | £1,245 |
Extras
7 nights bed and breakfast
Luggage transfers during the walking programme.
Some personal transfers as indicated on route description
Destination Manual and Road Book (route notes) showing directions to your accommodation.
Not Included
City taxes (per person) only payable direct to accommodations – The prices below indicates the total to pay per person, rather than per night.
Please consider that city tax can vary during the year and new taxes can be introduced (Sorrento 3€, Massa Lubrense-Marina del Cantone 2€, Amalfi 4.5€)
Packed lunches (own arrangements)
Evening meals (own arrangements)
Please note that some days require transfers by public transport at your own cost
Travel to Sorrento / from Amalfi
You choose which day you would like your holiday to start on. We will book your holiday in accordance with your requirements.
Our Amalfi Coast holidays are available to walk March to November.
Spring and Autumn are the best times to visit, due to the combination of diminished crowd sizes and favourable weather conditions for walking.
The Amalfi coast is primarily served by Naples airport, with transport to Sorrento served by bus or trains leaving the city of Naples, following a transfer from the airport.
You are responsible for booking your air travel to airports and onward travel to your first accommodation and from your accommodation on departure.
We are able to arrange private transfers, please advise at time of booking:
Napoli Airport to Sorrento - prices available upon request.
Amalfi to Napoli Airport - prices available upon request.
TO NAPLES AIRPORT • From Amalfi take a local bus to Sorrento • Direct bus from Sorrento to Napoli Airport http://www.curreriviaggi.it/eng/index.php Or • Bus from Amalfi to Salerno • Train from Salerno to Napoli Train Station • Shuttle bus to Airport (Alibus)
We can organise additional nights/rest days, as well as transport options. Please contact us to discuss how we can help you with your specific requirements. Call one of our helpful team on
+44 (0)1291 689774
or
e-mail us here
.
Booking Request - Amalfi Coast
What Happens Next?
We will check your details and come back to you within two working days with a personalised estimate based on your requirements. We will then formally request a deposit of £150 per person (£100 per person for a single centre break) and book all your arrangements - find out about our full booking process here.
Please note this does not constitute a booking confirmation, we kindly ask you to refrain from booking any travel until we have confirmed all your arrangements.
Still Have Questions?
If you are still unsure on any of your requirements, please do enquire with us first and one of our friendly team will be happy to help you with any queries you have.
Enquire About Amalfi Coast
E-mail
Sample Accommodations
Please note: exact accommodation booked will depend on availability.