Idyllic & Iconic: Walking the Picturesque Towns of the Cinque Terre
Picturesque towns on the Italian Riviera, including Portofino, Riomaggiore, Portovenere and Monterosso, as well as lesser-known places like the charming former fishing village of Camogli
The tranquil settings of the impressive San Frattuoso Abbey, located in a quiet cove only reachable by boat or by foot
Experience the timeless appeal of exploring the titular 'five towns' of the route, the architecture of each beautifully preserved under the National Park's status as a UNESCO World Heritage Site
Incredible views over the sparkling blue waters of the Mediterranean from the clifftop routes that link village to village
Spend the evenings exploring the maze of terraces, bars, cafes and restaurants of the colourful towns you visit along the way, including the lovely medieval settings of Portovenere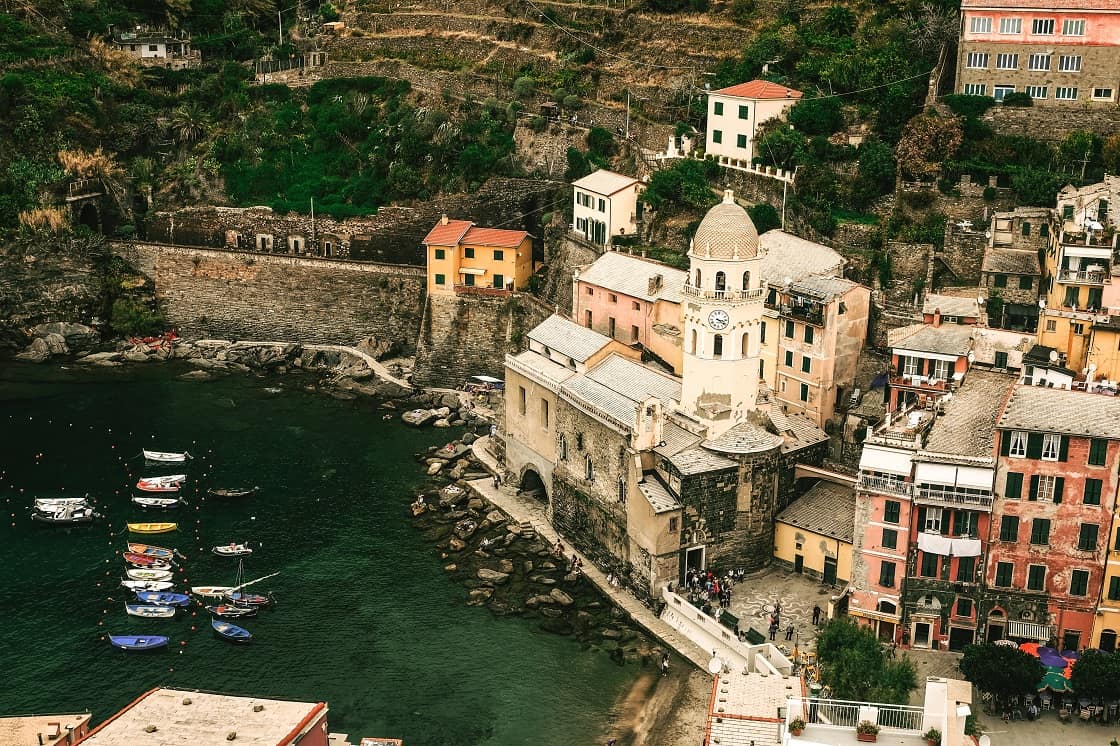 Why this Walk?
A spectacular journey exploring the Cinque Terre, a string of centuries-old fishing villages along the rugged northern section of the Ligurian Riviera, from the charming fishing village of Camogli to the classic, seafront beauty of Portovenere. The route links some of Liguria's most captivating locales, including the harbourside of Portofino, the sorbet-coloured houses of Riomaggiore, and Cinque Terre's largest village – Monterosso, set amidst terraces of olive groves and vineyards. Out on the trail, you'll cross paths with the secluded, shoreside settings of San Fruttuoso Abbey and stay in a variety of friendly, family-run hotels.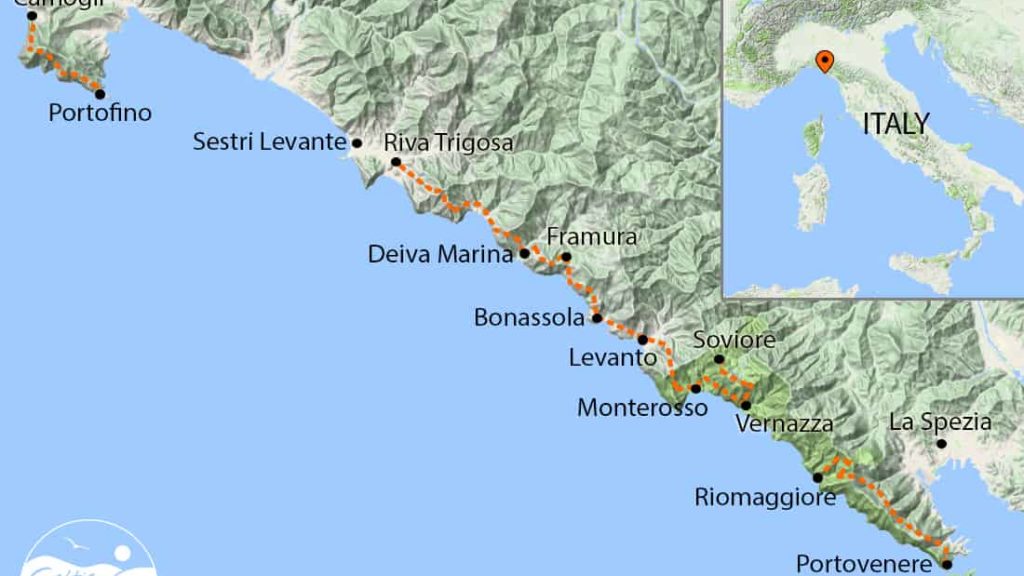 The Path
From Camogli to Portovenere, the route traces a course around the Portofino promontory, before following clifftop routes down the Ligurian coast to the five colourful fishing villages known as the 'Cinque Terre'. The clifftop routes provide a fantastic vantage point over the neighbouring Ligurian Sea with dusty tracks, well-marked footpaths with some uneven paved roads underfoot. Although distances are relatively short, there are some steep sections along the coast, with some of the more challenging sections found between the villages of Monterosso, Vernazza and Corniglia. The final days' walking also offers spectacular coastal views along the clifftop routes between Riomaggiore to Portovenere,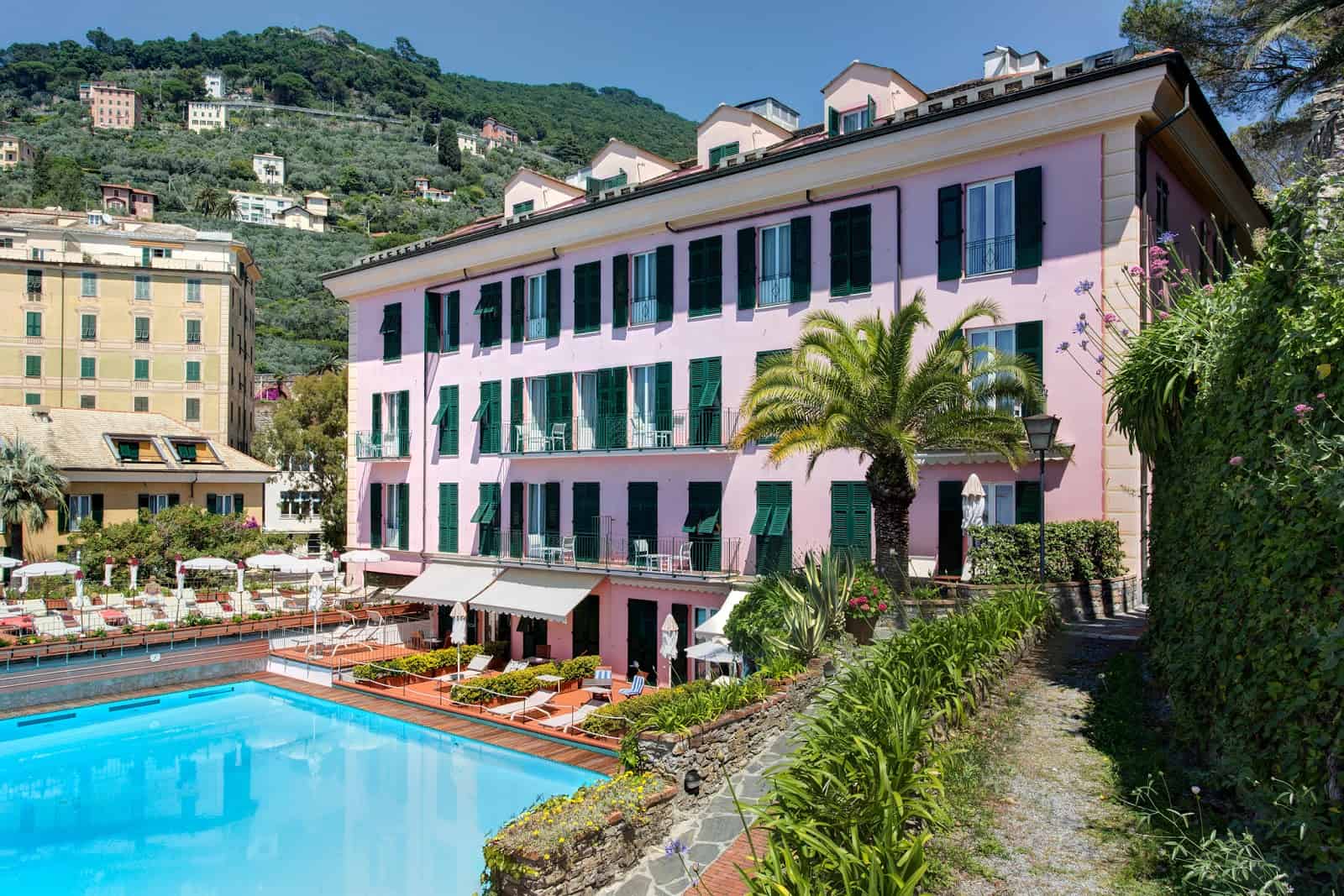 The Accommodation
We use comfortable 2*, 3* and 4* hotels, predominantly family-owned establishments, often favoured for their personal and attentive service.All rooms have en-suite bathrooms, and a good Italian breakfast is included each morning. The trip is on a bed & breakfast basis, although you'll find many opportunities to sample the outstanding local cuisine and prestigious wines in the towns and villages of the local area.
Our Cinque Terre Itineraries
San Rocco to Portovenere
Distance: 43.7 miles (70km)
ITA-CQT1 ~ San Rocco to Portovenere ~ 7 / 6 classic
Prices
| | Two sharing pp | Solo walker | Single person (in a group) |
| --- | --- | --- | --- |
| 01/03/2022 - 24/03/2022 | £805 | £1,260 | £1,065 |
| 25/03/2022 - 08/04/2022 | £860 | £1,350 | £1,160 |
| 09/04/2022 - 17/04/2022 | £1,020 | £1,560 | £1,365 |
| 18/04/2022 - 24/04/2022 | £985 | £1,515 | £1,320 |
| 25/04/2022 - 25/05/2022 | £990 | £1,530 | £1,335 |
| 26/05/2022 - 01/10/2022 | £1,020 | £1,560 | £1,365 |
| 02/10/2022 - 15/10/2022 | £945 | £1,470 | £1,275 |
| 16/10/2022 - 31/10/2022 | £860 | £1,350 | £1,160 |
Extras
7 nights bed and breakfast
Luggage transfers between Bonassola and Portovenere (please take luggage with you on the train between Camogli-Bonassola).
Some personal transfers as indicated on route description
Cinque Terre Card + Train (2 days) – valid for Days 5 & 6
Destination Manual and Road Book (route notes) showing directions to your accommodation.
Not Included:
City taxes (per person) only payable direct to accommodations – The prices below indicate the total to pay per person, rather than per night.
Please consider city tax can vary during the year and new taxes can be introduced
(Camogli 2€ and Monterosso 4.5€, Portovenere 3€ but this amount is subject to change)
Packed lunches (own arrangements)
Evening meals (own arrangements)
Travel to Camogli / from Portovenere - Please note that some days require transfers by public transport at your own cost
You choose which day you would like your holiday to start on. We will book your holiday in accordance with your requirements.
Our Cinque Terre holidays are available to walk March to October.
By hiking the trail in the months of April, May, June September and October, you'll avoid having to head out early just to avoid the sweltering heat of midday – a factor that makes progress along the path discernibly harder. Another factor to consider in not visiting during high summer is that you'll find towns and accommodations are less busy.
We can organise additional nights/rest days, as well as transport options. Please contact us to discuss how we can help you with your specific requirements. Call one of our helpful team on
+44 (0)1291 689774
or
e-mail us here
.
Cinque Terre Client Reviews
5

/5 based on

1

reviews
Nathan has always responded to my queries promptly. The walk pack is excellent and it was great to receive it 4 weeks before departure so that I could get train times and other information organised before our arrival in Italy. It was good to have the same person dealing with my booking - and the walk pack was excellent.
W. Dunn
-
June 2019
Leave your own review of your

Cinque Terre Walking Holiday

with us - add review
.
Booking Request - Cinque Terre
What Happens Next?
We will check your details and come back to you within two working days with a personalised estimate based on your requirements. We will then formally request a deposit of £150 per person (£100 per person for a single centre break) and book all your arrangements - find out about our full booking process here.
Please note this does not constitute a booking confirmation, we kindly ask you to refrain from booking any travel until we have confirmed all your arrangements.
Still Have Questions?
If you are still unsure on any of your requirements, please do enquire with us first and one of our friendly team will be happy to help you with any queries you have.
Enquire About Cinque Terre
E-mail
Sample Accommodations
Please note: exact accommodation booked will depend on availability.