Dramatic Alps Scenery in the Barolo Wine Region
Travel through the heart of the Barolo wine region with opportunities to sample the region's fine wines and cuisine (truffles and local cheeses in particular)
Breath-taking views of the snow-capped Alps and Mt Monviso as you make your way through hazelnut forests and vineyards
Rustic hilltop villages, the medieval city of Alba and antiquated little towns with their fascinating history, old piazzas and medieval towers
Journey through a pastoral, rustic region where wine production remains mainly a small-scale, family-run operation
The Langhe wine-growing region is preserved as part of UNESCO's World Heritage Site, not just for its famous wine production, but the natural beauty of its landscape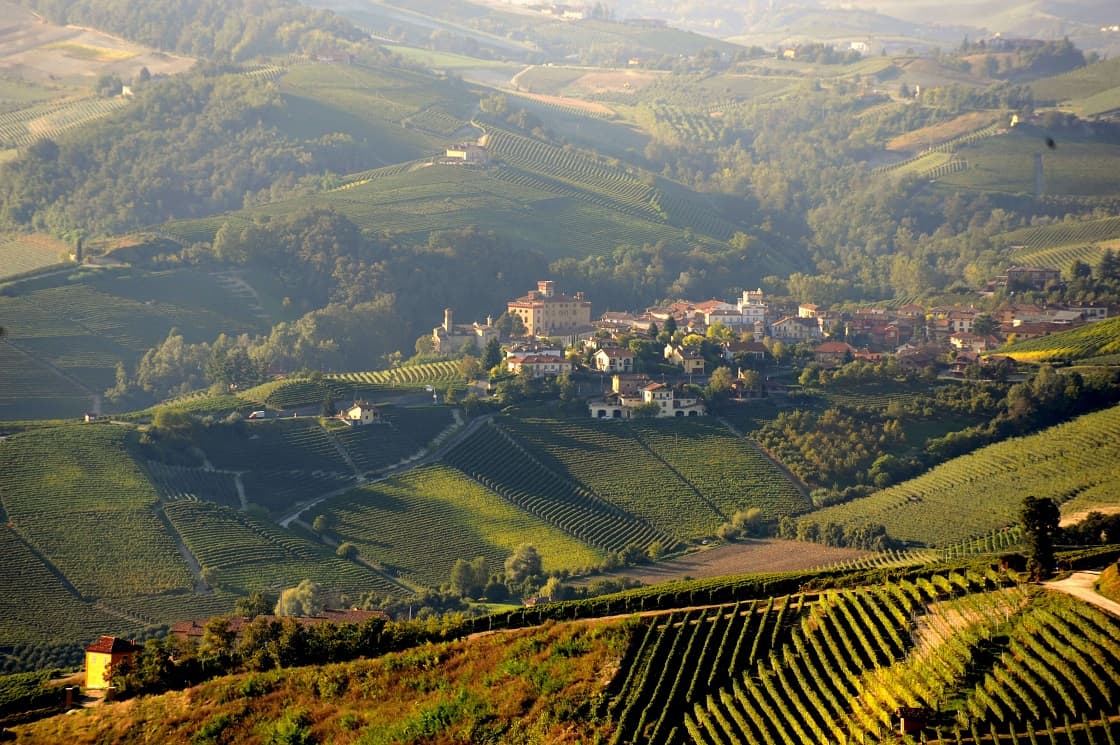 Why this Walk?
Travel through the heart of the Barolo wine region on foot, learning about the local cuisine and culture, with the opportunity to indulge in some of the area's award-winning local wines. Take paths that lead through forests of hazel and vineyards, enjoying breath-taking views of the snow-capped Alps and Mount Monviso in the distance. The medieval city of Alba and other antiquated little towns are also found en route, with their fascinating history, old piazzas and medieval towers.
The Path
The nature of the paths you take while walking in the Langhe Valley, are based on their original use. You'll find that the roads taken through chesnut groves are wide paths that follow the contours of the slope, whilst rural roads and mule tracks are more undulating underfoot. These routes are testimony to a more subdued, wild and natural aspect of Italy, where the medieval architecture and vineyards blend seamlessly into the surrounding hills of the Langhe region.The Langhe is a hilly valley, with infrequent uphill climbs through vineyards. Here, you'll find an undulating terrain that is fairly gentle on the whole, with infrequent strenuous sections as you ascend and descend through the ravines left by dried up riverbeds.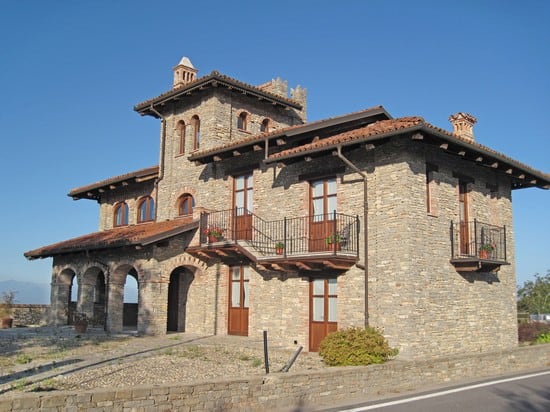 The Accommodation
Accommodation in the local area is often converted from 19th century villas and old farmhouses, here you'll find that renovation work has been carried out with simplicity and a sense of stewardship to the original historic features and character of the building.From your hotel in the heart of the city of Alba to the Agriturismo restored farmhouses in the Barolo region, accommodation is selected on the character of the places you visit. All rooms have private bathrooms with breakfast included in the price.
Our Piedmont: Barolo & Langhe Wine Region Itineraries
Roddi to Cortemilia
Distance: 52 miles (83.5km)
ITA-PDM1 ~ Roddi to Cortemilia ~ 7 / 6 classic
Prices
| Prices | Two people sharing (p.p.) | Solo person | Single person in a party |
| --- | --- | --- | --- |
| 01/04/2023 - 15/11/2023 | £745 | £1,155 | £1,010 |
| 01/04/2024 - 15/11/2024 | £785 | £1,245 | £1,090 |
Extras
7 nights' accommodation on a bed and breakfast basis
Luggage transfers
Personal transfers where indicated in the programme as a standard arrangement
Walk Pack, to include Road Book (route notes/mapping) including directions to your accommodation and destination information.
Two local maps
Access to a Travel APP
Price Does Not Include ~
City taxes (per person) only payable direct to accommodations –The prices below indicate the total to pay per person, rather than per night. Please consider city tax can vary during the year and new taxes can be introduced (Alba 1,50€, Barolo 1,50€, Monforte d'Alba 1,50€, Cissone 3€, Cravanzana 1,50€, Cortemilia 1,50€)
Packed lunches (own arrangements)
Evening meals (own arrangements). Available in local restaurant or in-house.
Travel to Alba/travel from Cortemilia.
You choose which day you would like your holiday to start on. We will book your holiday in accordance with your requirements.
Our Piedmont: Barolo & Langhe Wine Region holidays are available to walk April to November.
If you're looking to avoid crowds, spring is arguably the best time to visit the Piemontese region. However, you'll find that this region is a bit more subdued than some of the more famous regions of the south, especially on the hiking trails you'll be taking out into the country. Autumn is another favoured time to visit, due to harvest season, where truffles and wines are in abundance.
Travel arrangements for arrival/departure:
Nearest airports are Turin (served by both major and low-cost carriers) and Milan Linate and Malpensa airports that are served by more flights.
Turin                           (TRN)                          http://www.aeroportoditorino.it/en
 Milan Linate                (LIN)                      http://www.milanolinate-airport.com/en           
Milan Malpensa           (MXP)                    http://www.milanomalpensa-airport.com/en          
You are responsible for booking your air travel to airports and onward travel to your first accommodation and from your accommodation on departure.
Travel from Turin/Milan to Alba is by train
https://www.trenitalia.com/en.html
On departure from Cortemilia please note that there are NO direct buses from Cortemilia to Turin. You always have to change in Asti or Alba.
For bus timetables check on www.gelosobus.it once in Alba there are several trains to Turin or Milan. Please note that there are no buses running on Sundays.
Optional taxi transfer can be arranged at time of booking
Turin Airport to Alba - prices available upon request.
Cortemilia to Turin Airport - prices available upon request.
Cortemilia to Alba - prices available upon request.
We can organise additional nights/rest days, as well as transport options. Please contact us to discuss how we can help you with your specific requirements. Call one of our helpful team on
+44 (0)1291 689774
or
e-mail us here
.
Piedmont: Barolo & Langhe Wine Region Client Reviews
4.7

/5 based on

2

reviews
Our experience with Celtic Trails was: well planned - helpful - effective - nice accomm.
Anon
-
October 2022
All superb. No thinking, just walk and everything will be spick and span. I managed to find much needed serenity and peave. Breathtaking scenery was an additional plus. All accommodations were super clean and definitely excellent value for the money. Staff helpful and kind. I enjoyed every single part and will walk again. Celtic Trails and their partner made my holiday! Excellent experience.
Ana, Croatia
-
August 2021
Leave your own review of your

Piedmont: Barolo & Langhe Wine Region Walking Holiday

with us - add review
.
Booking Request - Piedmont: Barolo & Langhe Wine Region
What Happens Next?
We will check your details and come back to you within two working days with a personalised estimate based on your requirements. We will then formally request a deposit of £150 per person (£100 per person for a single centre break) and book all your arrangements - find out about our full booking process here.
Please note this does not constitute a booking confirmation, we kindly ask you to refrain from booking any travel until we have confirmed all your arrangements.
Still Have Questions?
If you are still unsure on any of your requirements, please do enquire with us first and one of our friendly team will be happy to help you with any queries you have.
Enquire About Piedmont: Barolo & Langhe Wine Region
E-mail
Sample Accommodations
Please note: exact accommodation booked will depend on availability.