Year-round sunshine and breathtaking landscapes on the World's leading island destination
Explore Madeira's network of 'levadas' - unique to the island's topography
Natural landscapes with wildflowers and birdlife endemic to Madeira
Stunning waterfalls and fairy-tale forests
Spectacular viewpoints over the island's rugged volcanic coastline
Excellent local cuisine and wines
Temperate climate offers breathing space to get out and explore year-round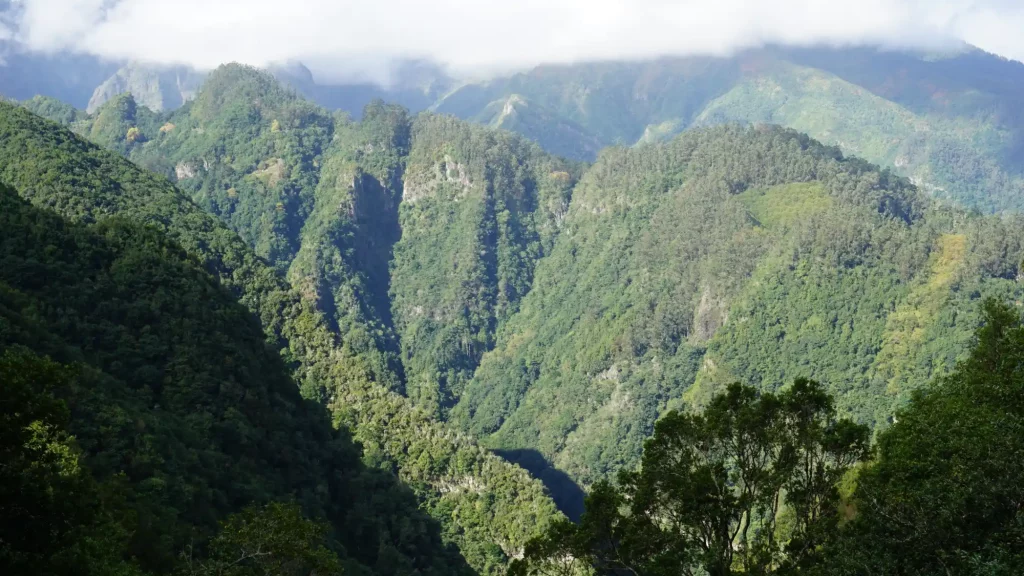 Walking holidays on the island of Madeira offer a respite from the restless pace of modern life, with picturesque routes through traditional villages, rugged coastlines, beaches and woodland. One of the most distinctive features of Madeira's topography are its levadas; miles upon miles of narrow aqueducts carved out of the landscape which contribute towards keeping this volcanic island so stunningly green. Here, your route occasionally follows the course of these waterways as you step out into the tranquil settings of Madeira's countryside from the port of Machico to the end of your journey at Santana on the secluded north coast of the island. This is a natural idyll renowned for its profusion of wildflowers and birdlife and exploring the island on foot is the best way to experience Madeira's natural beauty, as well as the remnants of its history found in ruins scattered across the island. On your way, you'll discover traditional villages, characterful little bars and restaurants, as well as the captivating culture and gastronomy of the island.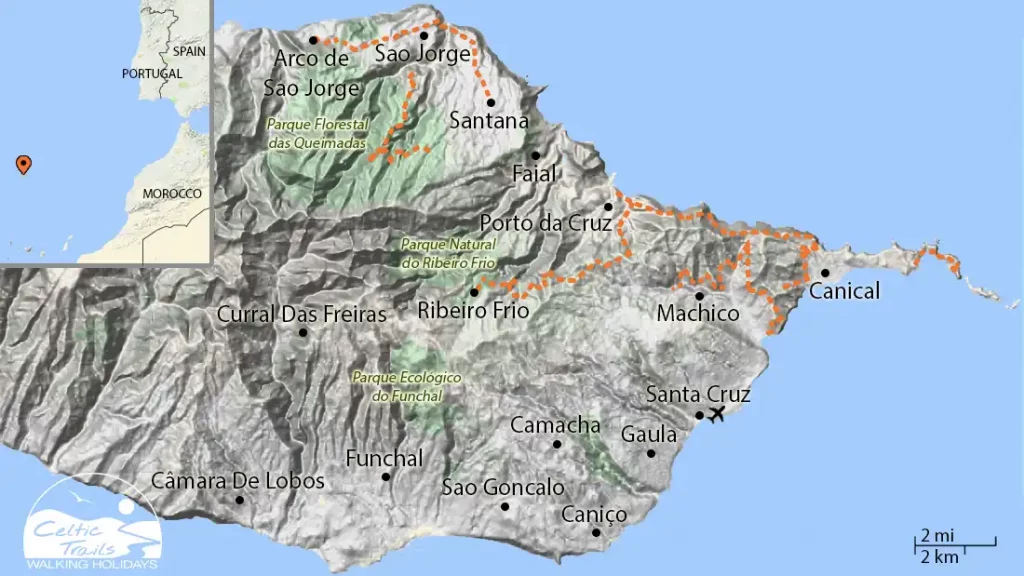 From the port of Machico, your holiday starts by  following your first of the island's characteristic levadas, before walking around the green coastline of the São Lourenço Peninsula. From here, the route becomes more challenging in nature as you follow the Levada do Caniçal up to the Boca de Risco viewpoint where you'll catch panoramic views over the rugged Atlantic coastline, before reaching the small coastal community of Porto da Cruz. Following the Levada do Furado, your path then takes you though the UNESCO protected laurissilva forest, where the path inclines to take you to a viewing point over the coast and forest, before taking you back down to sea-level. From the Parque Florestal das Queimadas your route takes you along the Levada do Caldeirão Verde to reach a waterfall and the traditional village of Ilha. Your final day of walking will see you walk part of the Caminho Real which encircles the island, on your way from Santana to Arco de São Jorge.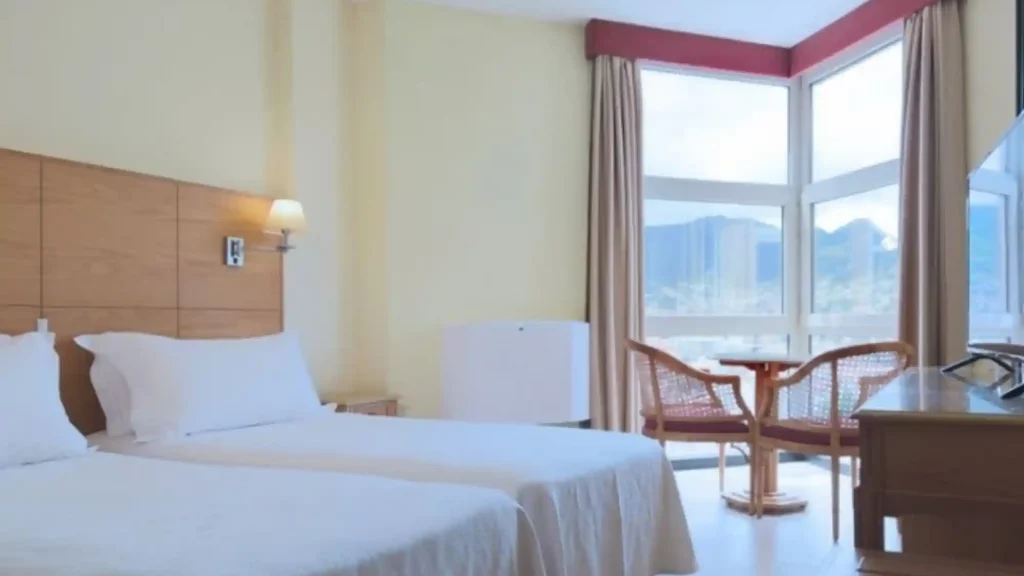 Your holiday is centred on two locations, Machico and Santana. Both centres illustrate different aspects of life on the island, and in either case we have chosen retreats that offer comfort and local character; places to stay that are just as much a part of the experience as the walk itself. In Santana you may choose between an upgraded accommodation (POR-MAD1) or a standard selection (POR-MAD2). You can look forward to a warm welcome and a taste of the island's celebrated cuisine and local produce after a day out exploring the island with our hand-picked accommodation that provides all the modern amenities (WI-FI etc) that you could expect. Whether it's beach bays or miles of lush, exotic island scenery – our accommodations in Madeira offer ample breathing space to relax and unwind among the island's spectacular natural landscapes.
Our Wonderous Landscapes and Waterways of Madeira Itineraries
Machico to Santana
Distance: 49.2 miles (79km)
POR-MAD1 ~ Machico to Santana ~ 7 / 6 classic plus
Prices
| | Two sharing pp | Solo walker | Single person (in a group) |
| --- | --- | --- | --- |
| 01/01/2022 - 02/01/2022 | £735 | £1,320 | £1,170 |
| 03/01/2022 - 27/03/2022 | £700 | £1,215 | £1,065 |
| 28/03/2022 - 30/06/2022 | £735 | £1,320 | £1,170 |
| 01/07/2022 - 15/09/2022 | £755 | £1,365 | £1,215 |
| 16/09/2022 - 31/10/2022 | £720 | £1,265 | £1,115 |
Extras
POR-MAD2 ~ Machico to Santana ~ 7 / 6 classic
Prices
| | Two sharing pp | Solo walker | Single person (in a group) |
| --- | --- | --- | --- |
| 28/12/2021 - 02/01/2022 | £480 | £875 | £735 |
| 03/01/2022 - 28/03/2022 | £450 | £795 | £665 |
| 29/03/2022 - 25/04/2022 | £480 | £875 | £735 |
| 26/04/2022 - 30/06/2022 | £500 | £900 | £755 |
| 01/07/2022 - 15/09/2022 | £530 | £970 | £835 |
| 16/09/2022 - 31/10/2022 | £480 | £875 | £735 |
Extras
7 nights' accommodation on a bed and breakfast basis

POR-MAD1 - upgraded Santana accommodation.

POR-MAD2 - standard Santana accommodation.

1 dinner is included on Day 4 (applies to POR-MAD1 itinerary only)
Luggage transfers
Personal transfers where indicated in the itinerary
Destination Manual and Road Book (route notes) showing directions to your accommodation
Map
Airport transfers from/return to Madeira Airport (FNC)
NOT INCLUDED
Packed lunches (own arrangements)
Evening meals except where stated above
Please note on Day 3 that return to your accommodation is by public bus, or taxi by your own arrangement.
Travel to/from Madeira
You choose which day you would like your holiday to start on. We will book your holiday in accordance with your requirements.
Our Wonderous Landscapes and Waterways of Madeira holidays are available to walk January to October.
Flight to Madeira Airport (FNC)
You will be met at the airport by taxi and taken to your first accommodation in Machico. A return transfer from your final accommodation in Santana to the airport is also provided. Both transfers are included in your holiday price.
You are responsible for booking your air travel to Madeira Airport (FNC)
We can organise additional nights/rest days, as well as transport options. Please contact us to discuss how we can help you with your specific requirements. Call one of our helpful team on
+44 (0)1291 689774
or
e-mail us here
.
Booking Request - Wonderous Landscapes and Waterways of Madeira
What Happens Next?
We will check your details and come back to you within two working days with a personalised estimate based on your requirements. We will then formally request a deposit of £150 per person (£100 per person for a single centre break) and book all your arrangements - find out about our full booking process here.
Please note this does not constitute a booking confirmation, we kindly ask you to refrain from booking any travel until we have confirmed all your arrangements.
Still Have Questions?
If you are still unsure on any of your requirements, please do enquire with us first and one of our friendly team will be happy to help you with any queries you have.
Enquire About Wonderous Landscapes and Waterways of Madeira
E-mail
Sample Accommodations
Please note: exact accommodation booked will depend on availability.