Active Travel, on Everyday Journeys
Shouldn't all the walks we take to work, school or the shops be as enjoyable and accessible as the walks we take for pleasure?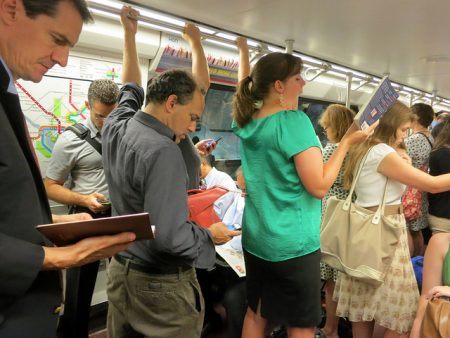 It sounds Utopian, but there's no denying that this is an issue that affects almost everyone.
Research from the National Statistics has shown that taking the bus or coach to work on a journey lasting more than 30 minutes was the most negative commuting option in personal well-being terms.
Now, you can't ignore the fact that more people than ever are travelling greater daily distances for work, nor the reality that not everybody is lucky enough to have access to public parks, paths or green trails to work.
Nor can you make assumptions about how people live, but we could all do with making that calculation between income, time spent travelling and quality of life.
Walking and Wellbeing
The morning commute is the coalface for a lot of health & fitness gurus trying to revolutionise your morning commute, and it's easy to tell someone to get off the bus a few stops earlier – forgetting that most people want to maximise their time spent in bed.
It's important to remember that not everyone will have access to parks as part of their day-to-day, and as a nation, our time spent commuting is getting longer.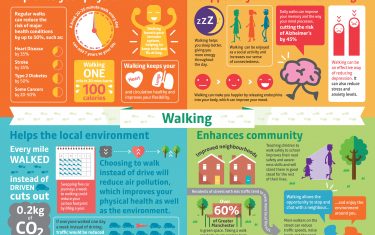 That being said, re-engineering these daily distance can benefit your health, fitness and community – not to mention your wallet.
However, for this to be a reality, we need spaces earmarked for pedestrians with routes that are safe, practical and can fit around people lives.
You can just imagine the manifold benefits of active travel on everyday journeys:
Get everybody out in the open – with no walls or car doors to incubate us from society

Bolster physical and mental health, as well as curb the rising obesity epidemic

Learn to appreciate your local area, and get a respite from the noise levels of roadways.

Cut down on traffic congestion
Beyond Planning…
When it comes to getting the most out of your local area, we need to consider the use of green space and trails in future development planning.
The sad reality is that time and resources are stretched, but there are still so many ways to the quality of our everyday travel experiences – even if just on a local level.
Regular users of green spaces and trails can provide input into transportation decisions, as well as pledge support for policies that support physical activity and walking.
Ultimately, transportation objectives have to factor in not just convenience; they should be striving to improve the quality of life for regular users.
Want to find out more? Read this report published by the WHO on Green Spaces