Explore Pristine Coastline and Portugal's Best Kept Secret
One of Europe's best preserved coastlines
Enjoy fresh delicious seafood daily
High-quality accommodation
Quiet and traditional Portuguese villages
Rare and unique birds and animals
The largest number of priority plant species in Portugal
Part of the GR path network (GR-11)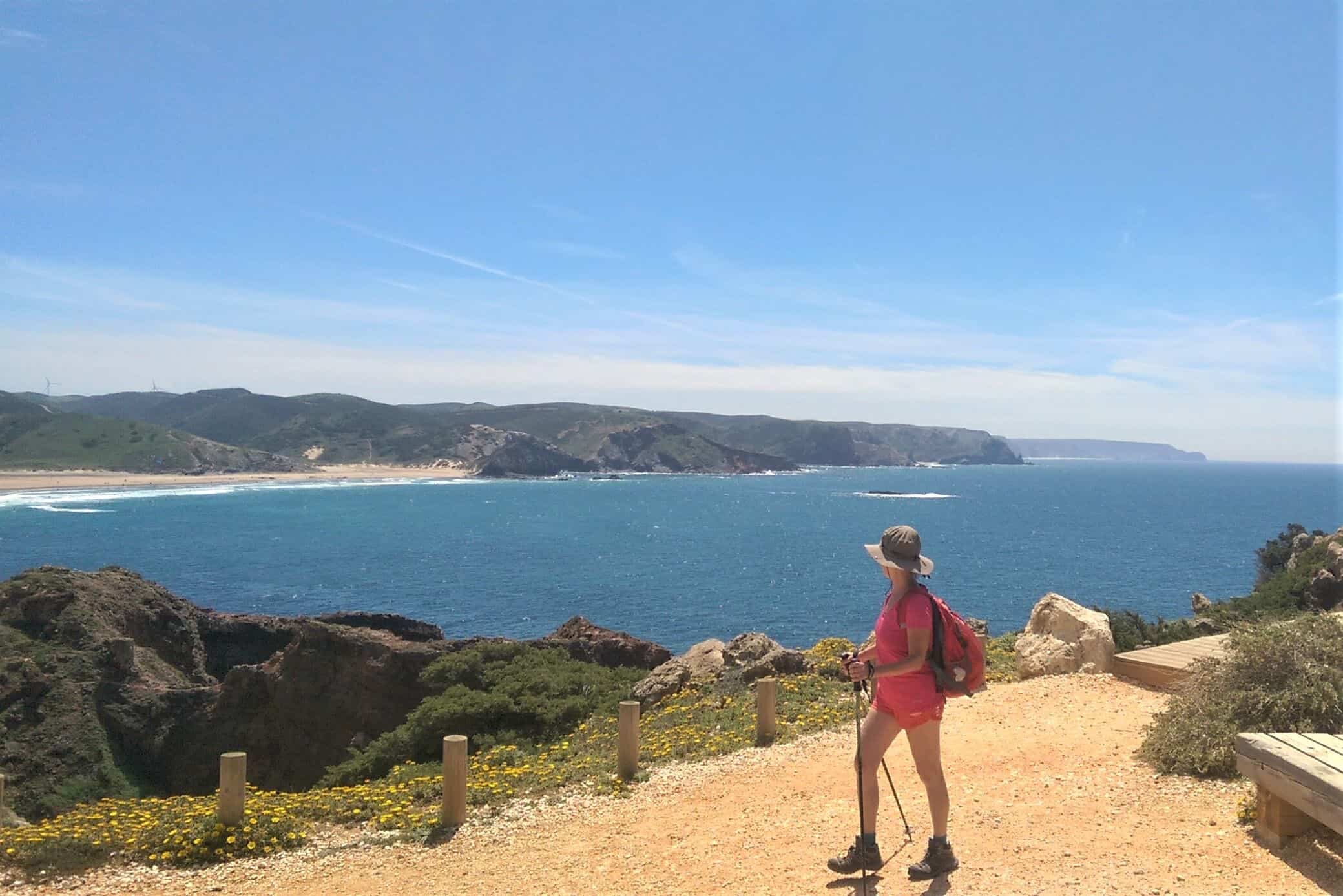 Why The Rota Vicentina
This walk will take you across sand dunes, over wild clifftops, along pristine creamy beaches and through idyllic hidden coves, before reaching Cape St. Vincent, on Portugal walking holidays to the south westernmost point in Europe. As well as beautiful coastline, the National Park is also home to a wonderful array of Mediterranean flora and fauna, whilst keen naturalists may spot a number of rare birds and animals including the fishing eagle, white stork and the otter.
The Path
Starting in Almograve, this path has been designed to allow you to enjoy the best that the National Park has to offer. As you make your way south along the coastline, you will have the opportunity to enjoy a combination of circular walks that will take you inland, as well as linear walks along the coastline, ensuring a diverse range of landscape. You will pass through the villages of Zambujeira, Odeceixe, and Carrapateira, spending a couple of nights in each village before arriving at your final destination Sagres on the Cape Saint Vincent.
We have planned our walks perfectly to last 4-5 hours each day, leaving you with plenty of time to indulge in the traditionally relaxed Portuguese lifestyle. You will also find that all the walks are perfectly way-marked as they are part of the network Rota Vicentina. The route does include some short but steep sections from beach to cliff, however the majority of the path is flat.
Our Rota Vicentina Itineraries
Almograve to Sagres
Distance: 77 miles (123.5km)
POR-RV1 ~ Almograve to Sagres ~ 7 / 6 classic
What's Included:
7 breakfasts,
3 evening meals
Prices
| | Two sharing pp | Solo walker | Single person (in a group) |
| --- | --- | --- | --- |
| 04/01/2022 - 23/02/2022 | £750 | £1,175 | £1,155 |
| 24/02/2022 - 06/04/2022 | £815 | £1,325 | £1,225 |
| 07/04/2022 - 12/04/2022 | £870 | £1,440 | £1,335 |
| 13/04/2022 - 17/04/2022 | £930 | £1,520 | £1,415 |
| 18/04/2022 - 25/05/2022 | £870 | £1,440 | £1,335 |
| 26/05/2022 - 25/06/2022 | £930 | £1,520 | £1,415 |
| 27/06/2022 - 14/07/2022 | £970 | £1,585 | £1,485 |
| 01/09/2022 - 17/09/2022 | £970 | £1,585 | £1,485 |
| 09/10/2022 - 31/10/2022 | £815 | £1,325 | £1,225 |
| 01/11/2022 - 21/12/2022 | £750 | £1,175 | £1,155 |
| | | | |
Extras
Each day of walking can range in distance from 19km (5.5 hours) to 12.5 km (4 hours). There is an average overall ascent / descent of 150m. Most days include short steep ascents from the beach up to the cliff top, followed by relatively flat terrain.
At times, tide levels will affect your route and make it necessary to walk some sections inland.
Most of the walks are well way-marked as they are part of the network Rota Vicentina.
The price quoted is inclusive of ~
7 nights bed and breakfast
luggage transfer, transfers to/from the path where necessary
a Destination Manual and Road Book (route notes) showing directions to your accommodations
Three evening meals (Nights 1,2 and 5)
Taxi transfer from Odemira if arriving by bus
24 hour assistance
Optional extras ~
Extra nights in any of hotels
Private transfers to or from Faro or Lisbon airports
Rest Days ~ Please enquire for extra night prices at each location
Airport Transfers

Faro Airport to accommodation (Zambujeira)-£117.50
Accommodation (Sagres) to Faro Airport-£135
Not included ~
Packed lunches are not included but can be ordered either from your accommodations or locally and paid for direct each day
Evening meals on nights 3, 4, 6 and 7. Local restaurants or in-house meals will be easily accessible on these nights and should be paid for direct
Flights
Airport Transfers to and from your accommodation
You choose which day you would like your holiday to start on. We will book your holiday in accordance with your requirements.
Our Rota Vicentina holidays are available to walk January to July, September to December.
April and May are especially beautiful for wildflowers. Winter is pleasant due to the area's mild climate, though temperatures can get cold at times and there will be rainy or misty days.
This holiday does not include flights and walkers will need to arrange their own travel to Portugal. The walk can be reached from either Lisbon or Faro airport. From there, walkers have the option of either using public transport to get to their first night's accommodation or we can arrange a private transfer from the airport at an additional cost.
Private transport:
Taxi transfers can be arranged from/return the airport if required.
 Faro Airport to accommodation (Zambujeira)  £155
 Accommodation (Sagres) to Faro Airport £135
Public transport
The walk can be reached from either Faro or Lisbon airport using a combination of buses. If you prefer to travel by public transport please enquire and we will be pleased to offer further advice
Some useful websites for public transport in Portugal -
Trains
Buses
We can organise additional nights/rest days, as well as transport options. Please contact us to discuss how we can help you with your specific requirements. Call one of our helpful team on
+44 (0)1291 689774
or
e-mail us here
.
Rota Vicentina Client Reviews
5

/5 based on

2

reviews
This holiday had a very positive impact on my well-being and health. Walking along the ocean is SO exciting.
Monnat
-
May 2019
Celtic Trails were very good - personal service. I most enjoyed the unspoilt scenery and the excellent route marking.
R.W.
-
October 2018
Leave your own review of your

Rota Vicentina Walking Holiday

with us - add review
.
Booking Request - Rota Vicentina
What Happens Next?
We will check your details and come back to you within two working days with a personalised estimate based on your requirements. We will then formally request a deposit of £150 per person (£100 per person for a single centre break) and book all your arrangements - find out about our full booking process here.
Please note this does not constitute a booking confirmation, we kindly ask you to refrain from booking any travel until we have confirmed all your arrangements.
Still Have Questions?
If you are still unsure on any of your requirements, please do enquire with us first and one of our friendly team will be happy to help you with any queries you have.
Enquire About Rota Vicentina
E-mail
Sample Accommodations
Comfort level: 3.5/4
Casa Fajara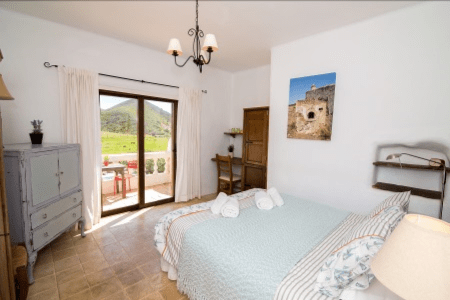 Casas do Moinho
Please note: exact accommodation booked will depend on availability.