Gorges, Vineyards and Monasteries of Galicia
Incredible Canyon Landscapes
Encounter Many Sights of Historical Interest
Discover a New Side to Spanish Culture
Scenic Trails through Stunning Natural Scenery
Beautiful Forest Paths
Ourense
Sample Local Wines and Galician Cuisine
High-quality Characterful Accommodation
Galicia is one of the (if not the most) secluded areas of Spain, and this is especially the case further inland, where our route takes you on a journey through the valley of the Miño and Sil rivers, where dramatic canyons and gorges hold verdant forest and historic monasteries and picturesque villages are dotted along the routes' course. The impressive effect of the high-level routes over the canyons and gorge finds its nearest comparison in the Norwegian Fjords; a magnificent landscape carved out and shaped during glaciation millions of years ago. The route offers many opportunities to stop and take in this landscape, on a route that links these awe-inspiring natural phenomena with the forest trails and meadowed paths that link your journey from one charming Galician village to the next, ultimately arriving in the historic city of Ourense.
Ourense is beautiful, particularly the old-town, with its welcoming atmosphere, lovely cathedral and fantastic restaurants and wine bars.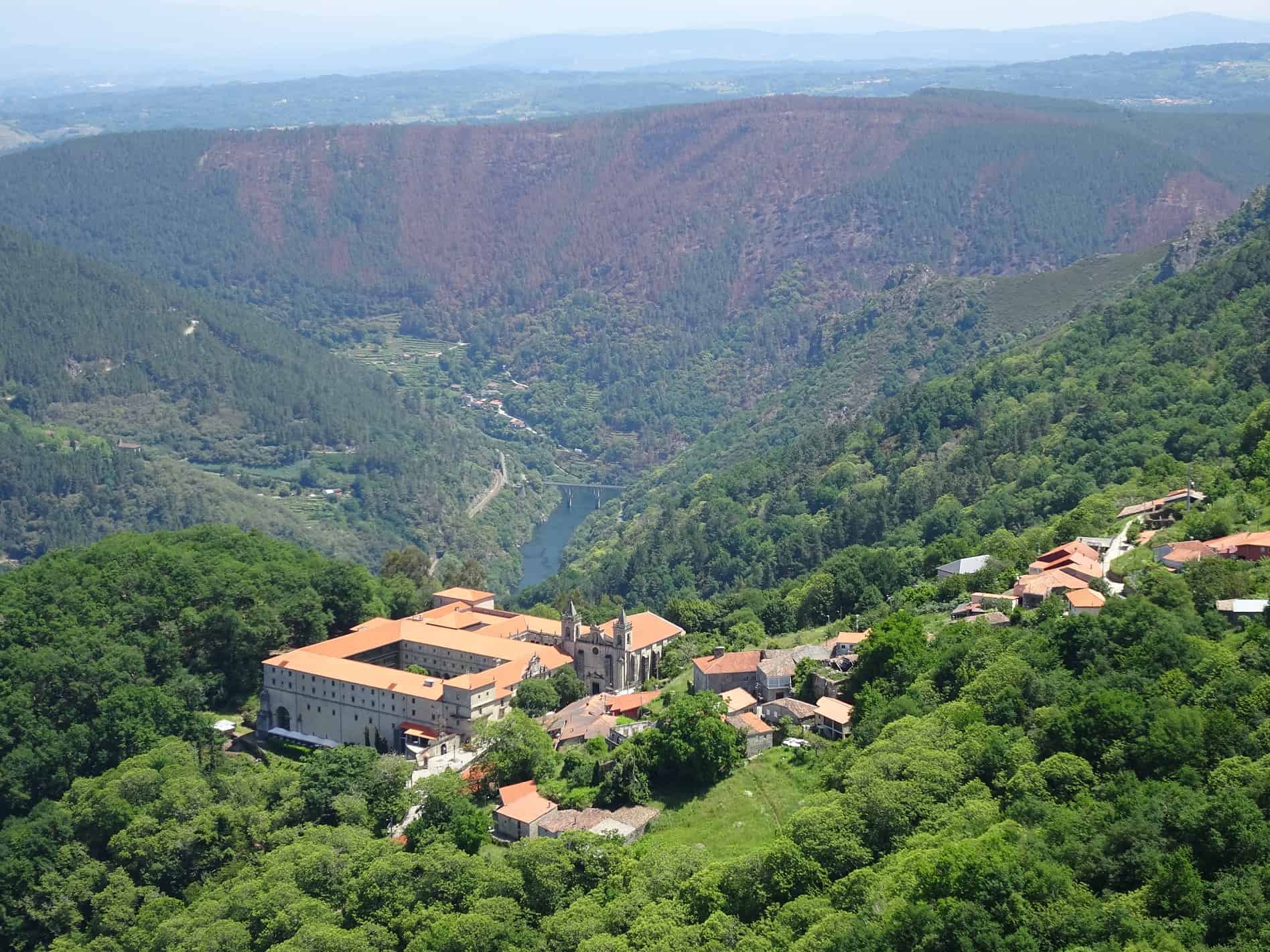 Why This Walk?
If you're seeking an alternative experience of Spain, Galicia gives an insight into a side of Spanish culture almost entirely untouched by mass-tourism. Here you'll find miles of unspoilt natural beauty, authentic culture and the experience of uncovering unspoilt stretches of countryside, step by step. The Ribeira Sacra (meaning sacred riverbank) area, through which the route makes its way, is where the confluence of the rivers Sil and Miño meet, a region that has attracted various civilisations over the centuries – very much in evidence in the old monasteries, Romanesque art and Roman architecture found along the path's course. But, as befits an area full of vineyards and groves, visiting the area is a great opportunity to sample local wines and produce in the historic towns and villages you visit along the trail.  
One of the major highlights of this holiday are the beautiful forest paths; you will see oaks, maples, cherries and countless thick chesnuts which are the most beautiful trees in the area.  In autumn, the colours are incredibly beautiful.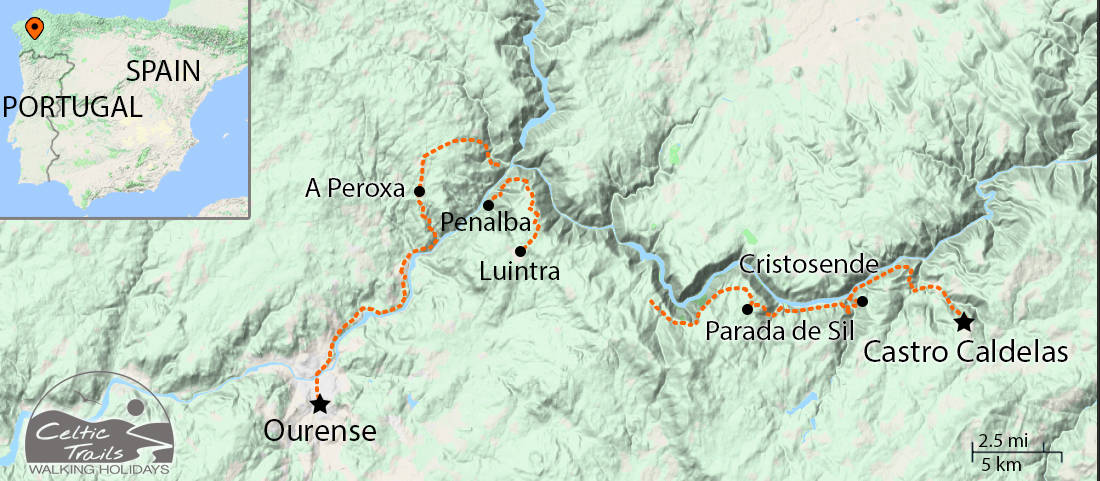 The Path
Follow routes through vineyards, fields, meadows, small villages and forest paths as your journey takes you on high level routes overlooking the river gorge below – arguably one of the most impressive vistas in Galicia, if not Spain itself. Some of these trails have roots in historic means of transportation, as you follow old roman roads and caminos reales (royal paths), that were originally created for military use and became the main form of transit for merchants, civilians and traders from village to village. The majority are kept and maintained by various hiking and mountaineering associations, as well as by the locals who still use them to this day. Nevertheless, the landscape is distinctly wild, and, on your way, you'll observe a variety of scenery created by the changes in topography as well as the diversity of wildlife, plants and flora native to the valley.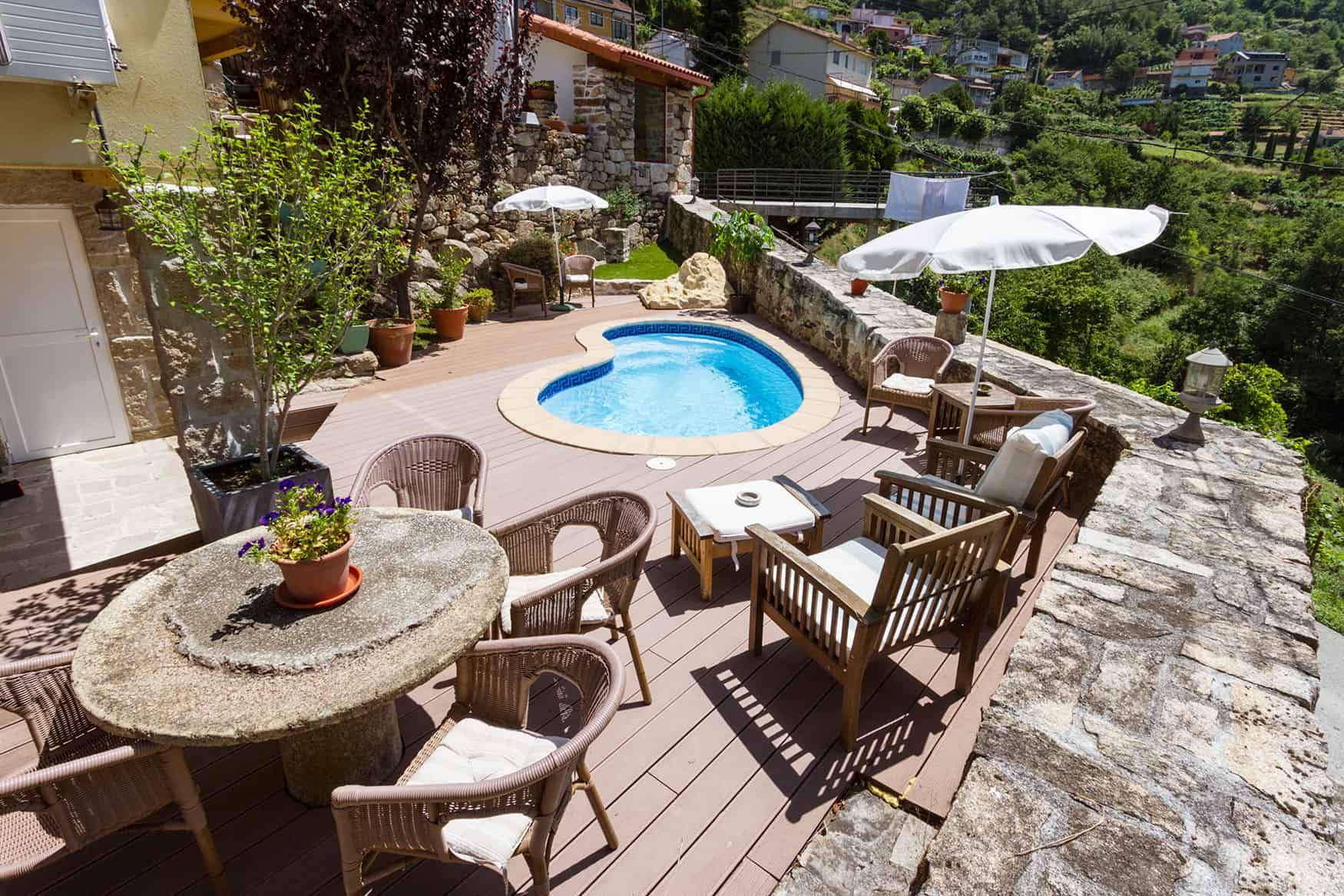 The Accommodation
Our accommodation in Galicia are selected to reflect the character of the locality; they are typically small, family-run establishments with great views.  Examples include elegant 19th century buildings, farmhouses located among vineyards, historic B&Bs and country hotels with modern comforts, usually a stones-throw away from the main sights of the area.
Our Ribeira Sacra Itineraries
Gorges, Vineyards and Monasteries of Galicia
Distance: 59 miles (94.5km)
SPA-RBS1 ~ Gorges, Vineyards and Monasteries of Galicia ~ 7 / 6 classic
What's Included:
6 breakfasts,
1 picnic,
1 dinner
Prices
| | Two sharing pp | Solo walker | Single person (in a group) |
| --- | --- | --- | --- |
| 01/04/2024 - 30/06/2024 | £700 | £955 | £850 |
| 01/09/2024 - 31/10/2024 | £700 | £955 | £850 |
Extras
7 nights' accommodation and 6 breakfasts
1 packed lunch
1 dinner (Day 2)
Luggage transfers
Personal transfers where indicated in the programme as a standard arrangement
Walk Pack, to include route notes, mapping and GPX tracks,
Destination guide.
Local support and telephone advice

Price Does Not Include ~

Breakfast in Ourense, as there are many local places nearby to eat
Packed lunches (own arrangements) for 5 walking days
Evening meals (own arrangements) for 6 nights. Available in local restaurant or in-house.
Tickets to winery visits
Tickets to thermal areas in Ourense.
Travel to Castro Calderas/travel from Ourense.
We highly recommend an upgrade of accommodation on 
Day 4
to stay at the Parador de Santo Estevo. Please enquire for prices.
You choose which day you would like your holiday to start on. We will book your holiday in accordance with your requirements.
Our Ribeira Sacra holidays are available to walk April to June, September to October.
Travel arrangements for arrival/departure ~
You are responsible for booking your travel to your accommodation in Castro Caldelas and return from your accommodation in Ourense.
Nearest airports are:
SANTIAGO AIRPORT
Arrival by public transport:
Shuttle bus runs from the airport terminal to Plaza de Galicia in Santiago, stopping at different points in the city including the bus station and the railway station.
Trains depart Santiago to Ourense
Buses Ourense to Castrocaldelas are M-F at 14.45 and 18:30h, Saturdays at 11 and 20h, Sundays at 11 and 18:30h
Return by public transport:
Train to Santiago and shuttle bus to airport as above
CORUNA AIRPORT
Arrival by public transport:
Line 4051 bus service from airport to A Coruna centre (train station)
Monday-Friday, both from A Coruña and from the airport, buses run from 7.15 am to 9.45 pm every half hour. On Saturdays they leave from A Coruña every hour from 7.30 am to 10.30 pm, and from the airport from 8.00 am to 10.00 pm also every hour. On Sundays and bank-holidays they leave every hour, from A Coruña from 8.30 am to 10.30 pm, and from the airport from 9.00 am to 10.00 pm
Trains depart A Coruna to Ourense
Buses Ourense to Castrocaldelas are M-F at 14.45 and 18:30h, Saturdays at 11 and 20h, Sundays at 11 and 18:30h
Return by public transport:
Train to A Coruna and shuttle bus to airport as above
We can arrange taxi transfers for either airport if required.
MADRID
You may also consider arriving via Madrid and possibly combining with extra days in the capital as there is a fast train connection between Madrid and Ourense.
We can organise additional nights/rest days, as well as transport options. Please contact us to discuss how we can help you with your specific requirements. Call one of our helpful team on
+44 (0)1291 689774
or
e-mail us here
.
Ribeira Sacra Client Reviews
5

/5 based on

1

reviews
Celtic Trails are better than other companies we've used - good price / quality - value for money! They are helpful and attentive - they ask YOU if everything is fine and if you need advice. It was, for us, the first time to walk a trail in Spain. We enjoyed it very much. Beautiful weather, amazing viewpoints, gorgeous landscape, impressive silence and very delicious local wines.
Jan & Jaap
-
October 2019
Leave your own review of your

Ribeira Sacra Walking Holiday

with us - add review
.
Booking Request - Ribeira Sacra
What Happens Next?
We will check your details and come back to you within two working days with a personalised estimate based on your requirements. We will then formally request a deposit of £150 per person (£100 per person for a single centre break) and book all your arrangements - find out about our full booking process here.
Please note this does not constitute a booking confirmation, we kindly ask you to refrain from booking any travel until we have confirmed all your arrangements.
Still Have Questions?
If you are still unsure on any of your requirements, please do enquire with us first and one of our friendly team will be happy to help you with any queries you have.
Enquire About Ribeira Sacra
E-mail
Sample Accommodations
Please note: exact accommodation booked will depend on availability.