In October 2018 we'll be running a guided walking holiday in Japan through our sister brand Langdale Walking Holidays. This week I caught up with our Nakasendo and Kumano Kodo Trails tour leader Geoff Buck to answer some questions on next years trip.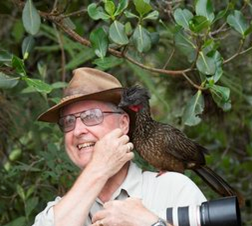 Geoff has led a rich and varied life in travel, with trekking in the Sahara, swimming naked in Antarctica, canoes down the Zambezi, walking in the African bush…well, the list goes on.
Given that Geoff has traveled all over the globe, with a diverse range of experiences under his belt, it speaks volumes that the man has nothing but sheer enthusiasm for travelling back to the Japan.
Read on for Geoff's first-hand experience of walking Japan's ancient pilgrim trails.
Get in touch at info@langdaleholidays.co.uk to find out more about what we'll be doing day to day in Japan, where we'll be travelling and what makes this trip different from any other.
What's the scenery like?
On the Nakesendo Trail the majority of the scenery is rural Japan, quite different from the crowded cities. There are small villages, farms, mountain forests, and rivers.
On the Kumano Kodo Trail the scenery is more mountainous and forested.
And in September/October in particular?
On the Naksendo Trail at this time of year there are still leaves on the trees and they are just about to turn brown. The weather can be mixed, with rain possible, but it is warm.
On the Kumano Kodo trail it can be warm and very humid, and rain is possible.
What's the trail like, is it wild/developed?
On the Nakasendo Trail the trail is an old pilgrim route, and is therefore designed to be walked! It is generally good underfoot, though sometimes there are cobbled stretches which can be a bit slippery after rain. There are no really steep stretches. It is not wild.
On the Kumano Kodo Trail the route is well defined but as it passes through the mountains it is more arduous than the Nakasendo trail. If you use walking poles they are an advantage. There are no really steep ups or downs, but there are one or two longish ascents and descents at a reasonable gradient.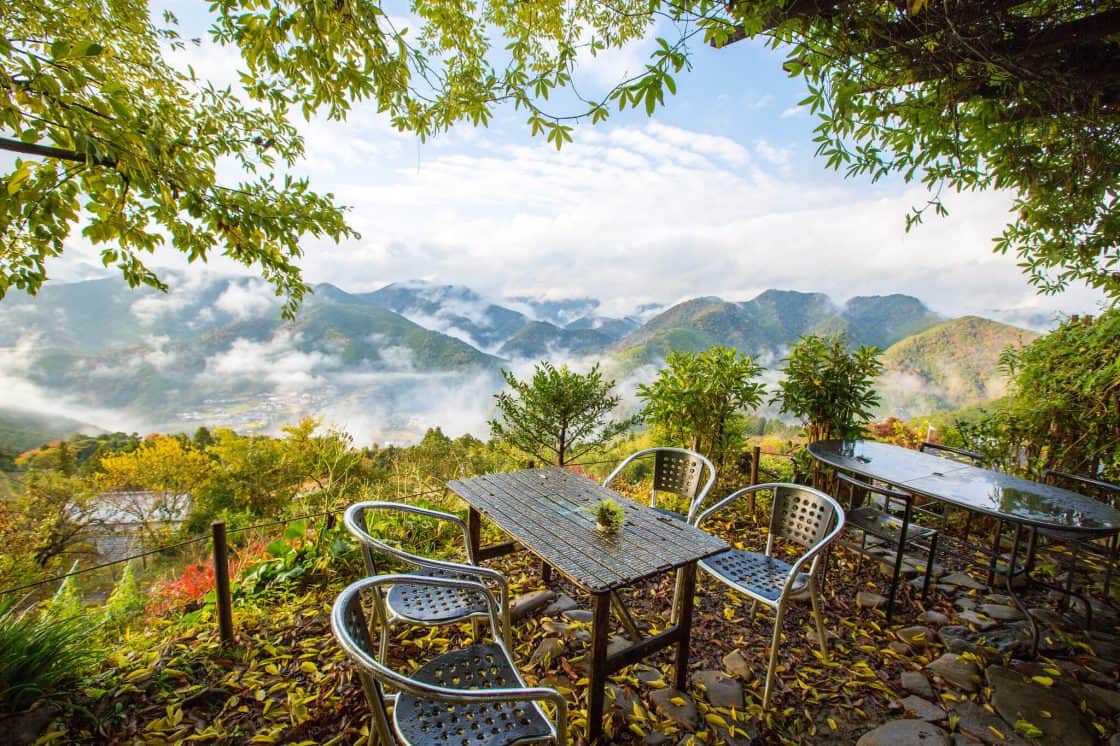 How strenuous is the walking?
On the Nakasendo Trail the walking is between easy and moderate, and for possibly for six hours.
On the Kumano Kodo Trail the walking can be on the hard side of moderate if it is a hot and humid day. The duration may be up to seven hours walking.
Do I need to speak Japanese?
There is no need to speak Japanese as we shall have a Japanese speaking guide. In any event in most of the places we stop the staff have adequate English or better.
However Google Translate can come in handy if you venture out on your own!
Is there any etiquette I need to be aware of?
Our guides will brief you on arrival and will ensure that you don't embarrass yourselves!
The Japanese people are very polite and do not like confrontation. They are generally very helpful.
Apart from in the big cities it is usually customary to remove outdoor footwear before entering a building such as a restaurant, an inn or (particularly) a house. Slippers are generally provided by the establishment.
In the ryokan (inn) you will be provided with a yukata, which is a cotton robe and which you wear all evening including for the meals. Evening meals are usually taken at a set time, often starting between 1800 and 1900, and usually finishing around 2100.
When using the Japanese baths, the facilities may be communal, and are usually separated men and women. You sit on one of the stools to shower before you get into to the bath. Note that it is usual to bathe naked. Note also that the water may be very hot. Basic toiletries are often provided for example, razors, combs, soaps, toothpaste and brushes.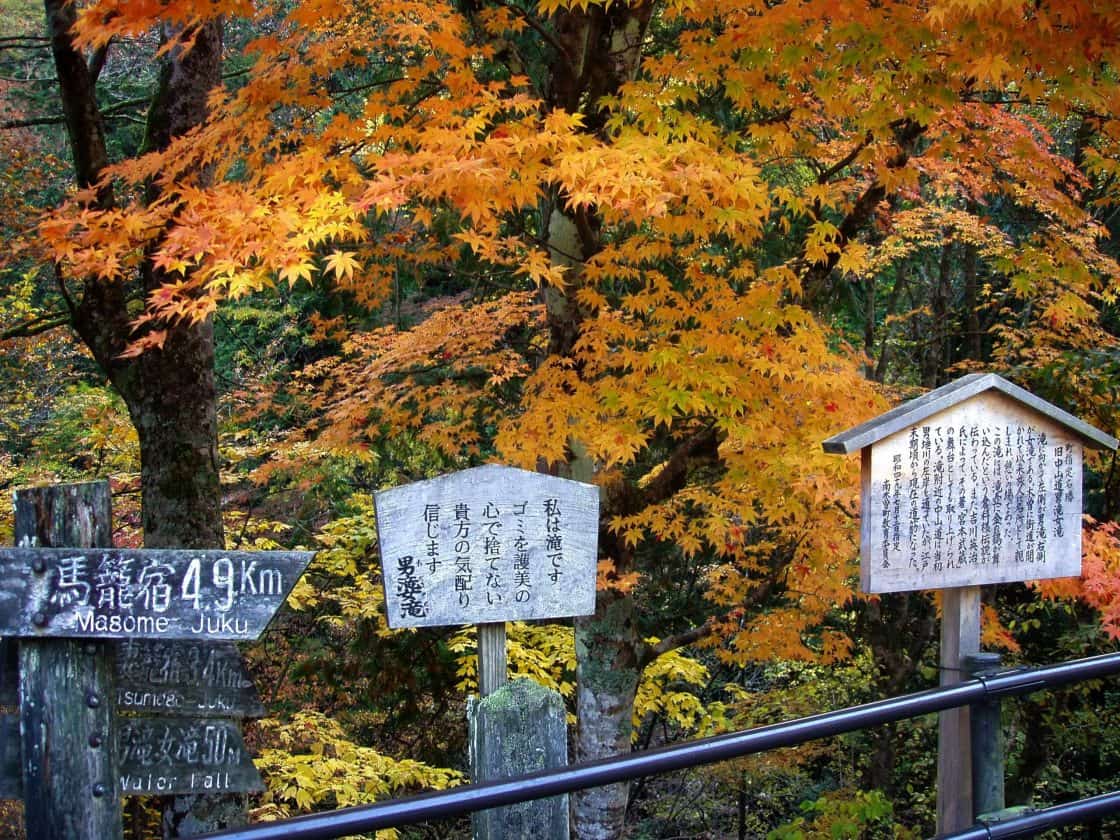 What sort of food is available?
On the trails the food will be exclusively Japanese which means a large number of small, often bite-sized, dishes including tempura fish, grilled meat and fresh sashimi, miso soup and possibly tofu. This applies to breakfast too, though smaller in quantity. Dairy products do not feature widely.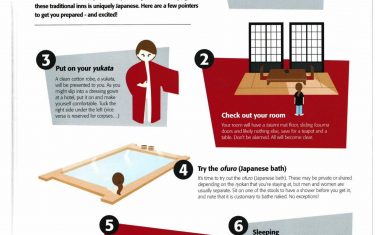 What side of Japan will I see?
You will see the complete opposite to life in the cities. Life on the trails is unhurried and peaceful.
You will see a rural Japan, sometimes as it has been for centuries. You will find yourself immersed as much as is possible in a traditional Japanese lifestyle.
What sort of places do you stay in?
In the cities, we stay in western style hotels. On the trails we stay in traditional, small family run Japanese-style inns called ryokan and minshuku.
Do we have to use the hot-springs?
No, but some of the simpler ryokan may not have full en suite facilities. And you'll miss a great experience! When using the hot springs or communal baths in the places we stay it is unlikely that there will be more than a few bathers at any one time. Most baths stay available till late in the evening, or sometimes throughout the night and until after breakfast, so those who seek privacy could probably manage to do so.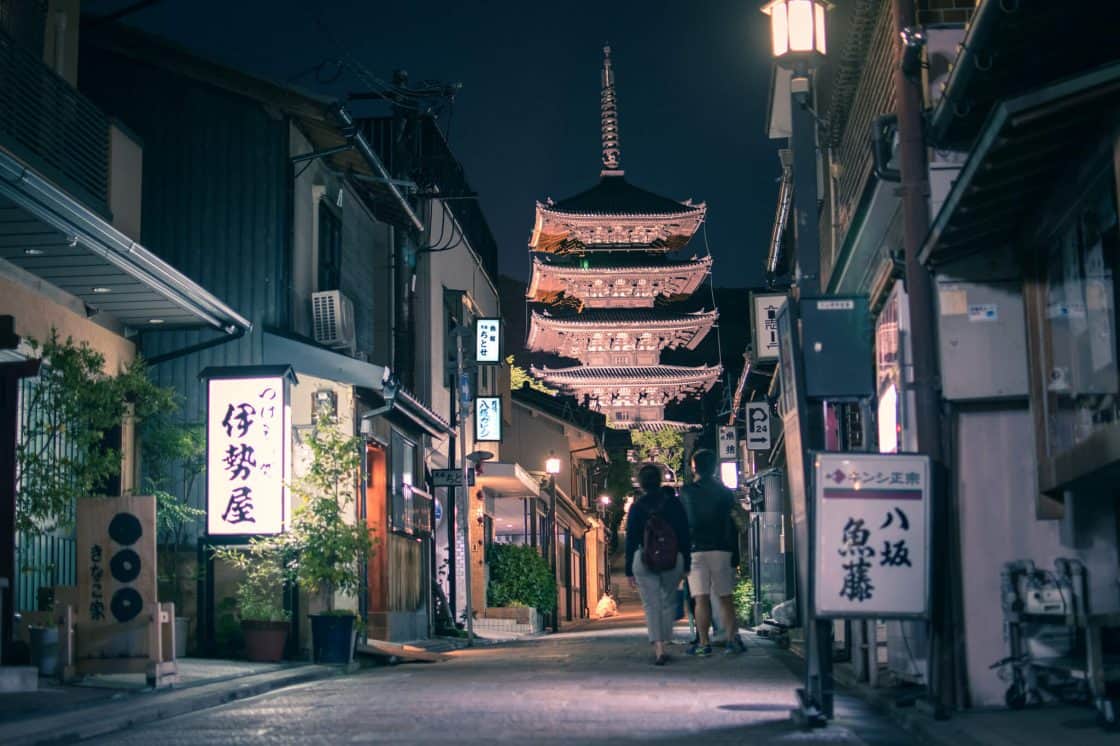 Are there any great photo opportunities along the Nakasendo and Kumano Kodo Trails?
Walking Japan, there are mountains, forests, and landscapes, plus occasional seascapes to photograph. There are waterfalls, shrines, pagodas, and rustic buildings. There are also trains!
However, there is not much wildlife so a telephoto lens is probably not essential.
What's the Japanese attitude like towards foreigners?
In our experience they are invariably polite, helpful and welcoming.
If I want to stay in Japan a little longer, what would you recommend seeing?
Do a self- guided walk on another Trail! Failing that both Kyoto and Tokyo have much to offer and you could easily spend a week or more in each.
Kyoto is the more historic city with a number of ancient shrines and buildings. Both cities are easy to get around using public transport once you've mastered the straightforward ticketing and queuing techniques.
Most signs and announcements on trains and buses are in Japanese and English.
Any questions on walking Japan?
Get in touch at 01291 639697 or send us an e-mail at info@langdaleholidays.co.uk
Geoff lives in Devon having retired from full-time employment in the engineering sector so that he could relax and travel more. When he was in the Royal Navy he qualified as a Joint Services Mountain Expedition Leader and then led expeditions in the UK and also trained young officers in "adventurous" skills.
Geoff is an experienced Langdale Walking Holidays tour leader – having travelled with us to Crete, New Zealand, Patagonia, Bolivia, Peru, Galapagos Islands, Morocco and the Pyrenees.