Every year, millions of British people hop on a plane overseas, blissfully unaware of the beauty they leave behind. Not only does Britain boast gorgeously diverse landscapes suited to every traveller, it also showcases an unbelievable array of undiscovered gems.
Where walking holidays are concerned, the Jurassic Coast is a timeless favourite. The route is visited all year round by people of all ages who wish to enjoy the sea, variety of surrounding activities, and explore the breathtaking archaic sights that the coast has to offer.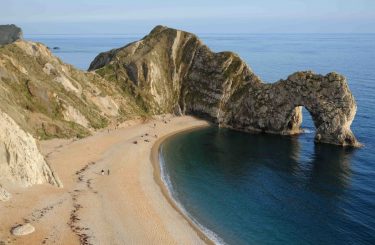 While the sea is a scenic bonus to any walking holiday, the Jurassic coast boasts phenomenal natural architecture, such as the famous Durdle Door in Lulworth Cove. This limestone arch has been forming over the past 140 million years and is a breathtaking slice of Jurassic History, appearing in films and literature across the years. The Jurassic coast also lives up to its impressive namesake where fossils are concerned. Children and adults alike are mesmerised by fossil hunting; a whole Plesiosaur has been found on this beach and, if you sift hard enough, you may leave with fossils of your own.
The walk also boasts other amazing local hot-spots. Television fans may enjoy visiting the scenic setting of 'Broadchurch' on West Bay, which brought fans to the town in their droves after the hit show's popularity. Literary fans may wish to tread across the pebbled Chesil Beach, famed in Ian McEwan's novella 'On Chesil Beach'. Those whose interests are piqued by architecture may find Abbotsbury's medieval barn a source of interest, while nature fans may enjoy Abbotsbury's Swannery, known for its 600 year old management of mute swans.
Whatever your age or interests, walking the Jurassic coast has a plethora of exciting gems to showcase. With beauty like this, why go anywhere else?