Authentic Spanish Hiking in the Cabo de Gata Natural Park
Hike the only desert in mainland Europe
Explore Andalucia's longest section of protected coastline, a UNECO Biosphere reserve
Stay overnight in the charming fishing villages of Agua Amarga, Rodalquilar and San José
Stroll along the pristine beaches of Las Negras and Las Salinas
Walk an area that featured as a location in many famous spaghetti western films
Observe the remains of the gold mining industry at Rodalquilar
Extend your walk with a visit to the beautiful locations of Almería and Granada
Chance upon the areas wildlife, including flamingos in the Cabo de Gata Natural Park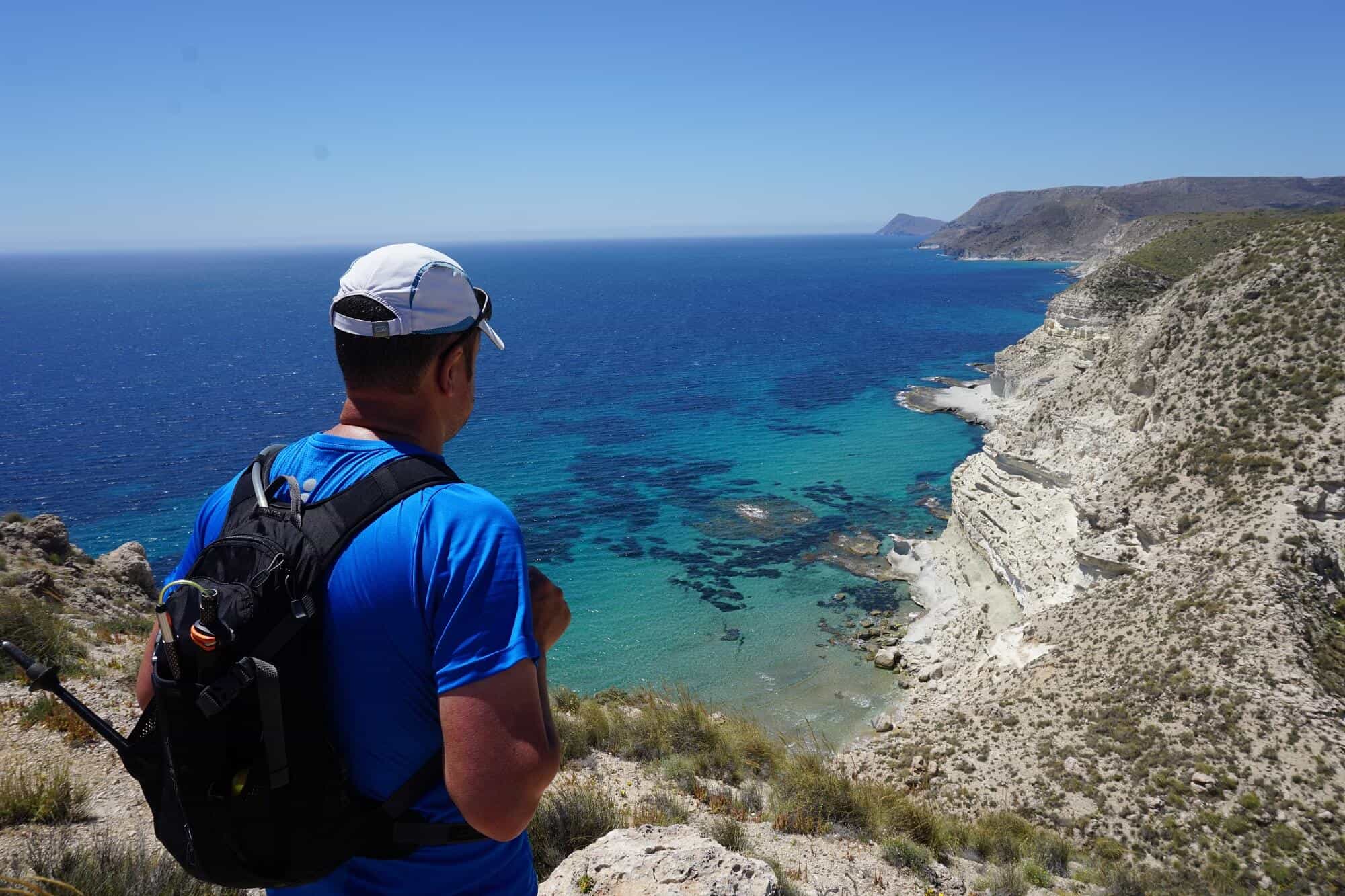 Why this walk?
Thanks to the efforts of the environmentalist Francisca Díaz Torres (or Doña Pakyta), a landscape singular among walking holidays in Europe, has been kept beautifully in its natural state. The route links two sides of a truly diverse landscape, with arid, desert-like surroundings on one hand, offset by the deepest blues of the Mediterranean sea on the other. Here, annual rainfall is the lowest in Europe, yet more than 1000 species of wildlife and fauna thrive in the stark, volcanic environment. With boundless scenery that stretches for miles, the views are staggering and as you hike along the rocky ridge of the desert, it's easy to find a sense of serenity and peace of mind hiking in an region where everything is on such a grand scale. A Cabo de Gata walking holiday is ideal for anyone looking to get away from it all and hike Spain's most vast, open region.
The Path
Our hiking programme uses three different villages across the national park as a base to explore a new area of the Cabo de Gata each day, with alternating routes along the coast and inland. The sleepy former fishing village of Agua Amarga, is off-the-beaten-track in the truest sense. You won't find any tourist traps here, just graceful white stone architecture and miles of unspoilt surf. Rodalquilar is further inland, within the dramatic volcanic valleys of the park, where the remains of a former gold mining industry are open for exploration. The last stop, in the quirky commune at San José, is surrounded by some of the regions most pristine beaches. Its central location means you're never far away from the most flawless, natural spaces of the Cabo de Gata.There are some fantastic sea views on this hike, as you follow old railway lines, narrow goat tracks and the routes down to the peaceful coves along the shoreline. Navigation shouldn't be a cause for concern, as most of the path is well way-marked, although you may find that some sections of the path are fairly uneven underfoot.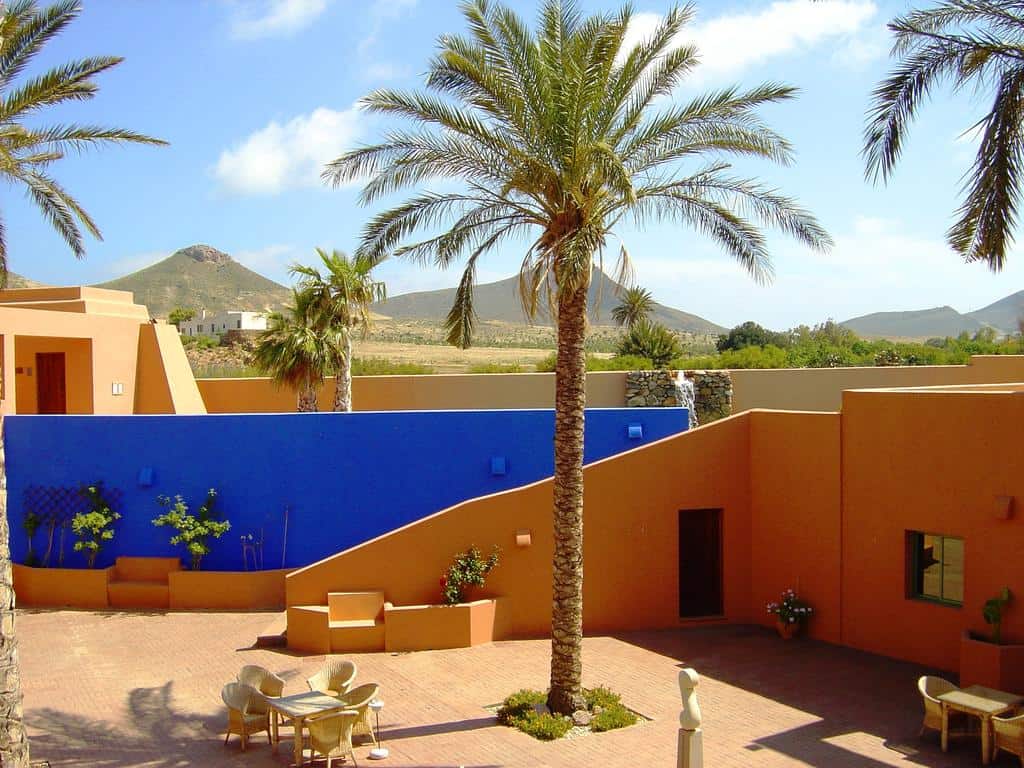 The Accommodation
The style of accommodation across the coast of the Cabo de Gata national park is simple and elegant. Don't expect cutting-edge or all mod-cons, but rooms with fantastic views - designed to let in plenty of sunlight and showcase the beauty of the region. For the nights you spend along the coast, the location is unbeatable. You'll be within short distance of the beach, with terraces and balconies overlooking the sea from the hotel. Where we divert inland for two nights, the desert hotels usually include additional facilities such as a swimming pools, a spa and tennis courts.We have carefully selected all accommodation to ensure that it is the best of its kind that the area has to offer, and walkers can expect to stay in comfortable and spacious Hotels and B&Bs with en suite rooms, surrounded by beautiful scenery and looked after by welcoming hosts.
Our Cabo de Gata Itineraries
Agua Amarga to San José
Distance: 65 miles (104.5km)
SPA-CDG1 ~ Agua Amarga to San José ~ 7 / 6 classic
What's Included:
7 breakfasts,
5 packed lunches
Prices
| | Two sharing pp | Solo walker | Single person (in a group) |
| --- | --- | --- | --- |
| 13/10/2023 - 23/12/2023 | £795 | £1,125 | £1,060 |
| 24/12/2023 - 31/12/2023 | £855 | £1,190 | £1,130 |
| 23/03/2024 - 31/03/2024 | £1,195 | £1,195 | £1,130 |
| 01/04/2024 - 14/05/2024 | £1,195 | £1,195 | £1,130 |
| 15/05/2024 - 25/05/2024 | £895 | £1,240 | £1,175 |
| 26/05/2024 - 13/06/2024 | £920 | £1,290 | £1,230 |
| 15/09/2024 - 30/09/2024 | £920 | £1,290 | £1,230 |
| 01/10/2024 - 12/10/2024 | £1,195 | £1,195 | £1,130 |
| 13/10/2024 - 30/11/2024 | £830 | £1,170 | £1,105 |
Extras
Your route is mainly made up of rural tracks, both surfaced and rough - as well as the "las ramblas" trails (dry river-beds), dunes, beaches and footpaths. You may find some of the sections uneven underfoot, with loose bits of rock and stone. Most sections are well way-marked.
A days walks averages at about 4 to 7 hours on foot, with infrequent steep ascents and descents (a max ascent/descent of 650m over the walk). Please bear in mind that easier alternate routes will occasionally be available, the details of which will be in your walk pack.
Accommodation for 7 nights in very comfortable hotels, with breakfast included
Half board, with packed lunch for 5 days
Detailed maps and route notes in English
Luggage transfer
Transfers during walk
24-hour telephone assistance
Optional Extras
Extra nights/ rest days in any of the locations ~ Please enquire for extra night prices
Extra nights at any of the hotels near the airports (Murcia, Málaga, Granada, Almería...)
Airport transfers at the beginning and end of the holiday
Optional transfers from the last accommodation to the first one to collect the car
Not Included
Lunches and dinners on the last 2 days. You can buy provisions or order a packed lunch at the accommodation
Rental car
Personal expenses such as drinks, tips etc
You choose which day you would like your holiday to start on. We will book your holiday in accordance with your requirements.
Our Cabo de Gata holidays are available to walk January to June, September to December.
Almería has just one airport (LEI), transfer arrangements between the airport and town are optional - let us know and the point of booking and we'll be more than happy to arrange this service for you.
Easyjet now offers fairly frequent, direct flights from London Gatwick to Almería. You can see their latest flight timetable here: http://www.easyjet.com/en/cheap-flights/london-gatwick/la-palma
There also less frequent flight from Birmingham, Leeds and Newcastle.
Please be aware that if you plan on flying from other UK locations to Almería, you may need to change in Madrid.
Almería is by no means the only airport in the Andalucia region, and there are also frequent flights to Málaga, Granada and Alicante.
Clients are responsible for booking their own air travel to the Andalucia region.
We can organise additional nights/rest days, as well as transport options. Please contact us to discuss how we can help you with your specific requirements. Call one of our helpful team on
+44 (0)1291 689774
or
e-mail us here
.
Cabo de Gata Client Reviews
4.9

/5 based on

3

reviews
It was excellent exercise.
Harris & Fisk
-
September 2019
We were especially impressed with the accommodation and food. Celtic Trails were well organised, there was good client contact and comprehensive instructions.
J & P Travers
-
April 2019
Fantastic scenery. Walks challenging enough to make them interesting. Enjoyed the mix of beach and rugged landscape. All hotels were well located. Good communication in planning holiday.
M. Belton
-
April 2019
Leave your own review of your

Cabo de Gata Walking Holiday

with us - add review
.
Booking Request - Cabo de Gata
What Happens Next?
We will check your details and come back to you within two working days with a personalised estimate based on your requirements. We will then formally request a deposit of £150 per person (£100 per person for a single centre break) and book all your arrangements - find out about our full booking process here.
Please note this does not constitute a booking confirmation, we kindly ask you to refrain from booking any travel until we have confirmed all your arrangements.
Still Have Questions?
If you are still unsure on any of your requirements, please do enquire with us first and one of our friendly team will be happy to help you with any queries you have.
Enquire About Cabo de Gata
E-mail
Sample Accommodations
Please note: exact accommodation booked will depend on availability.