(This is an excerpt from a recent blog posted by one of our Walkers along the St Cuthbert's Way, the unabridged version can be found here)
A St. Cuthbert's cross key chain for our backpacks and so we are all set. According to the Official Guide to St Cuthbert's Way, written by Ron Shaw, St. Cuthbert started his ministry in Old Melrose in about 650 CE and shortly after that joined a monastery in Melrose. Eventually he became a Bishop in Holy Island Lindisfarne which is why this hike Chrisy and I are following takes us from this starting point in Melrose to Holy Island Lindisfarne. We arrived in Melrose today where we are staying in a lovely B&B and we will start the walk officially tomorrow, ending up in Lidisfarne next Sunday.
The Official Guide also suggests that Cuthbert found great solace and true refreshment in walking, since travelling at a natural pace on foot allows time for contemplation and for the cares and worries of daily life to be forgotten. The Guide goes on to suggest that walking St. Cuthbert's Way can be enjoyed as a modern pilgrimage and that as well as enjoying plenty of nature and wildlife we will experience enough variations of weather to test a saint. We did in fact experience heavier rain this afteroon than either of us had experienced over the last week or two that we have already been in the UK. This will build character, right?
It all began with the stairs, followed by steep hills, a little break of flatter terrain, and then more steep hills, but lovely views. All very much worth the huffing and puffing. And so we have enjoyed and survived our first day: 8 miles, 22000 steps, over varied terrain. I'll speak for myself as I say I have some aches, which a hot bath soothed a little. We've enjoyed slow braised beef with yorkshire pudding for our dinner and have time for a nice rest before another 8 miles (but not as steep) tomorrow.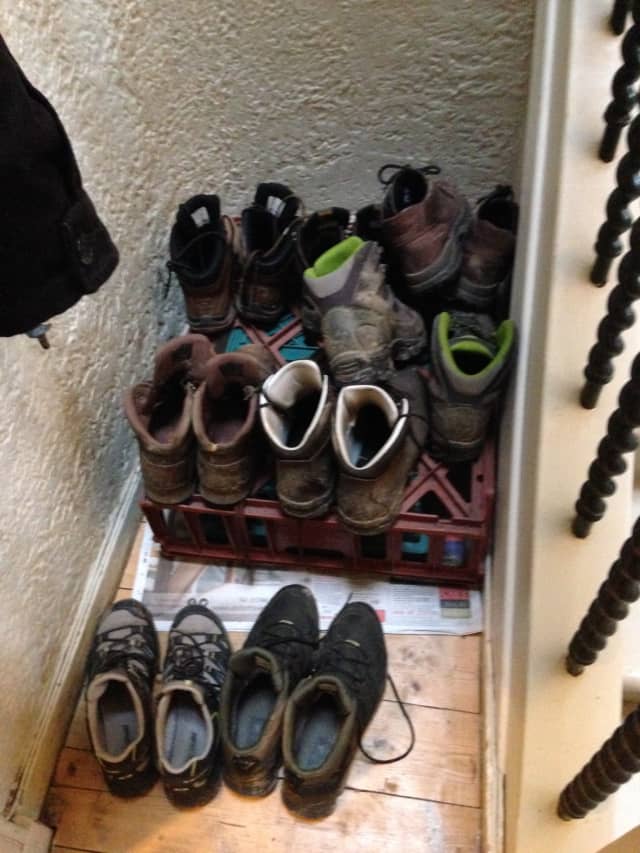 Yestrday afternoon when we arrived at our hotel we were asked to leave our muddy boots in the main floor lobby rather than traipsing mud throughout the carpeted hallways. This morning as we left there was quite the collection from which to choose.
The guidebook described our second day as consisting of eight miles again, starting out along the River Tweed and then progressing through 'undulating landscape' but much easier than our first day with steep climbs.
 Anyhow, we are now feeling like we are almost in the lap of luxury in a beautiful Georigian House/B&B in Jedburgh. The owner picked us up in Harestanes to bring us here and will return us to Harestanes tomorrow morning so we will resume our walk where we left off. We walked into town for dinner, past Jedburgh Abbey, and now, having left our muddy boots at the front door here as well, we are each having a quiet evening before 10 miles of walking tomorrow.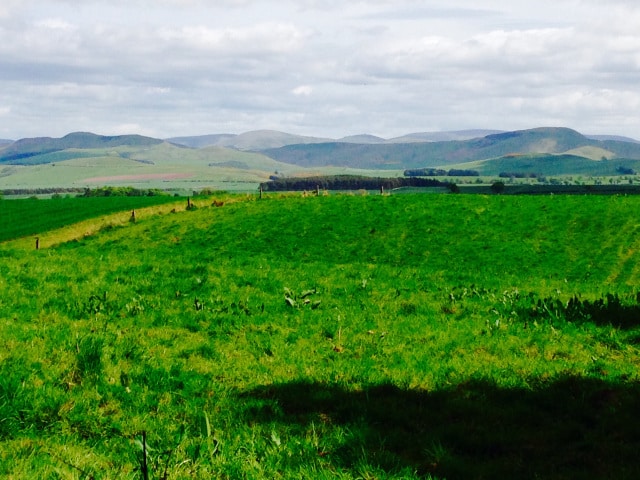 The scenery was lovely, and for much of the second half of the day we could see the Cheviot Hills. These comprise much of the walk for us on days four and five, our book informing us that day four will be the hardest, due to very steep sections, and that day five will have us staying in a B&B in the wildest section of the walk.  So on we trudged, with only brief pauses now and again to catch our breath or refuel.
We had never before experienced such relief at the site of a cafe before: we had made it in time for our pick up to our B&B. As we spotted the old church which had been converted into a small cafe we were greated by the friendliest and most excited of border collies. He ran out to say hello with wiggles and whimpers and then rushed back into the cafe to tell his owner he had customers. Peppermint and licquorice tea with a border collie and elderly man originally from Australia was a nice end to the walk for day three.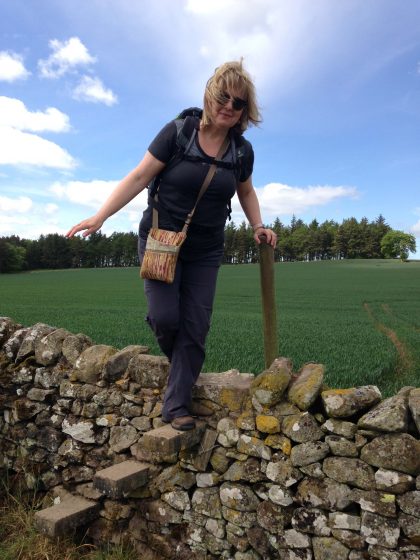 Oh my, how slowly and painfully we staggered along the High Street to our B&B, but it is amazing how motivating the thought of removing boots, cleaning up and heading out to dinner can be after 7 hours, 21 km and 30000 steps.
None the less, we've walked over 100 k.m., and it was very rewarding to look back from time to time to admire the vista but also think, 'we walked those hills!'
The final day of walking St. Cuthbert's Way had us walking only 5 km from Beal to Holy Island Lindisfarne, finishing the last 3 km along the Pilgrim's Path, marked by tall wooden poles, across the sands. Holy Island is a tidal island and so it is only safe to walk or drive to it during low tide. This safe time is obviously different each day so it is important to check tidal charts for safe crossing times. The safe time Sunday May 28, 2017, was from 9:20 a.m until 3 pm, so the timing as well as the weather were perfect for us. We left Beal at 9 am and started crossing the sand about 10. Our guide book suggested wearing welly boots or walking bare foot because areas will still be very soggy and others still have ankle deep pools of sea water, but we started out with our hiking boots, since that's all we had. Once the water had seeped in over the top of my boots and through the lace holes I finally succumbed and walked bare foot and it was actually quite wonderful and added nicely to the experience, so I wish I had removed my boots sooner. My boots would be dry this morning if I had!
The walk was magical as the sunlight sparkled on the water rippling in the slight breeze making everything seem to sparkle.
The above pictures are from inside St. Mary's church on Holy Island, and I was especially drawn to the lovely display over a side altar which looked like it must have been decorated to honour fishermen. I hope it is clear in the picture how there are fish in the netting draped around the altar.
Before a grand dinner of fish and chips to mark the end of our walk we ambled down to where the road off the island was now submerged under a high tide. We looked back over where we had walked earlier in the day, glad to be settled in for the evening and looking forward to moving on the next morning to pick up a rental car and make our way more quickly by automobile for a few more days of holiday, probably now involving shops, tea rooms and manicures, in Robin Hood's Bay, Whitby and York, with a little less walking each day.
But what a lovely view.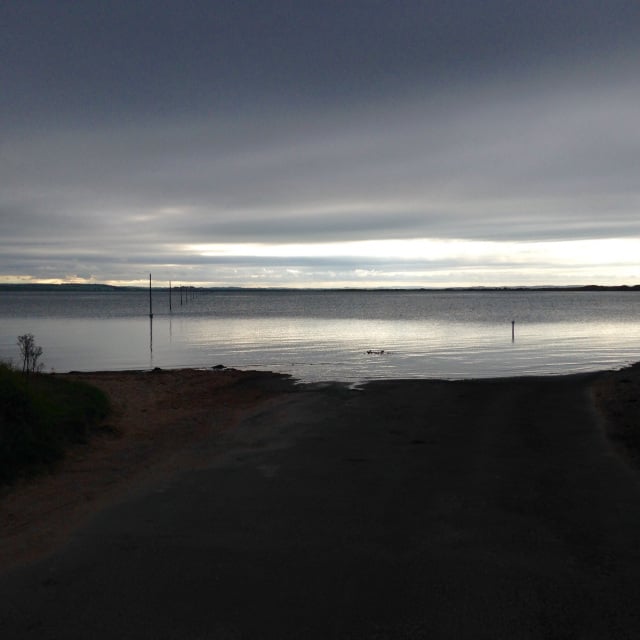 'compiled by James Robinson/Celtic Trails from Laura Beres' blog on walking St Cuthbert's Way'