The month of May proved to be  cold, hot, wet, dry, and if you live anywhere like me, then full of lovely lambs and blossoming trees. Despite the fickle and ever unreliable weather, last month was a great month for UK walking, putting it's best foot forward with Get Walking Week, which ran from 4th – 11th. In association with the Walking for Health scheme, Get Walking Week was a huge success in getting hundreds of men, women, children, and family pets out of their slippers and into their hiking boots.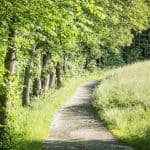 May also saw the launch of Britain on Foot, a campaign designed to make getting up, out, active and walking, an easier and more appealing prospect than ever. Here at Celtic Trails we're in the business of the great outdoors, and Britain on Foot is inspiring us to put more emphasis than ever before on the "great" part of that. As the British Mountaineering Council's first ever dedicated hillwalking development officer, the newly appointed Carey Davies put it, "Britain on Foot represents a simple but powerful idea – that if people make the small step of starting walking it will open the way for huge positive changes in their lives, improving their individual health and wellbeing and enriching the fabric of our nation as a whole." We want you to be happy, healthy, and loving life, and we think that the best way to do that is by getting outside. (Brownies are good at improving quality of life too, we won't deny it,, but they taste a lot better after a few miles of solid exercise).

With the Ramblers chief executive calling for Britons to join the walking revolution across the nation, and "take their first steps towards a healthier and happier lifestyle", we can't help but appreciate the sentiment almost as much as the cheesy puns. Yes, it comes as no surprise that we love the fact everyone is shouting about the health benefits of walking this May, especially given recent figures. New surveys from Ramblers suggest that a quarter of the adult population walk for less than an hour a week, with up to two thirds of adults in the UK taking less exercise than the recommended 150 minutes of moderate exercise each week. The problem is not an easy one to target, as families from all classes, areas, socio-economic groups, counties, sewing circles, and extreme frisbee teams, are failing to get the exercise they need. That's why such schemes as Britain on Foot and Walking for Health are encouraging the nation over to brave the dark recesses of their attics, dig out those walking boots they bought on a post-new year's resolution high last January, and come outside! Whatever your fitness level, whether you think walking is Very Serious Business or just a nice thing to do on a sunny weekend, we know you could be doing more, and with all these recent enterprises to support you and cheerlead your endeavours, there's never been a better time to get moving.
If you've been inspired by the walking initiatives this month, then you know we'd love you to take another look at the packages available from us here.