From The Moors To The Sea: Highlights Of The Cleveland Way
This short tour provides a wonderful introduction to the dramatic moorland and spectacular coastline of the proud old county of Yorkshire. It's a tour of contrasts, exploring the stunning heather moorland of the North York Moors National Park before heading east to visit the charming settlements along the coast.[/columns][columns class="medium-6″]
Distance: 38 miles / 61 km
Number of Days: 6
Grade: Moderate
Theme: Coastal
Landscape Type: Moorland and rugged coastline
OVERVIEW
Starting in the picture-postcard village of Helmsley, this whistlestop tour takes in all the classic sights of the Cleveland Way where the dramatic uplands of the North York Moors National Park provide the backdrop. It's a tour of contrasts, visiting the stunning heather moorland and magnificent historic sites like Rievaulx Abbeys, where nearly five centuries after their dissolution by order of King Henry VIII, the monastic ruins provide a poignant reminder of the region's turbulent past before moving to the coast to explore the charming settlements of Saltburn, Staithes and Whitby.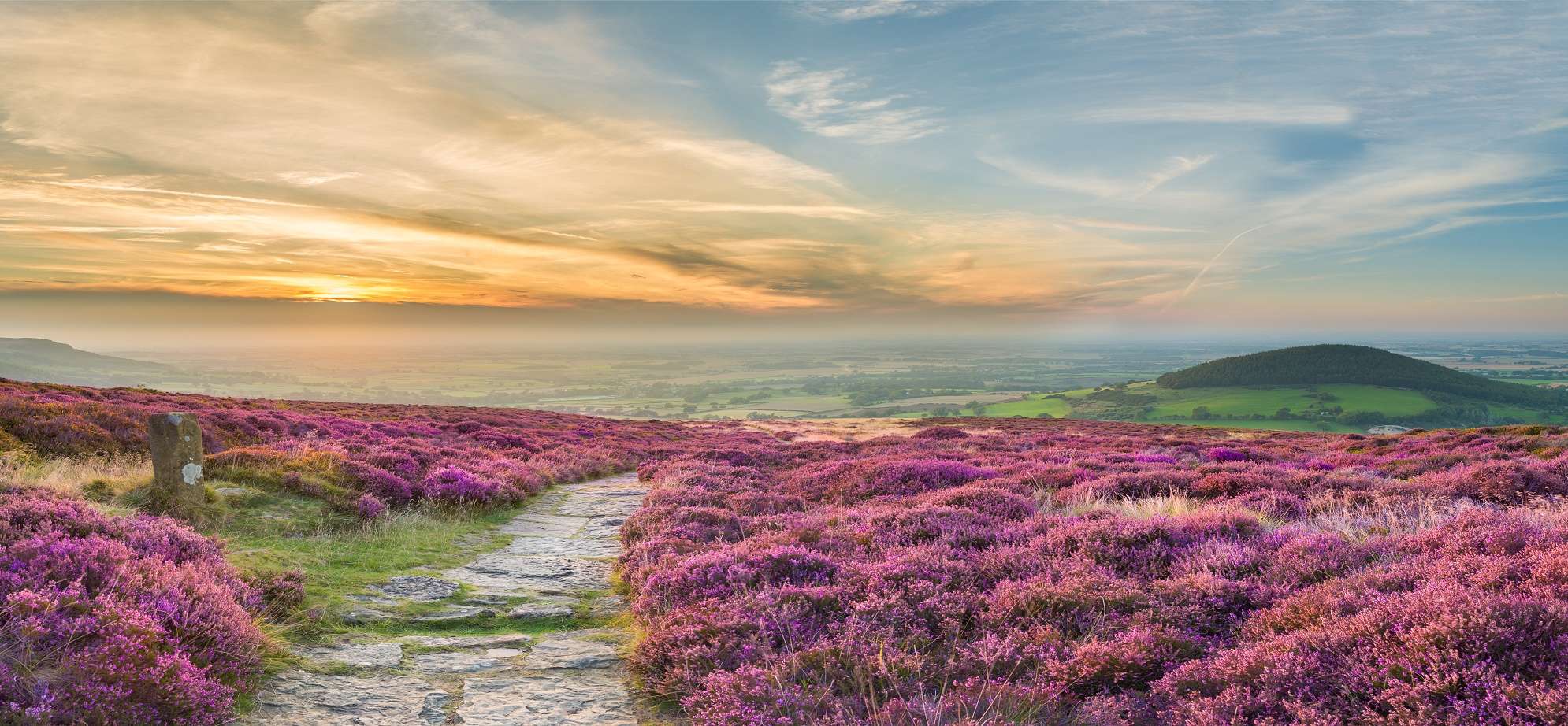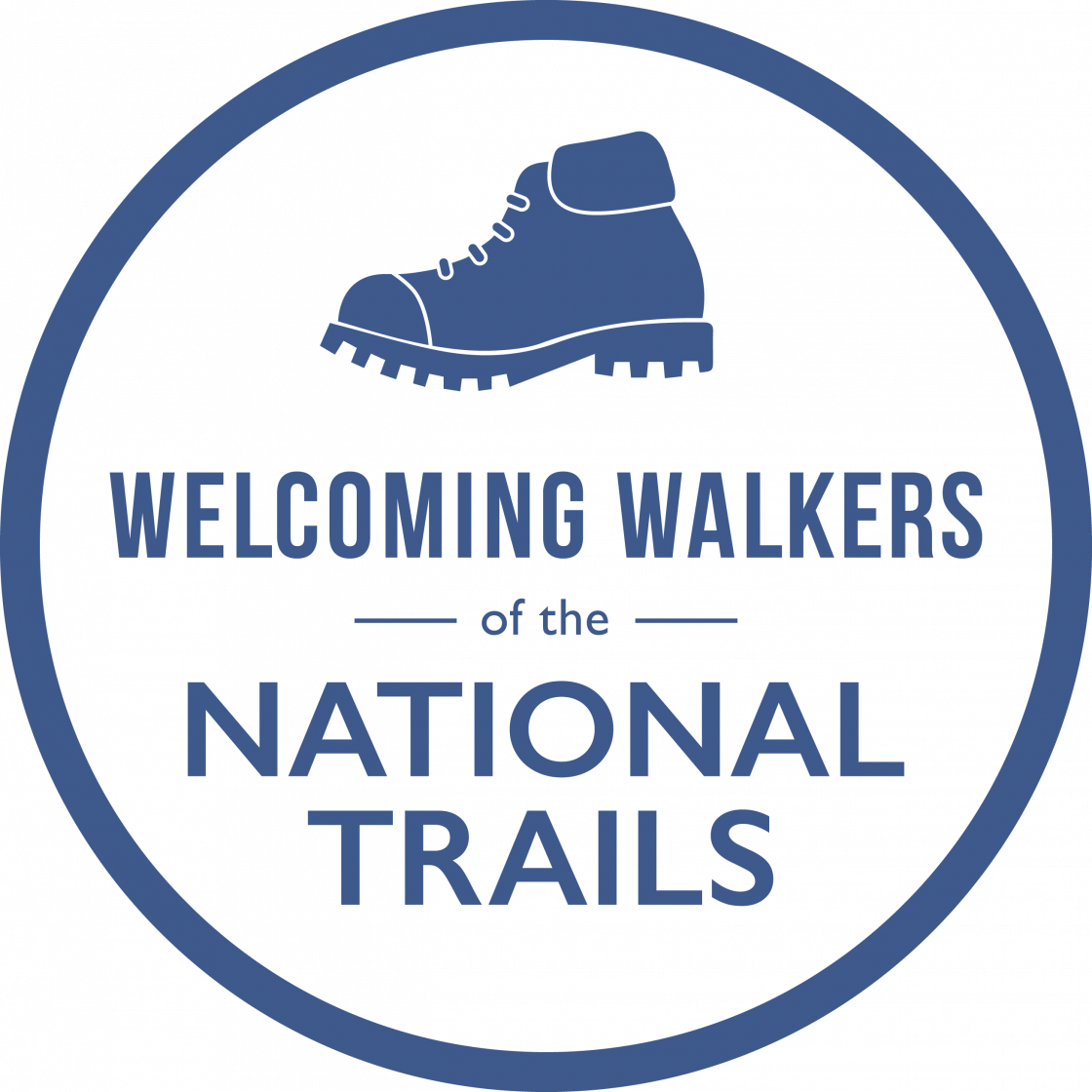 ITINERARY
This tour seamlessly blends walking and sight-seeing to make the most of your time in Yorkshire. Explore historic Helmsley and Rievaulx Abbey before heading out onto the moors to walk one of the most scenic sections of the trail and then following the coastal path from Saltburn to Whitby.
DAY 1 ARRIVE IN HELMSLEY
Check into your comfortable accommodation at the Feathers Hotel and explore Helmsley Castle before heading to the Helmsley Brewery Company to see how they make local cask ale and sample a few glasses of the official Cleveland Way ale 'Striding the Riding'. Overnight in the village.
DAY 2 HELMSLEY CIRCULAR WALK
Investigate the independent shops of Helmsley and get your first views of the Rye Valley. Experience the incredible ruins of Rievaulx Abbey and have the 'Walkers Lunch' at its café. The route heads back to Helmsley where there is so much more to explore. En route, call in at the National Trust's Rievaulx Terrace to admire the incredible views across the valley and look down on to the Abbey. 11.3 km / 7 miles
DAY 3 OSMOTHERLEY TO CLAY BANK TOP
After a taxi transfer to Osmotherley walk an outstanding section of the Cleveland Way across the North York Moors, visiting the natural wonder of the rocky outcrop of Wainstones and stopping for lunch at the popular Lordstones Café.  See red grouse, heather moors and fantastic views from the edge of the north York Moors Escarpment.  Your accommodation hosts will collect you from Clay Bank Top car park and will drive you to your accommodation in Great Broughton. 11 miles / 17.5km
DAY 4 SALTBURN TO STAITHES
Transfer to the charming Victorian town of Saltburn with a vibrant, contemporary spirit, making a new name for itself as an arts, culture, food and surfing destination. Admire big seascapes from the highest point on the east coast of England and head down a mine at the Cleveland Ironstone Mining Museum. See England's most northerly surviving pier and the world's oldest water-powered Cliff Tramway. Stop off for refreshments at the Guns Bar micro pub and Taste tea and coffee House. Overnight at the Captain Cook Inn at Staithes – a traditional fishing village with a rich artistic heritage.  14.1 km / 8.8 miles
DAY 5 STAITHES TO WHITBY
Experience the Staithes Illusion Trail (eight trompe l'oeil works) hidden around the snickets, the Lifeboat Station and the art galleries of Staithes; squeeze down tiny Dog Loup – one of the narrowest streets in Britain at just 45cm wide. Go beachcombing at Runswick Bay – one of the best beaches in England for beautiful shells, ammonite fossils or even shiny pieces of Whitby Jet. Continue east along the coast, to the famous seaside town of Whitby and then to your guest house. 19.3 km / 12 miles
DAY 6 WHITBY
Whitby prospered through the years from whaling, shipbuilding (Captain Cook's ships were built here) and the jet trade, but today tourism is one of the main industries. Whitby is renowned as the setting for Bram Stoker's 'Dracula'.  Try counting the 199 steps up to the Church of St Mary – it's rare for two people to agree on the actual number! The classic outline of the ruins of Whitby Abbey soon comes into view. Enjoy fish and chips on the Prom – the definitive Whitby experience.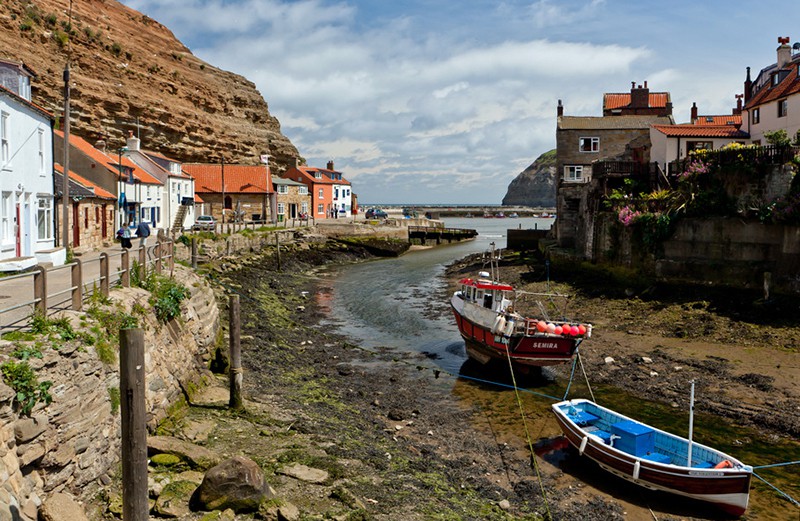 ACCOMMODATION
Celtic Trails accommodates walkers in Good standard accommodation at a mixture of guesthouses, farmhouses, local Inns and B&B's with ensuite or private facilities wherever possible. Breakfast is included. For this itinerary, walkers stay at the Feathers Hotel in Helmsley, The Captain Cook Inn at Staithes – both noted for their traditional cask ales.
TRAVEL: FLIGHTS/FERRIES/RAIL
P&O Ferry terminal Hull to Hemsley
Bus 70 from terminal to Hull centre leaves at 8.15 and 9.00 (weekdays)  8.00, 9.00 and 9.45 (Sat, Sun and BH). Train from Hull to York leaves at 9.40 (change at Garforth) Take bus 31X. http://getdown.org.uk/bus/bus/31x.shtml
DFDS terminal Newcastle to Helmsley
DFDS bus to Newcastle station takes 30 mins. Train to York takes about 1 hr. Bus 31X from York
Manchester airport to Helmsley
Train to York (approx. 2 hours). Bus 31X to Helmsley (1hr 20 mins)
Leeds Bradford Airport to Helmsley
Bus 757 to Leeds station (35 mins). Train to York (25 mins). Bus 31X to Helmsley (1 hr 20 mins)
Newcastle Airport to Helmsley
Train to Newcastle (25 mins), York (57 mins). Bus 31X to Helmsley (1hr 20 mins)
London Kings Cross to Helmsley
Train to York (2 hrs). Bus 31X to Helmsley (1hr 20mins)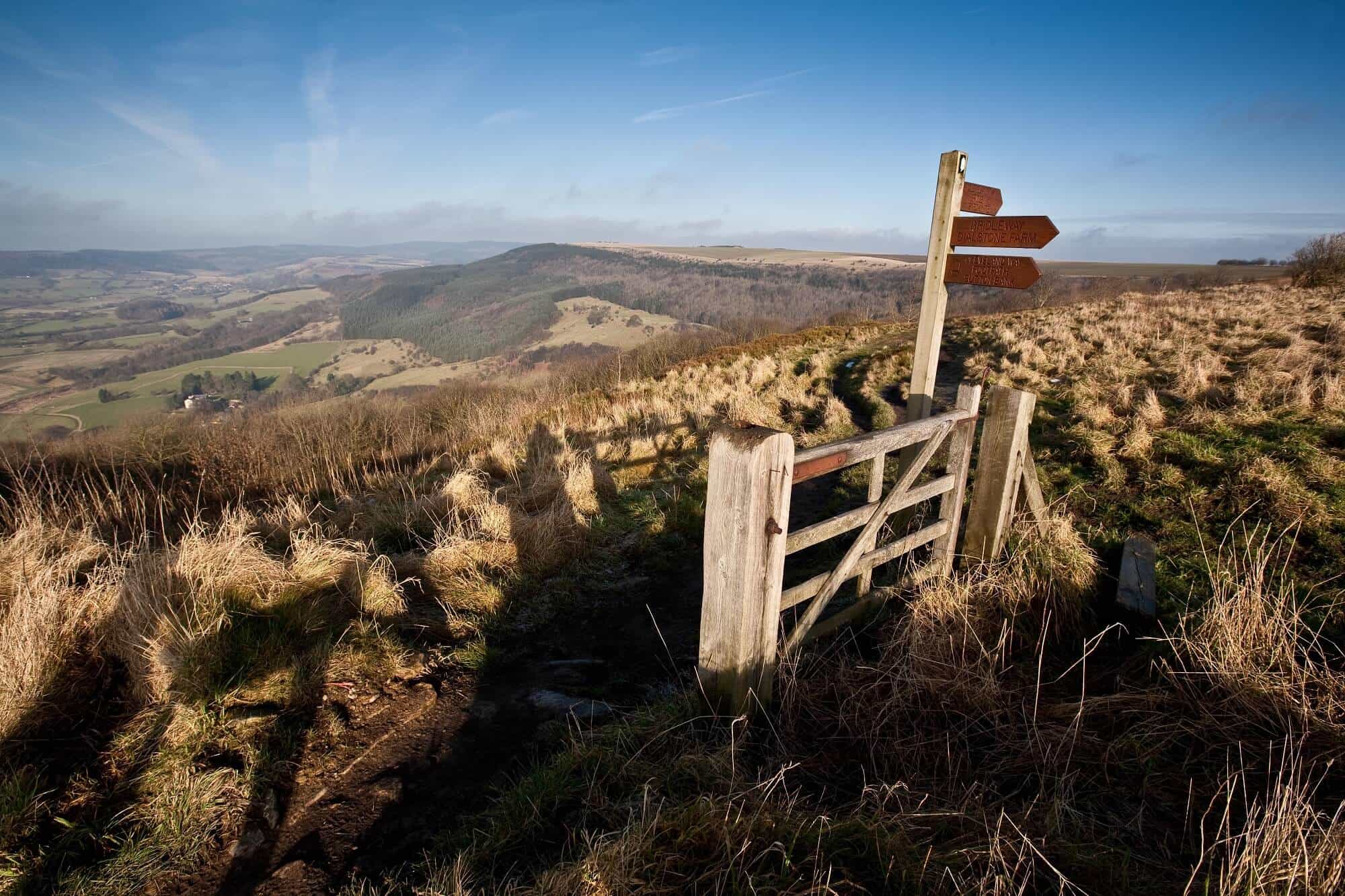 ADVICE
This route is rated moderate and offers a contrast between moorland and coastal walking. The walk can be completed at any time of year, but winter usually brings snow, ice and freezing temperatures so we recommend visiting in spring or summer for warm temperatures and longer daylight hours. Celtic Trails recommend the route is walked from mid-March to mid-October.
Food & Drink
You'll be spoiled for choice with so much great local food and drink on offer. Start with local ales at the Helmsley Brewery the night before you start walking, then feast on the region's ever-changing culinary delights as you walk. There's an almost endless stream of pubs, cafes, tea rooms and farm shops along the way, plus the chance to visit some excellent eateries. Make sure you buy some local snacks to carry with you too, because there are endless great picnic spots along the Cleveland Way.
Booking Request