2016 Update: Due to the large amount of road walking along this route, we are no longer offering walking holidays along the Saint's Way.
Why not have a look at one of our other Pilgrim Trails instead:-
Or please feel free to give us a call and we can advise you on a worthwhile alternative. 01291 689774
---
Walking Holiday on the Saint's Way Trail
The Saint's Way Trail is a delightful walking holiday, coast to coast across mid-Cornwall,  linking the two opposite coastlines.
The walking holiday begins in the little  harbour town of Padstow, now better known for Rick Stein's famous Seafood restaurant.  Leaving the north Atlantic coastline you follow the wide Camel Estuary inland.Your route takes a wonderfully varied course through valleys, woodlands, pastures, upland moors and pretty villages.
The Saint's Way was used by 6th Century Celtic Saint Petroc and his followers from around the 6C ;  parts of the route are of much earlier Bronze Age origin, established by traders as a short-cut between Ireland and Wales,  and the south coast of Cornwall. It cleverly avoided the hazardous sea passage around Land's End.
6th Celtic crosses and many holy wells  still line the Saint's Way. The trail leads up to the Neolithic standing stones of Helman Tor, a meeting place of much earlier pagan dwellers, and the highest point of your walk.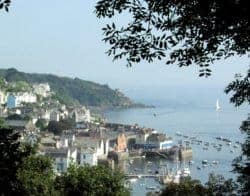 Soon you leave the wilder open countryside, returning to the Cornwall's southern coastline and the inlets and creeks deep in Daphne du Maurier country. The walk ends in the enchanting harbour village of Fowey.Century
For a longer walk  why not extend you holiday with a few days walking on the South West Coast Path, from either Padstow or Fowey.
Our team would be delighted to talk to you about an itinerary for a walking holiday on the Saint's Way
Celtic Trails has 20 years' experience providing tailored, quality itineraries for walkers who appreciate good service, comfort and organisation.
Enquire About Saint's Way Trail – Discontinued