This is a guest article written by one of our walkers, Olivia Pittet.
Who exactly signs up for a walking trip, whether guided or self-guided? The answer is all sorts of people of almost any age. But most are likely to be in their fifties and sixties looking for an active, outdoors-based, culturally informed and environmentally sensitive holiday, in a scenic part of the world and led, in the case of guided tours, by experts who can cover every contingency and who share their local knowledge as you walk.
Whether walking independently or with guides, such individuals are looking for moderately challenging exercise off the beaten track. But they have no interest in roughing it in the wild with a large backpack, let alone a tent. On the contrary, one needs to know one can count on plenty of civilized amenities, including good food and pre-booked accommodation, luggage conveyance and vehicle support.
At the end of the day, one should come away from a walking trip of any type feeling that one has learned something about a region's culture and/or oneself; exercised body, mind and spirit; and generally broadened one's horizons. It's slow travel at its best and fast becoming a leading vacation trend.
No extraordinary levels of endurance are required on either kind of walking trip. Both, which generally last about a week or ten days, are geared to suit almost every fitness level and area of interest. Fitness levels are important, however, although these may vary depending on your choice of walking trip. Before you leave home, you should be hiking, say, five miles in a day—and doing this more than once a week. Ideally this should be on varied terrain, including rough paths with roots and rocks underfoot, rather than relying on the treadmill at the gym.
But whichever you choose, guided or self-guided, at an easy, moderate or strenuous pace, you are bound to energize your body and stimulate your mind; you may even shed some old mental baggage and/or lose a little weight!
The best advice for anyone about to embark upon a walking holiday is to have good, well-broken-in footwear, ideally light- or medium-weight hiking boots with ankle support and good treads. You may wish to partner these with a pair of flip-flops stuffed inside your daypack or kept handy on a support van. These will give your feet a break from your boots when stopping for lunch or driving to and from the trailhead. Hiking poles are also recommended, but it's wise to try them out first. Otherwise, since walking companies take care of one's luggage, you need carry only a water bottle, a few snacks and rain gear on the trail. For self-guided trips, however, you will require a little more than that, including a map and a route guidebook, the essential back-up information provided by your walking company, a mobile phone and a packed lunch.
Self-guided or "footloose" walks, on well-waymarked long-distance trails, are very manageable, even for the directionally challenged like myself. They may be done with just one or two companions, as a mixed-age family group, or, say, a reunion of old friends. And when it comes to timing, they have the advantage over guided walks, since you can sign up for one that suits throughout almost the entire year. You can set your own schedule, plan your own entertainment, decide when and where you want to eat, predetermine how many miles you will walk each day, and cover them at your own pace.
My husband, Michael, and I have done several self-guided walking over the years, most recently the South Downs Way and St. Cuthbert's Way, sometimes with another couple, sometimes on our own. Our arrangements have been handled by various tour companies, of which, in our view, Celtic Trails is by far the most client-friendly, being always ready to address one's individual concerns.
For these trips, we prefer to stick to the British Isles—and the many walking routes for which the country is renowned. But however well way-marked these trails are, one still has to pay attention to the signposts as one goes along. We found this especially necessary on our first self-guided walking trip, the Cotswold Way, since one has to be careful to follow the National Trust acorn symbols and not get led astray onto a local footpath. We heard tell of one couple finding themselves asking the same farmer three times for directions, whereupon in desperation, or pure kindness of heart, he drove them on his tractor to their B&B!
Michael's and my mistake was not building in a whole-day rest day, to give ourselves a much-needed midpoint breather. Hence, somewhere near Painswick, late one afternoon, while climbing a steep hill in a dark wood, and fearing it was still farther than we hoped to our next B&B, we ran into a local couple walking their dog. After exchanging a few words, we went our separate ways. Then, to our surprise, they suddenly reappeared, saying their dog had had enough exercise and offering to give us a lift in their car. We realized later, of course, that this had little to do with the dog—rather, our looks of exhaustion must have prompted them to be so nice!
However, it was only on St. Cuthbert's Way, often described as Britain's closest equivalent to the Camino, that we really had the chance to meet fellow hikers. Whenever we encountered them on the trail and paused to have a chat, we often discovered that many were doing this long-distance walk, which starts in Melrose and ends in Lindisfarne, in the same pre-arranged daily stages. This meant we sometimes found ourselves staying in the same town, if not the same B&B, and so could share a meal. Otherwise, on most other self-guided hikes, much as I enjoy them, there are times when I find I miss the easy camaraderie of a walking group both on and off the trail.
If you are looking for walking, combined with a cultural experience, then I think that Celtic Trails' sister company, Langdale Walking Holidays, would be a good place to start. Langdale offers different levels of walking for part of the holiday, mixed with sightseeing and other cultural experiences—for example, on their alluring-sounding Sicily and the Aeolian Islands tour, a chartered boat cruise and bathing in hot Sulphur springs. Most other companies focus on full-day group walks, although some split them into two separate guided walks, one slower and shorter than the other, utilizing their support van.
At the end of each day, when walking from accommodation to accommodation, you'll find your luggage waiting for you. A pleasant evening lies in store, starting perhaps with a drink at the bar, or time-out in a comfortable armchair. Then everyone enjoys a gourmet dinner, sometimes in the hotel itself, sometimes a restaurant in another interesting locale.
Group walking tours offer a good mix of socializing and personal time, so chances are you'll find yourself with plenty of congenial company, both on and off the trail. This means it's a great way to make new friends—or to cement existing relationships. Many book as couples, but these trips also suit solo travelers extremely well, as I know, because for a long time I was one and was always well looked after.
Finally, a word to the wise on packing: one should bring a comfortable pair of dress shoes and a complete change of clothes for après-hiking wear—even a "smart casual" outfit for fine dining if the occasion affords. But don't overpack if you can possibly help it. Remember that walking tours take place in the known world, often with built-in opportunities for shopping, and that the less you bring with you, the less there is to unpack and repack as you switch hotels.
Many people opt to do a walking tour, whether guided or self-guided, at a significant turning point in their lives, as I did. Some may take the opportunity to celebrate a major milestone, retirement perhaps, a birthday or anniversary. Others, however, may look for solace in nature and outdoor exercise, as filtered through a walking trip, as a way of dealing with personal issues. They are seeking new directions, perhaps, when life throws up unexpected twists and turns in their path—death or divorce, for instance, or health concerns, or career change.
At their best, walking trips of all kinds, as I know from my own experience, can be therapeutic, since they open up new ways of looking at the world. They may even, especially on pilgrimage routes like the Camino, offer a truly transformational experience. And it's always possible you may meet a new significant other, as Michael and I did on the Way of St. Valentine, so to speak, in Tuscany in 2001.
So, guided or self-guided, take your pick—and walk!
Olivia Pittet and her husband Michael Crowley on the beach at Finisterre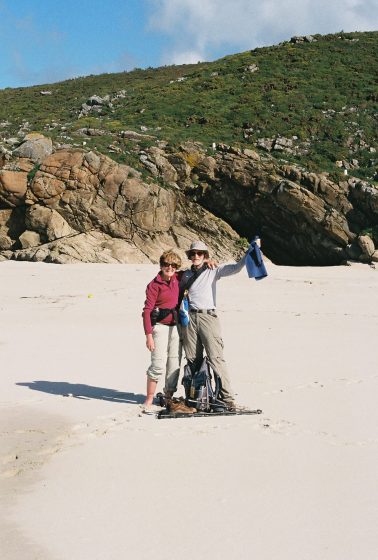 About the Author:
Olivia Pittet is the author of The Camino Made Easy: Reflections of a Parador Pilgrim. Three Walking Tours on the Way of St. James through Spain and Portugal to Santiago de Compostela and Finisterre. Drawing on her experience as a freelance editor, a former medievalist and an avid walker, Olivia interweaves personal narrative and practical details about group walking on the Camino with her love of landscape and her interests in the literary and historical background to this legendary, yet still hugely popular, long-distance medieval pilgrimage trail. The Camino Made Easy is available from leading booksellers and from Amazon worldwide.